Did you see the latest report on organic search trends by BrightEdge Research? For those who want to attract more traffic on their websites, it's an essential guide that gives them direction.
One particular detail caught everyone's interest: "organic search remains the dominant source of trackable web traffic and the largest digital channel."
Lately, we've been seeing trends in influencer marketing, conversational marketing, pansexual marketing, realistic marketing, and all kinds of techniques that made us question the relevance of SEO.
Let's answer that question right from the start: yes, SEO is still important. It might not be the highlight that digital marketers mention nowadays. When responding to surveys, they want us to think that they are mostly focused on building connections and developing trust with their audience. But they are still using keywords and writing SEO content.
Technical SEO, in particular, is very important when you're trying to rank on the first page of Google's results.
The search engine has been increasingly investing in its attempt to provide a great user experience. The goal is to deliver relevant and accurate results to its user. Your goal is to prove that your site has such relevant and accurate information. To achieve it, you have to think like a Google bot.
What Is Googlebot?
Google gives us a straightforward definition: "it's the generic name for Google's web crawler."
When you publish a new page, two types of search bots will index it: one of them is a mobile crawler that acts like a smartphone or a tablet user, and the other one acts as a desktop user.
What's the point? These crawlers want to see what your page contains, so they will tell the search engine's servers how to rank it. They will register the technical SEO elements on that page, and they will follow links to bring information together.
Imagine these crawlers as librarians, who keep going through the ever-growing library of books (web pages). They help the servers to index these pages, so when someone comes to the library looking for specific information, they will get the best possible resources.
How do Search Engines Perform Website Indexation?
Before you can figure out how to communicate with the crawlers at your site, you need the answer to an important question: how do search engines work?
Google's goal is to provide its users with direct answers to their queries. Its crawlers collect information from all kinds of sources, including: web pages, public databases, online books, user-submitted content, and more. Crawling is the process of discovering new pages, which appear by the second on the web.
When you publish a new page, Google's bots will crawl it to see what it's all about. They will index the page through a program named "web crawler." This program will index the page by making its copy and attaching it URL to it. Then, the Googlebot will follow all the links that you included in this page.
That's why it's important to link to high-authority websites. Linking to internal resources is also important, since it helps with the authority of your own site. As the bot is checking these links and the links on those pages, it will build a large index of pages.
You can block Googlebot from indexing a certain page by using the "noindex" meta tag. You may want to do this with duplicate pages, terms and condition pages, admin pages, and pages that don't add much value to your website.
But when you want a certain page to appear in the search engine results, you need Google bots to crawl it.
10 Ways to Think Like a Googlebot
When Googlebots crawl your website, they will check several technical SEO elements. You need to know how they think, so you can use those elements to tell them that your webpage deserves a good rank.
#1 What Does the Robots.txt File Say?
When the crawler lands at your website, it doesn't know how to crawl it. It's just a bot, after all. If it had a mind of its own, these would be its thoughts: "Where's the robots.txt file to show me what to do?"
Webmasters create this text file to show the bots how to crawl pages at the website.
The Search Engine Journal gives you great instructions on how to create these files. Once you have it, follow these tips to enhance the communication between the bots and your robots.txt file:
Place it at the top-level site's directory, so it's the first thing that a Googlebot sees.
Remember: anyone can see these files if they add /robots.txt to the end of your domain. That command will show the directives you give to website crawlers. Don't try to hire private information of your users through this text file.
You want to direct the bots to your sitemap, so they can see the particular page in context. That's why it's best to indicate the sitemap's location. Webmasters usually do that at the bottom of the robots.txt file. If you see the robots.txt file of SEO-Trench, you'll see that practice in action.

Screenshot 1. Source
#2 Are There Any Broken Links?
Imagine reading a webpage, clicking a link that promises additional info, and hitting a dead end. You feel disappointed and you don't like the fact that you wasted time. The Googlebot feels the same.
Remember: it will check all the links on your page in order to index it. If it encounters a broken link, it can end the crawl. Nobody knows what exactly happens, since Google won't share how the search engine works in detail.
However, it's in your best interest to use a tool to crawl a website and report you on all broken links. Then, make sure to fix those links. Update the content to link to real websites with a good reputation.
#3 What Does the Sitemap.xml Say?
Don't let anyone convince you otherwise; XML sitemaps are crucial for proper technical SEO.
It makes it easy for the search engine's crawlers to find the pages of your website. Imagine the sitemap as a floorplan of a huge warehouse that someone visits for the first time. Without this map, it would be difficult for them to find the item that they need.
If your website is large, with loads of archived content and unimpressive internal linking strategy, the sitemap is especially important for you. In fact, it's always important. Even if you have a few pages, you'll only benefit from a well-structured sitemap.
You only need one sitemap index. More of them would only confuse the bots. This index can be categorized into separate sitemaps, which will lead to general pages, store, blog, and any other section of your site.
Once you prepare your sitemap.xml file, you'll need to submit it to Google Search Console.
#4 Is This Site Fast Enough?
Googlebots are concerned about the user experience. They don't want the search engine to send its users to ineffective websites. They want to deliver great answers, but they also want to do it quickly.
Loading speed is one of the most important factors.
When you think like a Googlebot, it's a priority to solve.
There are a few techniques that help you improve the speed:
Reduce the size of CSS and JavaScript files
Compress the images into a more compact size
Enable cashing
Invest in a better web hosting plan
Constantly test the speed of your website, so you'll take action when you notice it's slowing down.
#5 What Does Structured Data Say?
There's a lot of confusion around the concept of structured data. It's a standardized format that shows information about the site. The bots look at it to figure out what the website is about. Structured data helps them see how valuable this website is for the search engine user.
The Sitechecker blog gives solid information on structured data. If you don't understand it, it's a good place to start the learning process.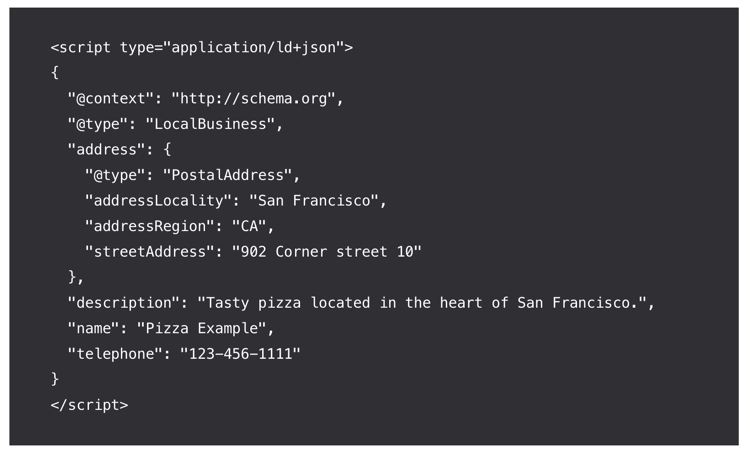 Screenshot 2. Source
In SEO, we use the approach of Schema.org to structure data markup. You can use another vocabulary, but Schema is the most common one that webmasters prefer.
Google published specific structured data guidelines for everyone interested in this technique. Your website must not violate any of these guidelines. Google's bots will pay attention to that, and violations will affect the ranking of your pages.
The recommended format is JSON-LD. RDFa and Microdata are also supported, but Google clearly recommends JSON-LD.
#6 Are There Any Canonical Tags to Check Out?
If you have any problems with duplicate content that shows up under different URLs, a canonical tag can be a good solution. It shows the crawlers that this particular URL is the master copy of that content. It's the page that will appear in the search engine results.
Why would you have duplicate pages in the first place?
Well, if you offer the same content in different languages, you have duplicates. Google's bots will recognize them, so you want to tell them what the master copy is. Duplicate content may occur unintentionally with large websites, especially in e-commerce. It's possible to list the same product twice by mistake.
When the bots crawl your site and they notice several URLs with the same content, it's a problem for your SEO ranking. Even if one of the pages ranks in the results, it may be the wrong one.
Moz gives you good instructions on the best practices for canonical tags.
#7 Is the URL Structure Defined Well?
Check these examples of URLs and see which one looks better:
The difference is not huge. But that "_category" in the URL doesn't add any value to the context.
The URL's structure is known as URL taxonomy. It's best to have it clean. You can use it to set parent pages and define their relationship with other pages. Clean taxonomy helps the crawlers to understand how different pages are connected to one another.
Thus, https://example.com/recipes/cakes/carrotcake will indicate a specific recipe in the category of cakes.
Be careful; this doesn't mean that you should start changing the URLs to your pages, so you would achieve cleaner taxonomy. If you already set them and they rank well, there's no point in changing them. That would do you more harm than good. Remember this rule when you're creating new pages, so you'll use the URL to categorize them well.
#8 Do I See Some Dynamic Rendering?
JavaScript is not easy for the crawlers to process. Of course; Google is working on that and the problem will be fixed sooner or later. By then, Google recommends webmasters to implement dynamic rendering.
Why not use static HTML pages instead? They are easier for the crawlers to index; that's for sure. However, JavaScript gives you the advantage of better user experience. It's no wonder why so many webmasters prefer it when they want to make their sites look better.
Google defines dynamic rendering as "switching between client-side rendered and pre-rendered content for specific user agents." It gives specific guidelines on what sites should use the method, and the instructions help you understand how the concept works.

Screenshot 3. Source
With pre-rendering, your website may slow down. If you notice that happening, Google recommends you to implement a specific cache for that purpose.
#9 Are the Images Optimized?
If you want to keep the visitor at your website, you probably include visual content. Providing a huge chunk of text without allowing the visitor to rest their eyes is not a good strategy.
But if you provide images, do you make it easy for the crawlers to index them? You need to clarify how they are related to your content and how they contribute to its value.
Each image needs a filename and alt text, which gives you more space to add some meaning. You can include a dedicated sitemap to help Googlebots index your images. You can also use structured data to add descriptions for each image on the page.
When describing your images, use simple terms and plain language. You don't need any adjectives. Just say it like it is.
We're talking about SEO after all, so using keywords in the name and description is important, too. When the bots crawl the content, they consider the image file names as content, too.
Never use the generic photo name assigned by your camera. You could do that, but you won't help the search engine index the content. Describe the image with words that your target audience would use to search your website. If, for example, you published an article about muscle cars and you used several images, name the brand, model, and year in the image file name and alt text.
#10 What Do the Title and Meta Description Say?
Everyone who's ever made an attempt in SEO knows how important the title and meta tags are. It's the content that appears in the search engine's list of results, so it has to be good.
It's okay to use the article's title as a meta title. But if it's a product page, you can get more creative with it.
As for the description, it should clearly explain what the user will find on the webpage.
Let's search for "what's a meta tag?" on Google.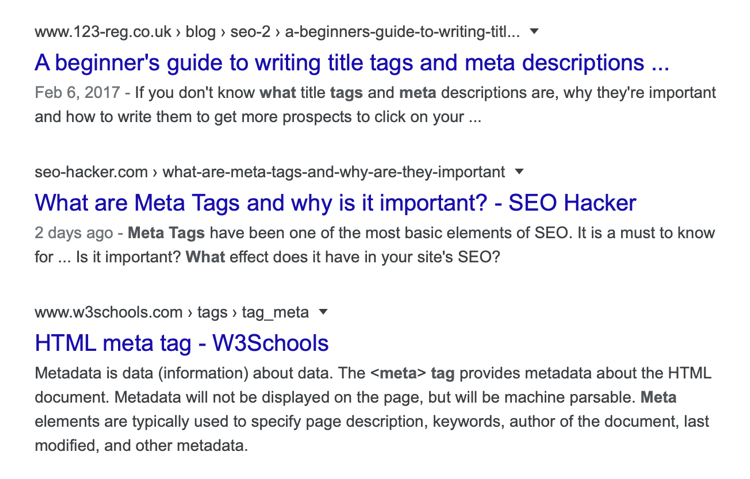 Screenshot 4
These snippets will determine your decision: what page will you open? It doesn't have to be the first one that appears in the results. Most Google users will briefly check the titles and descriptions to make their choice.
Google's bots also read these tags.
Make sure to keep the title tag below 60, and the meta description below 160 characters in length. Otherwise, you risk getting the content cut in the middle of a word. That's plenty of space to accurately describe what the visitor will find on that page.
You can use keywords in these sections. In fact, that's exactly what you should do. The title and description tell the bots (and the users) if your content is relevant to a particular quest.
Technical SEO Might Be Boring, But It Has to Be Done
Technical SEO is not as fun as creating pages that your target audience would love. When doing that, you allow yourself to get creative. With technical SEO, there's not much creativity going on. It's all about attention to detail and mere technicalities.
But it's something that has to be done.
There is an element of experimentation. You'll try different methods and you'll track the results to see what works. For many webmasters, that's the creative part of the work. They love it!
But be careful; trying too many tactics at once might lead to a drop in rankings and you won't be sure what caused it. When making changes, do them one at a time. That's how you'll know what effects you achieved with your methods.
Once you make friends with Googlebots, you'll need to maintain the relationship. It's a matter of trial and error. And it's something that has to be done for building a successful website.