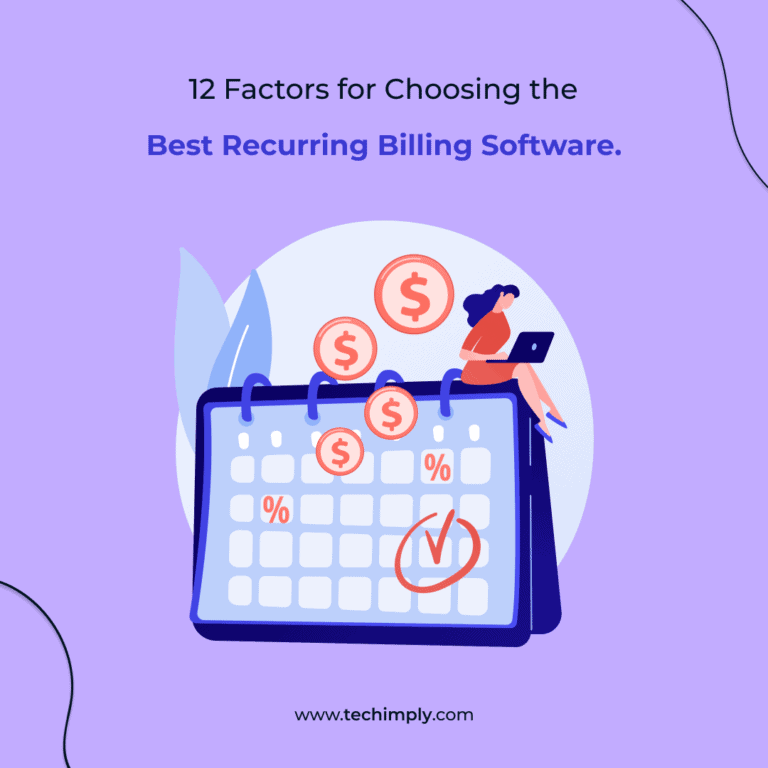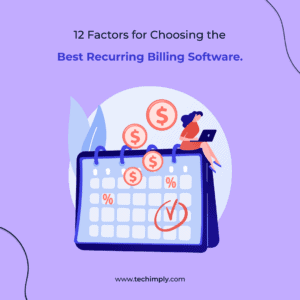 When you have something for scheduling it makes your work simpler and easy. One of such products is Recurring billing software that allows the companies to invoice their customers for the kind of products or services they offer. When a customer is making a purchase on a recurring schedule such as monthly, quarterly, or annually all the invoicing things are added in the software and in the timely manner it is forwarded to the customers. When you make an analysis on the market you will come to know about the 'n' number of software's available in the market and according to your individual needs you have to choose the one that suits best for you. Are you really confused about choosing this recurring software? You should be considering these 12 factors before you make a decision.
Key Factors for Choosing the Best Recurring Billing Software
It is always better to choose the best recurring billing software that exactly suits your business model and requirements. Keep in mind that you should do a keen market analysis before making a purchase; sometimes what your partners use or colleagues suggest might go wrong. Some of the key factors to be considered when choosing recurring billing software is discussed below:
1) Pricing models
Whatever services or products you choose for the pricing factor always matters. These
recurring billing solutions are available in all pricing models such as flat-rate pricing, freemium, pay-as-you-go, volume pricing,  demand-based pricing, event-based pricing, tiered pricing, per user/per unit pricing, formula-based pricing, time-based pricing, and if they need to have any kind of customization that is also available for them.
2) Billing cycles
You can give your customers the kind of flexibility they want on their billing cycles. If you have a customer who wants to have a different payment schedule and having multiple subscriptions on different dates or they need to change their due date all those things can be easily handled using this software.
3) Invoice support
One of the most crucial processes that all businesses need is automated invoice processing.
You have to check whether the recurring billing software you choose will support all the complex account hierarchies and have different options for invoice templates that can be easily configured and customized, how it can enable event based things, if you need to change anything. When it comes to the delivery process it can invoice, credit memos, supporting documentation, etc. in different formats across various platforms. Does a complete check on the Invoicing Software before you make a purchase?
4) Payment options
Check whether your recurring software gives you the payment options that your customers exactly are in need of like debit cards, credit cards, checks, PayPal, ACH payments, etc.
5) Revenue recognition
Is recurring billing and invoicing software revenue recognition software in a single solution is one of the important questions you have to ask yourself before choosing one. Will you be able to assign financial transactions and execute revenue recognition in real time, audit the changes and customize the codes at the place they need all things to be analyzed?
6) Dunning management
To ease the manual burden, all the process should be automated. You should be having multiple reminders and passing multiple messages to handle the things in an appropriate manner.
7) Security and compliance
Your recurring billing software needs to be able to quickly adapt to the changing environment. Most importantly whatever kind of software you opt for they should avail you a very high level of security.
8) Open connectivity and integration
For a complete financial ecosystem, you need to integrate your software with multiple things like (ERP), customer relationship management systems (CRM Software), and other disparate systems. You have to check for the robostic of the software you purchase and also an easy integration with third-party systems.
9) Multinational support
Going global shouldn't be complex, and it should give support on the language, currency, number fields, tax providers, payment providers, etc to utilize the software on a diverse and complex portfolio. Usually best billing software will have this feature on the time of purchase or if you wish to customize them it will offer you the exact support you need.
10) Customer relationships
Whatever kind of businesses we have it is important to have a good customer relationship. Check for those who offer you personalized service, immediate response and 24/7 access to the information they need. Check whether they give you the options to make the payment on all modes.
11) Business intelligence
Knowing the financial health of your company is really very important and it is the key to make informed business decisions, so you need business metrics.
You should also know whether the software you purchase provides in-depth reporting capabilities that can be sliced and diced to give you the information needed, do they customize the report and provide you with real time data.
12) Vendor assistance
Final thing is you need to evaluate the vendor and how they can help you with their overall solution. You should have a demo session and test the product before you make a purchase. You have to check on the vendor on the kind of service they offer for you.
Bottom Line:
Do thorough market analyses before you make a decision on choosing a product, it should suit your business needs and the vendor you purchase the product should avail you a greater support on assistance.
Author Bio:
Aftab Vasiwala is nurturing his future at Techimply as a Writer for Accounting software and Retailing software with good experience in various genres of the blog. He loves to write on the latest Software technologies and their impact on business's.