Back in the year 2014, Oxford Dictionary's word of the year was 'vape'; and for a good reason. It was at this point that the global vaping phenomenon began to build momentum. In particular, the industry has been largely stimulated by the cannabis market, which is heavily affiliated with zero nicotine vaping.
Fast forward to the current time, and analysts at Research and Markets are confident that the worldwide vaporizer market – which is one of the fastest-growing industries globally – is in a prime position to harvest a generous $32.11 billion within the next year.
Practice Healthy Vaping Habits by Downloading These Apps
Vaporizers work by heating e-juice or dry herbs to temperatures that release a surge of flavorful vapors. Options in vaping devices include e-cigarettes, pod mods, and mods like premium Lambo mods.
Although vaping is undoubtedly a safer alternative to traditional nicotine delivery systems, the habit doesn't come without its potential hiccups. For example, you may find yourself consuming too much nicotine, mixing flavors that don't complement one another, and/or burning your coils if you aren't a seasoned vaper.
Don't worry, though, because the following downloadable apps will help you monitor your vaping behaviors and get the most from every inhale/exhale:
1.   E-Liquid Calculator app by Alessandro Boggiano 
This all-in-one app is straightforward and to the point. E-Liquid Calculator assists vapers in producing vape juice that contains their nicotine and flavor preference(s). Users can easily save the recipes to the app, which features a Watts calculator and a resistance calculator. It is available to download in English (default), Italian, Spanish, German, French, Čeština.
Perhaps one of the most desirable aspects of the E-Liquid Calculator is the feature that allows users to measure and create portions enriched with the ideal balance of PG/VG, nicotine, and base ingredients. Measurements can be recorded in standard milliliters, grams, and drops.
2. Ohm's Law by Creature Code Mobile, LLC 
Another well-known vape app is Ohm's Law. You can find it on Google Play. The application, developed by Creature Code Mobile, LLC, helps frequent vapers save money by creating their own PVs and refillable tank atomizers. The basic Ohm's law/Joule's first law calculator invites users to change any coil resistance (Ω) by entering and recalculating a value. When other values are adjusted, the locking features prevent the values from being overwritten.
3. Vape Boss
Vape Boss is available for free on iOS and Android and is one of the most widely discussed apps for vapers. With features like social networking, image sharing, industry news, tips, and e-commerce included in the app, there is no wonder why Vape Boss has gained so much popularity since its release in 2014. This one-stop vaping source acts as a tool for tracking down various types of e-liquids, store locations, product reviews, and trading/selling opportunities. Users favor its clean interface, in addition to the customization features that make business promotion a breeze.
4. Vaffle
The vaping community was first alerted to the release of Vaffle during the year 2018. Created by graphic designers in collaboration with Heavengifts, the app is downloadable on iOS or Android. What's the vision? To provide vapers with an alternative to restrictive social media platforms like YouTube and Facebook. Exhibiting a user interface that closely mimics Instagram, Vaffle focuses solely on keeping the vaping community connected.
You can share your thoughts and opinions on specific vape e-liquids with fellow users, who will be able to view your posts on their personal and/or general feed. Vaffle also exposes its users to product/store/vape juice reviews, making it a powerful platform for vape reviewers who want to sidestep social media bans. Oh, and don't forget to try out some integrated tools, such as the vape diary, calculator, and e-liquid DIY app.
5. Vapor Suite
 Everyone's taste buds are different, and therefore, what one vaper enjoys won't necessarily be the same story for another. Not to worry, because Vapor Suite makes it as breezy as the plumes of vapor you'll be exhaling to develop your very own vape juice innovations. Aside from helping vapers combine PG, water, VG, glycerin, nicotine, and various flavors, this app outlines each ingredient's recommended percentages.
A recipe calculator is built into the application, which grants users the convenience of storing their creations in the hard drive for later reference, not to mention sharing them with the ever-growing vaping community. When you're done coming up with new vape juice recipes, choose from more than 20 material types for coil-making. What's more, you can track daily vaping activity and even rely on Vapor Suite to help you quit smoking cigarettes.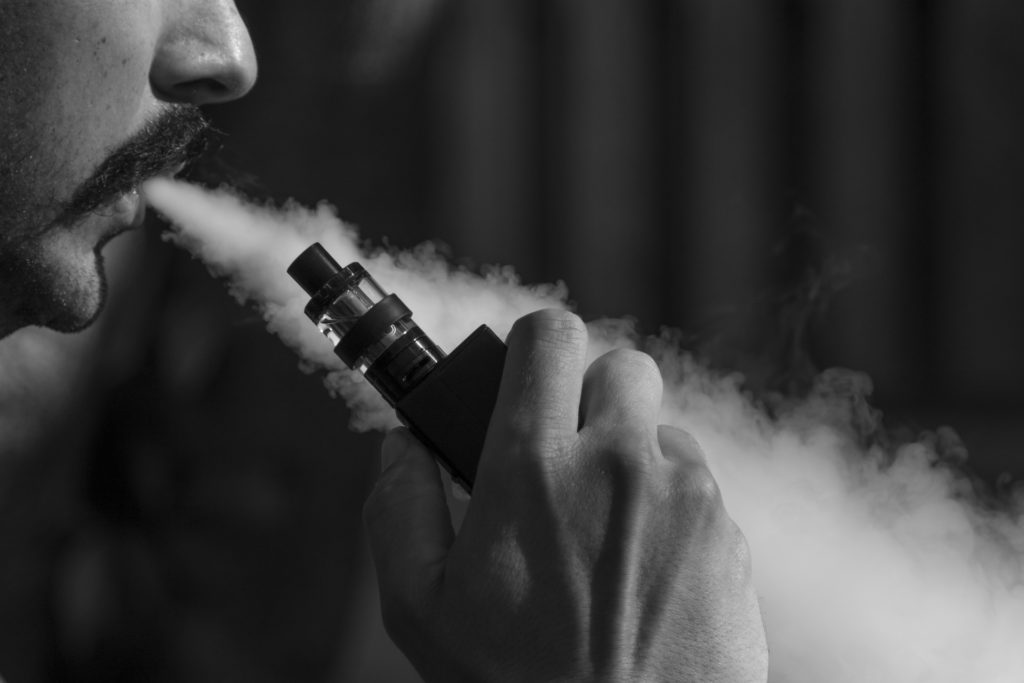 Conclusion
Vape pens provide an added level of discretion, ease of use, and convenience — they emit little to no smell, can be used on the move, and are simple to store.
Even if you choose to vape dry herbs, vaporizing will not produce the same toxic byproducts that other methods are associated with. Nonetheless, it's important to remember that the better your vaporizer device, the higher the level of active ingredients you'll be able to capture and, consequently, allow your body to utilize.
Besides downloading the best vape apps, choose a specific type of vape from a trusted brand that sells the best products.