When it comes to expense tracking to run a business, useful expense tracking apps are the game-changing element. Whether you are starting a new business or you have a medium-sized company, you are better off understanding why the expense tracking apps are your best bet to grow your business and enhance your finances.
Here we have listed a few useful business expense tracking apps that are used by the experts in the market. They are worth checking out and are highly reliable.
1. Expensify
Expensify is famous for being very thorough, and a one-step solution for expense automation plans that a company may have. The software has incredibly high street cred and is endorsed by AICPA for its quality.
It has expense report management, receipt tracking, real time reports, reimbursement mechanism, travel notifications, lack of any need for manual entry of data, and many other features are all game-changing aspects of the software.
It also has mileage tracking, corporate card reconciliation, per diem functionality, and next- day, direct deposit reimbursement. What can the app not do? Not much, but the truth is, it is an expensive and elaborate app that will not be needed by small startups.
If you are running a midsized business that has easily 50 employees all spread across the continent, then it is a highly well-recommended app for successfully conquering the world.
2. Zoho Expense
Zoho expense is another highly commendable software available to use. It is famous for being effortless, and if you are not into too much technicality, then you will appreciate the app. The app has an amazing and long list of practical features that are designed to help you run your company.
The app will allow you to pin receipts in the reports, add additional data files, and sort the expenses in categories. It comes with built-in GPS and maps and will log in mileage overheads in everyday travel. It is an excellent app for employees who are on the road all the time.
If you connect your credit card to the app, then you can import and manage the transactions and batch your expenses together. Now all you have to do is send those expenses for approval to your managers.
It works in an extended range of currencies, and you can develop reports in line with the money of your desire. It will also record information while being offline and also has a web app to use the content on every possible portal and in every likely scenario. The app is continuously synced so that all the data on various portals is regularly updated.
3. Rydoo Expense
Rydoo is another way to track online expenses; the app mainly focuses on mileage tracking and comes with a long list of features as well. It is a great app to integrate with other softwares, and the data collected on this app can easily be shifted to the other softwares without any problems.
You can submit your expenses on the road, and reports can be emailed, collected as pictures, and can be sent or received through Dropbox and Evernote, among other external portals.
You can create expenses by merely scanning your receipts and adding information like payment methods and project details. Rydoo can read credit card statements and match transactions with costs. You can assign controllers, approvers, and CFOs who will review the receipts and reports right on the portal.
4. My Easy Fi
A highly remarkable expense tracking software My EasyFI that deserves to placed here is My Easy Fi. The software has an excellent reputation for being effective in debt elimination, increasing personal savings, and a highly regarded Affiliate Program.
The app is an excellent way for you to manage your life, just like a small business owner, and live in a compelling fashion.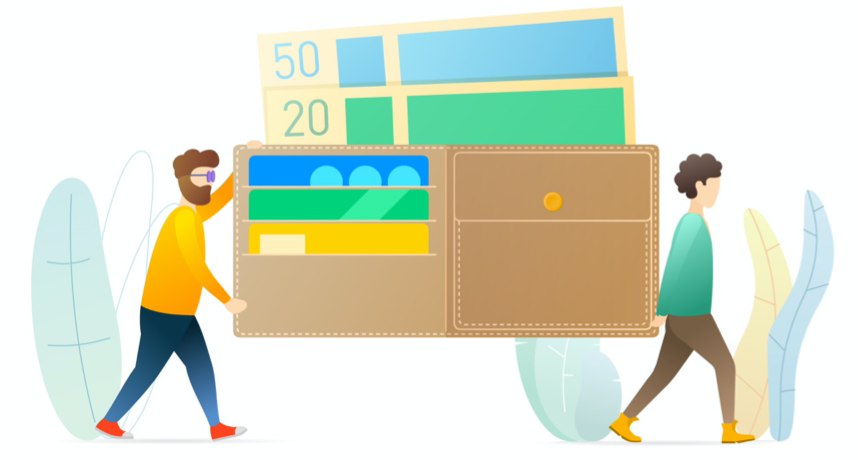 5. QuickBooks
QuickBooks has a near iconic identity for accounting needed in businesses. The app is age-old and is well known for detailed invoices, profit and loss tracking, cash flow management, and other similar tasks.
It has an invoice generator that will track invoices in multiple currencies. You can review bank transactions and customize your invoice and sales receipt to have your brand identity and company logo. You can develop an accurate system for tax deductions and can give accountants access to your accounts.
It is renowned because it can support more than 80 other apps, from customer relationship solutions to inventory management systems. It has an exceptionally advanced billing management system, and you can keep recurring bills and other one time payments in lists. You can manage expenses incurred, pay multiple vendors simultaneously, and set up new vendors. It uses Apple Pay, PayPal, and Bill.com for financial transactions.
6. SAP Concur
SAP Concur is another highly regarded expense tracking and mileage tracking solution for modern financial problems. SAP Concur is a companion app for Concur solutions, and it is considered the best travel expense management app in the system.
It will book flights, approve travel invoices, review submitted travel requests for approval, manage your itinerary, add business dinners and meetings, and estimate travel budget, all on the go.
You will get hotel suggestion options that are customizable, get travel, hotel, and other bookings on the road and import data from the credit cards. You can look into hotel suggestions and itemize the charges along with travel management apps through app syncing options.
All in all, there are many expense tracking apps available in the system, but these are the best apps available in the market.
Granted, they are mildly expensive, but they are worth the investment and will yield great results. They will give you the results you need and will allow you to have a strong understanding of how the financial aspects of travel are designing your business.
Most of the excellent finance tracking apps are heavily focused on remaining true to the milage related results as travel is a significant part of the modern business.
Share your thoughts in the comments section.