You are here because you know about Instagram & Instagram stories well, so skipping some intro points. Let's get into the article.
The story content on Instagram disappears after a day from the posting time. If you don't archive or save them, then you will lose all the hard efforts you have put into bringing your stunning Instagram story.
So here are a few tricks and methods to save & download your Instagram stories to overcome these issues.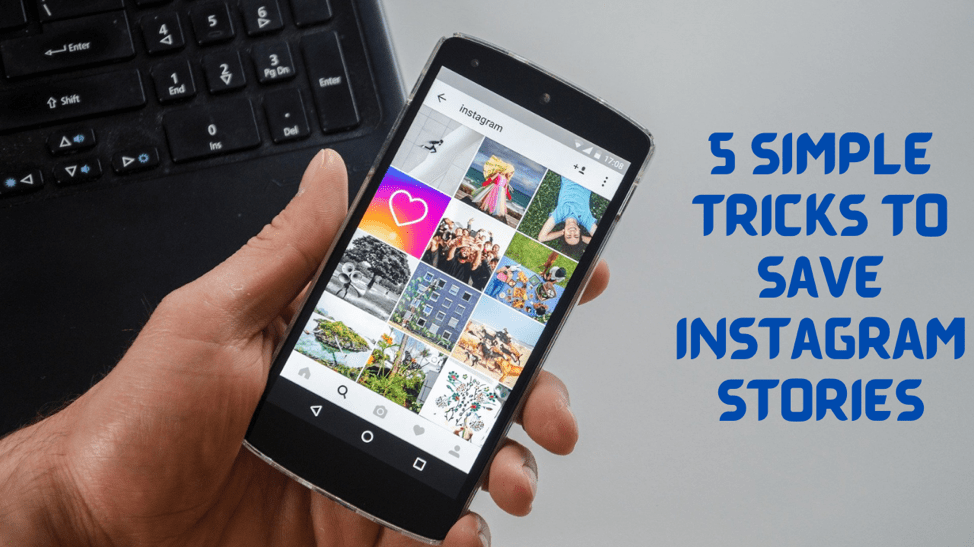 For saving your stories in a web-related app, many professional Instagram story tools are available online that could automatically save and download your Instagram stories.
The benefits of using online tools are:
It saves every Instagram story element, such as video content and photos.
Embed your Instagram story content on any site.
Save and archive Instagram story content from different Instagram profiles that you handle.
Utilizing online tools helps people or agencies who use multiple accounts on Instagram. It would save huge money and time to capture every story you upload, analyze, and use in the future too.
Using story tools of Instagram for marketers could help them to take their Instagram marketing to the next step.
Archive Stories In Your Instagram Account
It's a perfect option you can find in your Instagram settings. It brings you to the activating archive option that saves every story content you post on the platform.
For activating the archive option, you can:
Launch your Instagram profile, and tap the "Settings icon."
Click the "Story Settings"
Activate the options "Save to camera roll" (iOS) or "Save to archive" (Android) in the Saving section.
Thus every Instagram story content would be saved in the archive folder that you upload on the platform. Here, you could download Instagram stories to your gallery.
Follow the below steps to get access and view the saved story content:
Launch your Instagram profile and tap the 'archive icon.'
The archive screen displays where you can get every story content categorized by date.
Thus, your story content on Instagram is saved permanently in your Instagram profile.
Download Instagram Story Content On iPhone
If you don't wish to save every story content to your gallery(Camera roll), you could select to save a specific story content manually.
Follow the instructions to bring up this:
View your Instagram active story
Tap the three dots at your story's bottom and click 'Save.'
Choose 'Save video/photo' to save a specific video or photo, or
Choose 'Save Story' to keep all the content from your story section in the form of single video content.
This way is easy, but you want to download every story content manually once uploaded. The story format that you would download is vertical video content.
Save Story Content In Highlights
It allows Instagram users to bring up the Highlights feature on their profile after their story content disappears. It is similar to the Pinterest boards. Its primary purpose is to create highlights where you could publicly store story content that you think is worth the attention. It helps acquire massive story views for your Instagram profile and takes your story content to the maximum valuable audience. Also, you can provide a perfect name and an eye-catching cover picture to your every highlight.
Highlights benefits for businesses are:
Easy access to the stories and posts.
Highlight specific collections or products.
Highlight client testimonials.
Highlight your business's FAQ section.
Highlight your favorite things.
For saving highlight,
Launch your Instagram account and tap a Highlight you want to save.
Just swipe up or tap the people's images at the bottom left side.
Tap the download icon at the top bar.
The total highlight is converted into a video and saved in your gallery.
Through this, you could share your Instagram story content on your feed and save them in your profile. To bring this, share a story content as a regular post, and follow the info:
View your story content.
Tap three dots at your story's bottom and click 'save.'
Choose share as a post
     Save Others Instagram Stories
Remember there is no option to save other people's story content on Instagram, but if you need to keep someone's story content, then you could try out the following methods:
Instagram Story Saver: It's a mobile app you can download from the play store, allowing you to save or download others' Instagram stories.
Do a Screenshot: Always you could take a screenshot and save a story, but it won't work for a video. If you use a video capturing app, you can even save others' video stories on Instagram. But a screenshot of any content is not a recommended one.
And also, if you take a screenshot of someone's story content, Instagram notifies them that you have done a screenshot.
I hope the tips and tricks mentioned above help you to bring up more things with Instagram video content and Instagram stories.
Author Bio
Mary Kyle is a content developer and marketing manager who works at Snaphappen. She has written more trending articles on social media and has a handful of experience in delivering engaging content.