SD card, as a removable storage device, has become an inseparable part of our lives since it is widely used in various kinds of electronic devices, including smartphones, cameras, computers and tablets.
However, something unexpected also happens. For example, SD Card not showing up has been a headache, especially when you don't have an idea why this issue is happening.
What may cause SD Card Not Showing up
It is a common problem that SD is not showing up in Window. Why does this issue happen frequently on Windows computer? In general, the causes for this issue are various, including hardware and software problems, such as virus invasion, SD card improper removal, bad USB port, outdated device driver, write protection of SD card and so on.
Check these reasons, and you may find the exact cause that leads to SD card not showing up or recognized on your computer.
Therefore, we have summarized some workable solutions to fix this issue. You can try them one by one without worrying about data loss.
How to Fix SD Card Not Showing Up
Fix 1. Check and Fix Hardware Connections
Firstly, you can check hardware connection problem as SD card is connected to computer via a card reader.
1. Use another SD card reader to carry the SD card to see if it will be recognized.
Change another USB port to insert the SD card to see if it works.
Insert the SD card to another computer to see if the issue happens.
Try removing the dust on SD card, SD card reader and USB port.
Fix 2. Change Drive Letter
This solution applies to the situation that the SD card is not showing up or detected in File Explorer when you connect it to computer. Then, you can open Disk Management to check if it has a drive letter.
Here are the detailed steps:
Enter Disk Management by inputting diskmgmt.msc in the Run dialogue.
Find the SD card, right click it and select Change Drive Letter and Path… from the menu if the drive letter is missing.
Choose Add in the pop-up window to assign a drive letter for the SD card.
Fix 3. Update or Reinstall SD Card Reader Driver
If the SD card reader driver is corrupted or outdated, the case of SD card not showing up in computer may occur. Thus, you can follow this guide to reinstall or update SD card reader driver.
1. Open Device Manager.
Expand Disk drivers. Right click SD card device and hit Update driver. Or you can choose Uninstall device > Action > Scan for hardware changes to reinstall the reader driver.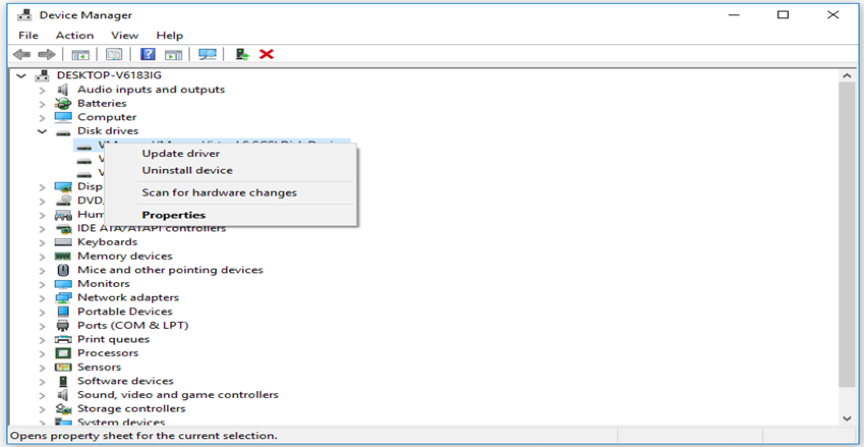 Fix 4. Restart Computer
Sometimes, restarting a computer can get rid of majority of computer issues. So, just have a try when SD card not showing up occurs.
Click Start > Power > Restart to reboot your computer. Then, reconnect your SD card to computer to see the error has been solved or not.
Fix 5. Run a Virus Scan
As is known to all that virus and malware can bring harm to computer. SD card not reading also may be caused by this reason.
You should run Windows Firewall or Microsoft Defender to protect your computer. Or install a piece of antivirus software to perform an antivirus scan to remove the viruses and malware.
Fix 6. Remove Write Protection of SD Card
If the write protection is enabled on the SD card, the issue of SD card not showing up may happen. You can remove write protection with these steps.
1. Press Windows + R to launch Run window. Type devmgmt.msc in the search box.
Expand Disk Drivers.
Find the SD card. Right click it to open the menu. Click Properties > General Tab. Find the write policy and turn the tab off.
Fix 7. Clean Adapter and SD Card
Sometimes, the SD card or the card reader may be contamination due to long-term carless use. Or if it is left unused optionally without special protection, it would be covered by dust. In fact, both cases may bring about abnormal use of SD card and card reader or even SD card breakdown.
As a result, the SD card may be not showing up or recognized on computer. So, you can try cleaning the dust on SD card and card reader when SD card not showing up issue happens.
To clean the SD card, just use a soft cloth, or wet cloth with alcohol to wipe the components of the SD card carefully. Do not scratch or bend it. Otherwise, it would get physically damaged.
To clean the card reader or USB port, you can use cotton applicator or compress air into it gently to get the dust out.
After that, you can reconnect your SD card to computer via card reader to see whether the issue has been eliminated or not.
Fix 8. Recover Data and Format SD Card for Reusing
After trying the methods above, if the SD card is still not showing or recognized, you may try using data recovery software to recover data from SD card and then fixing the SD card by formatting it.
MiniTool Power Data Recovery is a nice candidate for Windows data recovery. With the help of it, you can restore data from SD card as well as computer hard drive, external hard drive, USB drive and so on. You can easily recover SD card just within several steps.
Step1: Connect the SD card to computer with the card reader.
Step 2: Launch the software to get the main interface.
Step 3: Click Removable Disk Drive recovery module and select the target SD card to scan by clicking Scan button.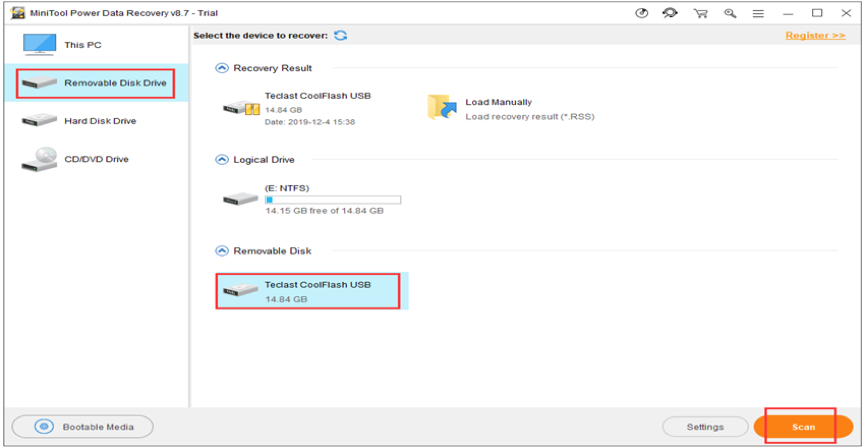 Step 4: After the scanning process completes, browse all scanning results and pick out the files you want.
Step 5: Click Save to choose a storage destination to store the recovered files.
After finishing data recovery from SD card, you can check the recovered files in the storage path. Then, it's time to format the SD card for reusing. We recommend a reliable tool for you to format SD card – Partition Wizard.
Final Words
Here comes the end part of the post. I guess after reading the paragraphs above, you may know how to fix the issue SD card not showing up in computer. Then, just try these solutions. I hope you SD card can be recognized and readable soon.
To avoid the same case in the future, please remember to eject external devices, like SD card from your computer safely.
Also, if you have any questions or suggestions about this issue, please share with us by leaving your comments in section below.