On August 1, an incredible event will take place: an AMA session with S-WALLET will be held on the platform of the Neuronix analytical agency! The crypto wallet team will be represented by the project's COO Sergio Latansky!
Yes, this is exactly the project that raises funds at the presale stage in the first seconds after the round starts! But for those who, for some reason, have not heard about it yet, we will tell you in more detail.
How to join? Read below!
Manage your assets with one hand!
Today we see a serious growth of the market and the number of users of digital assets is increasing with each cycle. At the same time, the demand for reliable and high-quality platforms is huge, since now only a few market leaders accumulate the main audience. The market needs a reliable and convenient service to serve users' assets!
S-Wallet is a multi-currency wallet that supports popular USD/EUR cryptocurrencies and fiat assets with the ability to receive, store, exchange and send funds. We alerady told about the project in this article s-wallet-crypto-and-bank-payments-in-one-place.
The mission of the project is to create an innovative and secure financial ecosystem that guarantees full accessibility and transparency of transactions of fiat and crypto assets for daily use. It also provides an opportunity to gain full control over your payments and reach a new generation of buyers for those enterprises that use S-Wallet for business or corporate purposes.
The popularity of this project is incredible! This can be determined from the statistics of their crowdfunding stages:
After the start of the first stage of the presale round, the available 2,000,000 SWP tokens were redeemed in 5 minutes, 42 seconds!
Despite the technical delays the second stage of the presale round was redeemed in 22 seconds!
The third stage of the presale round has been completed ahead in 7 seconds!
(Hello, Pavel Durov)
It is not surprising, because the project compares favorably with competitors and provides users with a number of advantages:
Speed. Cross-chain exchange and user-friendly interface for interaction in both browser and mobile versions.
Loyalty. Low fees if you have SWP tokens in your personal account.
Support for popular blockchain networks and their tokens.
Banking system. Purchase fiat and crypto assets with bank cards.
Support. S-Wallet has friendly support that is always ready to help its users.
Multilingual. Use S-Wallet in your preferred language. The list of platform localizations is constantly growing.
In addition, S-Wallet has promising plans for the future. In July, the internal SWP token will be added to Uniswap, profitable staking will begin in August, and the mobile app will be released in September!
You can personally ask Sergio Latansky about all this and even more on August 1 on the joint AMA of S-Wallet and Neironix! The "Ask me Anything" session will be held not in the classic format, but using a new, but already proven technology of interaction with the community – "Attention Mining"! It's time to try it out!
$10,000 in SWP tokens will be distributed among active viewers who will ask interesting questions to the speaker! Do not miss the opportunity to get a coin, for which there was such a crazy demand among investors!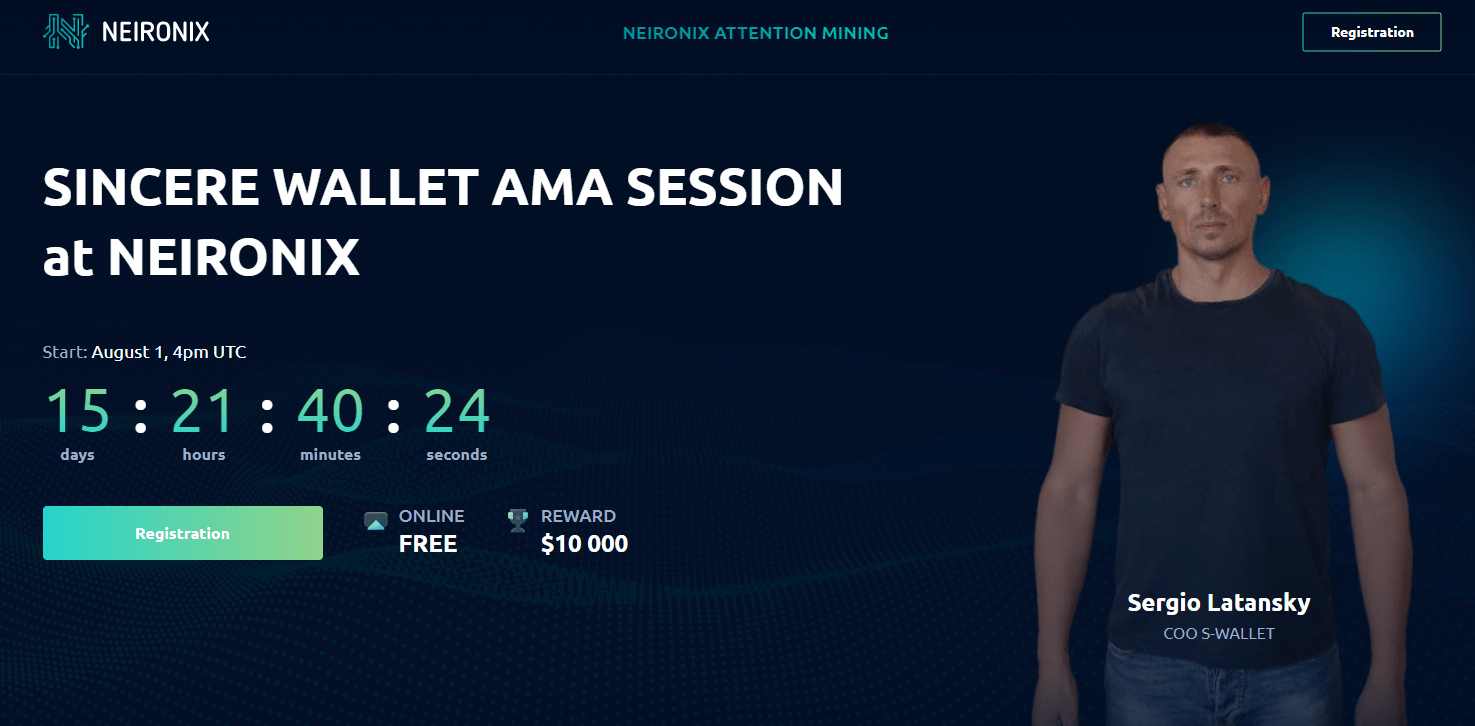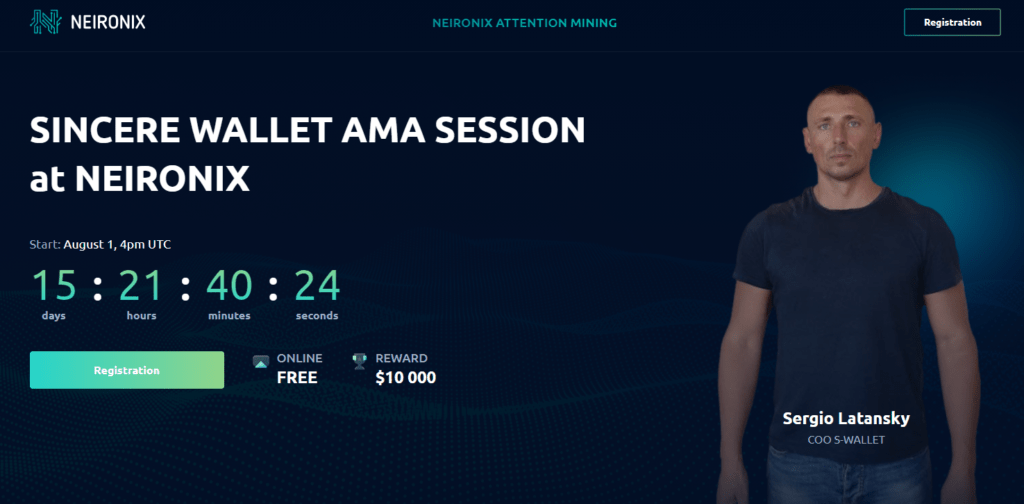 Participation in the event is completely free, but the number of participants is limited! So visit the event website and leave applications.
Hurry up, everyone has a chance!