Apple launched its iPhone 12 series a few days back and fans all over the world will surely get hold of it. When buying a new iPhone, most of the people face a common issue. Yes, you guessed it right! People all over the world, when they buy a new iPhone, get confused while transferring their data from old handset to a new one. This makes them go nuts. If you are one of those people who get confused while transferring data from an old Android or iPhone to a new one, you are in the right place. Today, we will talk about the ultimate solution to this problem—AnyTrans. Let us have brief look on this tool.
What is AnyTrans?
AnyTrans is an all-in-one tool for your Apple products such as iPhone, iPad, iPod, iTunes, iCloud, and much more. The tool acts as a manager your Apple products and allows users to manage, transfer, and back up data easily and quickly. This makes the tool one of the best and most-liked among users all over the world. And since the new iPhone 12 has been launched, users will need this guide. Hence, AnyTrans comes to rescue in this situation.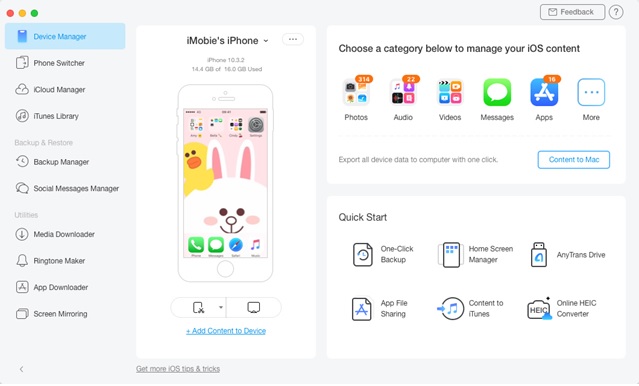 Why AnyTrans?
Well, there are a number of features that will make you want AnyTrans. Here are few for your reference.
Transfer data from multiple devices: The tool not only just transfer data from old iPhone to a new one but also supports from a number of devices. This means if you wish to transfer data from your old iPhone, iPad, iPod, Android, iTunes, iCloud, computer or even restore your old backups to the new iPhone 12. The tool allows flexibility in transferring data. This feature is one of the best reasons for recommending the tool.
One-click data transfer: Gone are the days when transferring data used to be tedious task. And also, gone are the days when it used to take hours to back up data. With AnyTrans, transferring data from one device to a iPhone has become a child's play. The tool allows to transfer all or selected iOS data with just a single click.
Support to different types of data: Since iOS supports different types of data, sometimes it becomes difficult for different tools to backup those types of data. However, AnyTrans has the ability to backup 27 types of data, which makes it the best in the industry, no matter contacts, messages, photos, songs, or videos, calendar, etc.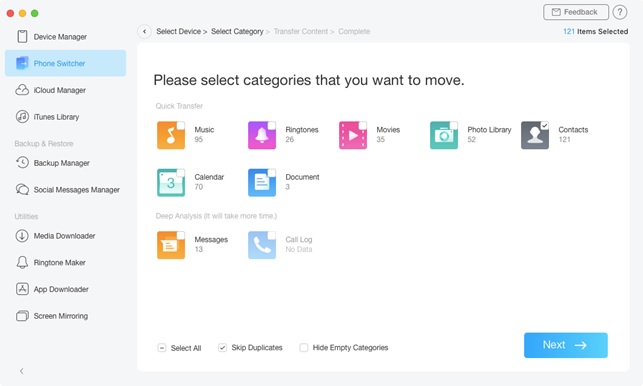 Is AnyTrans Suitable for iPhone 12 Lineup Daily Usage?
First and foremost, as mentioned earlier, AnyTrans will help the new iPhone 12 users to transfer data from many devices. In addition to this, AnyTrans is a suitable daily manager option for iPhone 12. Here's how:
Daily data management: The tool will help with management of different types of data. This includes different type of data such as images, videos, music, chats, contacts, and so on. In addition to this, users can also manage data of third-party apps. For example, users can manage their WhatsApp chat data using AnyTrans.
Daily data backup: Backing up your data is one of the most essential features that AnyTrans offers. The tool helps in backing up your precious data. AnyTrans offers different backup features such as automatic backup and wireless backup from iPhone to any device.
In addition to this, AnyTrans also helps with essential utility tools for the new iPhone 12. With the help of built-in utility tools, you get the ability to download online videos/songs to iPhone, personalize iPhone ringtones, mirror iPhone screen to the computer, and download and install apps to iPhone. This can be considered as the small cherry on the cake, thereby making you want the tool even more.
Get an iPhone 12 for Free
Now here is a chance for you to get the brand new iPhone 12 for free. AnyTrans has introduced #BackupwithAnyTrans campaign. Under this campaign, users can get a chance to win a brand new iPhone 12 for free. How? Well, it is very easy. All you have to do is share your first iPhone story using the #BackupwithAnyTrans hashtag on social media.
So, what are you waiting for? With AnyTrans, you get different benefits such as one-click back up, data transfer, and most importantly you get a chance to win a brand new iPhone 12.