Earning and nurturing customers' trust is not simply a "nice-to-have" component of your business strategy. Your present and future clients' perception of your trustworthiness can actually make or break your bottom line.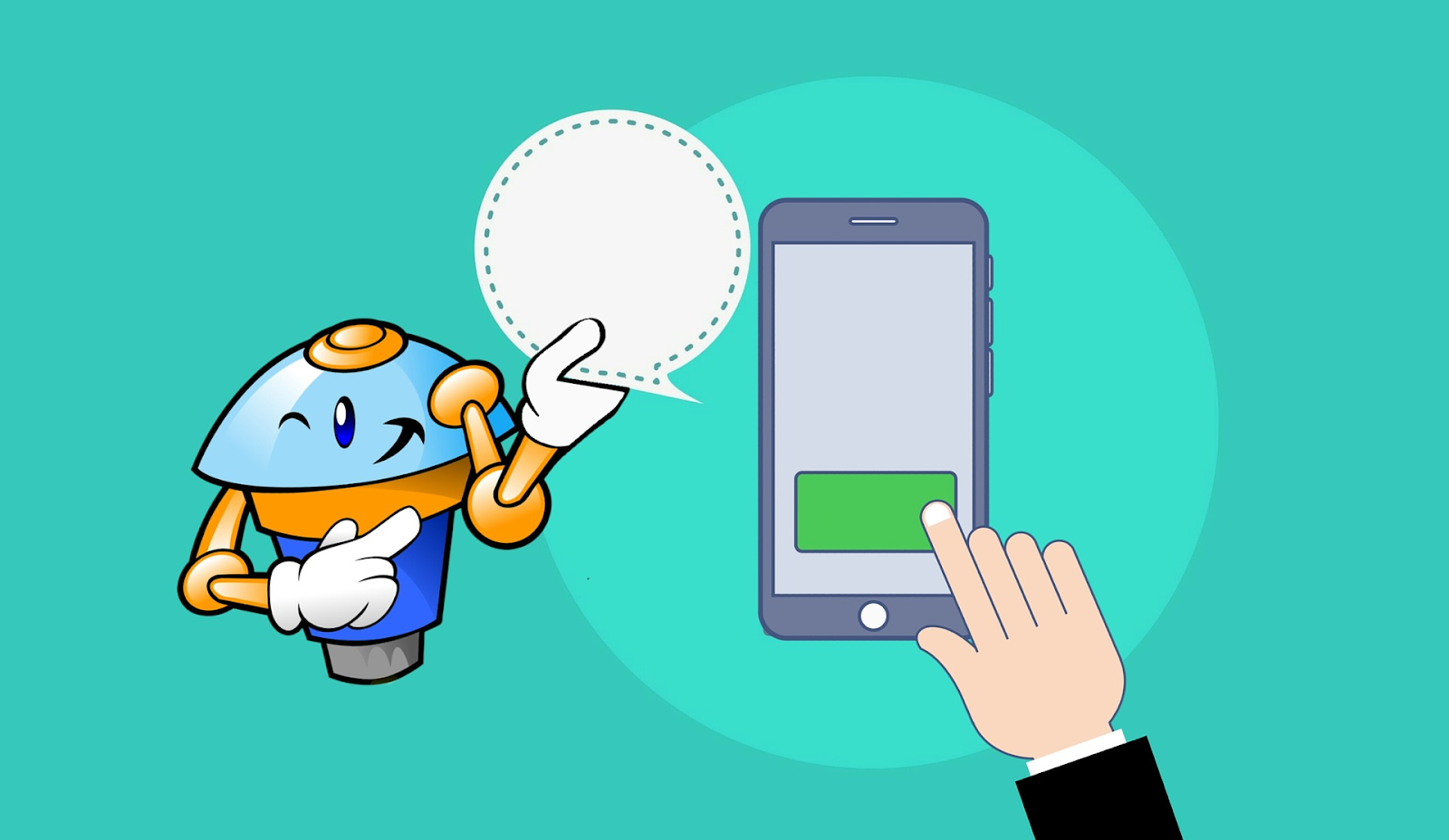 Customer and Brand Trust Statistics
Consider the following findings from Edelman's 2019 Trust Barometer Special Report: In Brands We Trust? that show how your customers' confidence in your business can influence their purchases and brand loyalty.
Brand trust is among consumers' top buying considerations (81 percent). Other crucial deciding factors were the quality (85 percent), convenience (84 percent), value (84 percent), and ingredients (82 percent).

More than half of U.S customers surveyed will buy first (53%) and stay loyal (65%) to a brand they've trusted for a long time.

Among the top reasons why U.S. consumers consider brand trust as important are the increasing number of companies with access to their personal information (43 percent), false information online (42 percent), and they cannot afford to waste financial resources (33 percent).

One way companies have been building trust and leveling up their customer service is through conversational commerce or c-commerce. Coined by Uber's Chris Messina in 2015, conversational commerce refers to the process of shopping through chat, specifically chatbots, voice assistants, and message apps like Facebook Messenger, WhatsApp, and WeChat.
These platforms allowed businesses to move closer to offering an in-store experience online by approximating how salespersons dialogue with prospects. Customers can ask for more information on services and products, request help in finding the right items, buy, and follow-up on their orders' status.
Chatbots enable eCommerce businesses to provide 24/7 customer service to a growing client base. It also frees up their teams to focus on more complex services and complaints that the bots cannot yet handle. Meanwhile, clients are able to receive swift responses and conveniently shop online without shifting platforms. In a sense, the conversations people have with chatbots can shorten a buyer's journey from discovering a product, to gathering more information, and eventually making a purchase.

Do Consumers Trust Chatbots?
In Usabilla's 2018 survey, 35 percent of U.S. consumers shared that saving time was the top reason they would use a chatbot. Moreover, 54 percent would prefer a chatbot over a human representative if this means they can save 10 minutes.
But beyond saving time, customers have come to expect being able to do several transactions even without a live customer representative. These activities include simple tasks like checking account balances, updating personal and payment details, and giving feedback.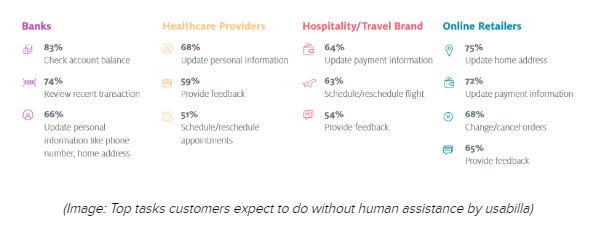 Participants in an exploratory study on chatbots and customer service pointed out factors that made them feel more comfortable dealing with bots. For one, they don't feel judged especially when they ask seemingly silly questions. They also feel less pressed for time, enabling them to compose questions and review answers at their own pace.
In terms of trust in the chatbots, there were three factors that the study's respondents emphasized:
The bot's capacity to correctly interpret a query and supply helpful answers;
Their human-like communication style, politeness, or even a touch of appropriate humor; and
Self-representation or it's clear communication of what it can and cannot do.
With regard to the service environment, factors that influenced trust were:
The customers' perception of the brand hosting the chatbot;
Stated or perceived privacy and security measures, especially if it is facilitating transactions; and
Perceived risks or accuracy.
The convenience chatbots deliver, however, has not completely displaced customers' desire to engage with a real person. In Usability's study, almost a fifth (18 percent) would always choose to talk with a human representative when interacting with brands. And even among those who use bots, they still want to be able to reach a company representative when they run into issues.
Given these insights, how can you utilize conversational commerce to win — and maintain — customer trust and loyalty?
5 Ways eCommerce Businesses Can Maximize Chatbots to Build Customer Trust
#1. Develop Chatbots That Are Consistent with Your Branding
Chatbots can do more for your eCommerce business than just providing canned responses. When crafted to be consistent with your brand's values and voice and to aesthetically match your web design and marketing collaterals, they can strengthen brand recognition and be persuasive round-the-clock ambassadors for your company.
Progress in artificial intelligence and conversational commerce enable you to deploy messaging sequences that put your prospects and clients' needs first. Instead of aggressively marketing your products or bombarding them with promotional materials, leverage conversational AI to provide value and deliver a top-notch customer service experience. Consider your clients' common concerns, anticipate what they may need, and plan how you can use chatbot AIs to fill this gap.
For instance, use your bots to make it convenient for your customers to pay for orders, navigate options, and review offers through high-quality visual, audio, and video content. If your company is projecting an informal, casual image and you want to make clients feel at ease, make sure that people who engage with your chatbot are also getting the same impression. Moreover, strengthen trust with your site visitors by being transparent about your chatbot's limitations and how their personal data are being collected and used.
#2. Determine the Appropriate Role for AI
Aiming to use chatbots to totally replace customer representatives can hurt your eCommerce business. As discussed above, some of your clients may still prefer human interactions, and chatbots may not be able to correctly interpret all questions nor efficiently handle complex cases.
A more strategic approach is to explore how artificial intelligence can complement your customer service, sales, and marketing teams. For example, think about what your customers may need from you, and let your chatbots take over simple queries and transactions.
You can also speed up response times by utilizing AI to direct complicated issues or bulk transactions to the appropriate teams. Lastly, give your customers the option to interact with a human representative. Allowing them to engage with your company in ways they are most comfortable with can help build their confidence and loyalty to you.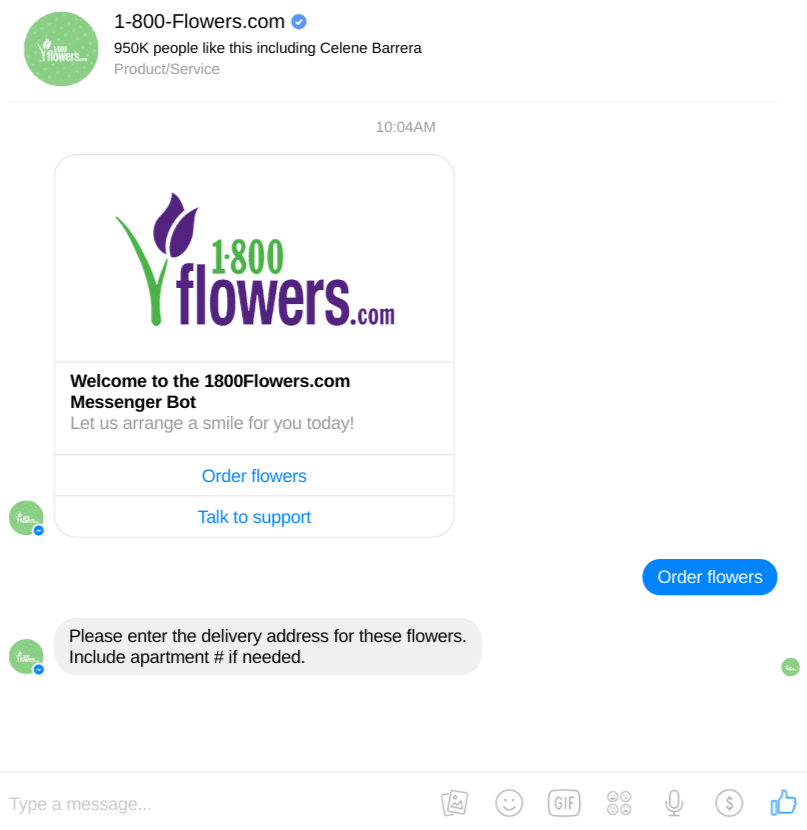 #3. Personalize the Conversations
Personalizing conversational commerce goes beyond inserting your customer's name in message sequences. Create a stellar customer experience by initiating two-way conversations that can make your prospects feel understood and allow you to efficiently address their concerns and make things easier for them.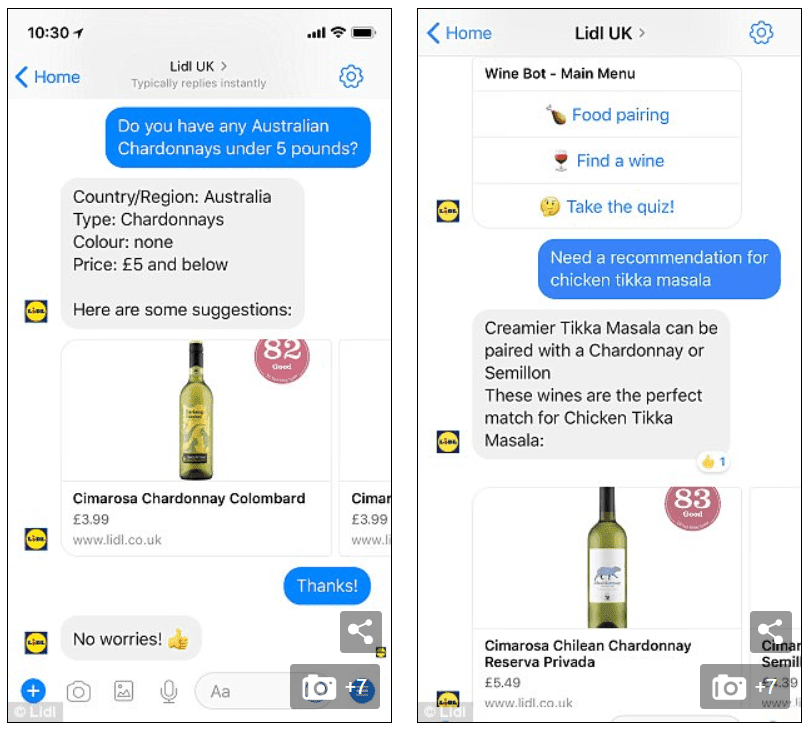 To do this, identify areas where you can personalize the conversation and what information you need to ask from your customers. For instance, in the example above, Lidl UK's bot provides wine recommendations based on the country/region, type, color, price, and menu provided by visitors.
#4. Create an Omnichannel Experience
An omnichannel approach doesn't mean you need to be present and deploy chatbots on every platform. Prioritize the platforms your customers already use to engage with your brand, and start conversations and deliver consistent messaging across these sites.
Through AI, your chatbots can follow each customer's conversation, preferences, and purchase history, and use these to tailor future recommendations. You can also use chatbots in one platform to invite visitors to engage with your brand in other platforms — such as by joining a Facebook live session or visiting your display locations, similar to what Kia has done in the example below.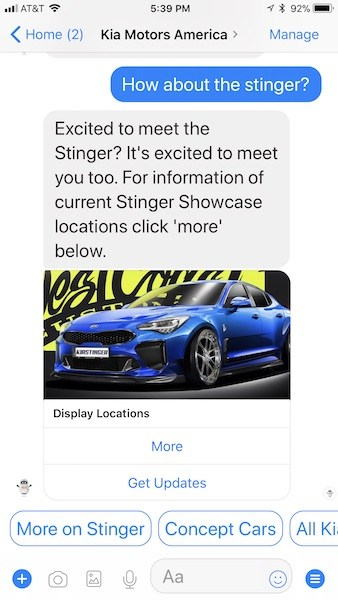 Omnichannel strategies allow your customers to conveniently interact with your company in the platform they're more comfortable to use for each phase of their buying journey. For instance, they can visit your business website to browse products, make initial inquiries through your chatbots, be referred to a live agent for special queries, then go to your physical store to closely examine and test the product before purchasing it.
#5. Use an AI Voice with a Lower Pitch
In choosing a voice for their virtual assistants, companies have looked into how people respond to different voices. For instance, when Apple was looking for the perfect voice for Siri, they looked for the right tone to convey helpfulness, determination, and joy.
But there's another factor which companies use in choosing voices for their virtual assistants: pitch.
In the political sphere, candidates with lower voices were seen as stronger and more competent, and were thus more likely to win. Moreover, according to MIT Media Lab research assistant and PhD candidate Rebecca Kleinberger, the peaks in vocal sounds (called formants) are more harmonious in lower frequencies than in higher ones.
The more pleasant quality of lower-pitched sounds and the positive qualities attributed to it have thus made them the preferred voice for virtual assistants.
What's Next for Conversational Commerce
Chatbots' capacity to sustain two-way conversations and offer immediate and personalized solutions are making them an integral component of eCommerce companies' omnichannel strategies.
Developments in artificial intelligence are enabling bots to not just respond to direct queries, but to initiate dialogues with users, piquing their curiosity and encouraging them to stay longer, and possibly turn these casual visitors into buyers.
Advancements in chatbot AIs will also empower companies' teams and increase their productivity. From being primarily used for customer service and sales, bots may eventually help teams filter and pursue the right leads and work alongside sales representatives to provide clients with personalized upsell suggestions. Moreover, bots can make marketing initiatives more effective by continuing exchanges with prospects even after campaigns end.
Despite the technological limitations that still affect chatbots' accuracy, and some customers' reluctance to use these platforms, conversational commerce will undeniably be the norm in the digital space. And as these bots become your prospects' first interaction with your brand, you need to make sure you are using it right.
Is your company maximizing conversational commerce? How are you employing them to win your customers' trust?