Discord is made with an opportunity to interact with other users while you are playing games online with your friends. The origin of this app can be dated back to the year 2009, wherein the release of Open Feint was at surge and thus, it attracted a lot of customers or gamers on both Android and iOS.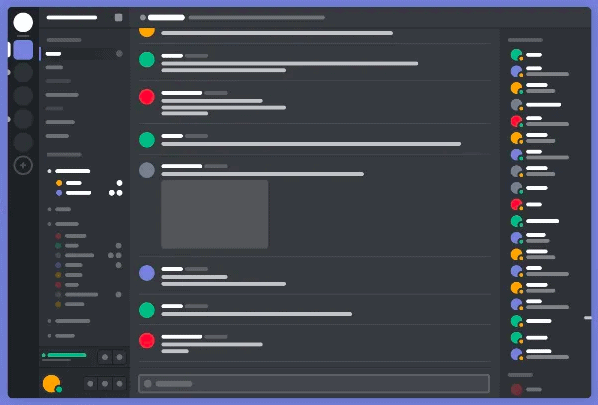 It is also popular amongst users because it comes with a lot of features that are customizable. Further, you can screen share with your friends and also share music with each other, chit chat with each other and do a lot of fun things. Another benefit can be coding novices and experts alike can use this service with ease. Many gamers like to stay connected with one another, especially for battles and raids. If your Discord friends and acquaintances are trying to keep up with the game you're playing right now, or you want to show off what you're up to you can update your Game Status in Discord.
Manually changing the game status
Discord comes with a auto detect system that easily identify new games and also what is running on the computer screen too. Also, since these are verified games, you do not have to worry at all. Thus, it enables the task manager and detect any issues if any are there in the games.
·      Open Discord and navigate to User Settings.
·      Select Games from the left menu and then add it to the right.
·      Manually add a game or program from the list that appears.
·      Toggle the Game Status on
You need to have the program running in the background if you want Discord to detect the running process quickly. Just Alt-Tab out of the game, open Discord, and follow the steps above to get this to work. This is meant for games but if you want to have a status message for a different program, you can.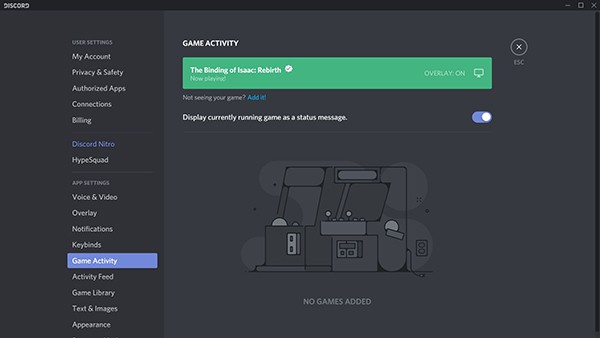 Once the process is completed, the status message will appear in Discord until or unless any program is opened in the computer. Once the discord is closed, the message will not appear anymore.
Change Verified game Status in Discord
Though the verified games cannot be edited in Discord, but you can definitely manage to influence it in the way it works. You can manually add a process and get Discord to display that instead of the game you are playing.
Game status is a perfect way to tell the world of what you are up to what do you want to play. It also adds an element of fun in the Discord and you enjoy playing on it a little more.
How do you show what Game you're Playing on Discord Mobile?
There are two ways to do this on mobile, either by putting your own "Custom Status", or going into User Settings > Game Activity.
Custom Status
From the Mobile App
Click the upper left dropbox represented by the 3 horizontal lines.
Find your name at the bottom of the screen and click it.
You will now see your online status options.
Click "Set Custom Status."
You can now put any status you want.
Game Activity
You will have more options to update your Game Activity from the Desktop application than the mobile app. If you'd like to turn on/off the Game Activity you can from the mobile version. You can update your Game Activity from your mobile device or your desktop application.
Mobile Device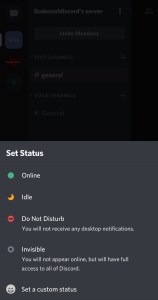 Click the upper-left dropbox represented by the 3 horizontal lines.
Find your name at the bottom of the screen and click the settings option represented by the gear.
Scroll down to the "Game Activity" tab and click it.
You're now at the "Game Activity" tab.
You can toggle the switch to show your activity or not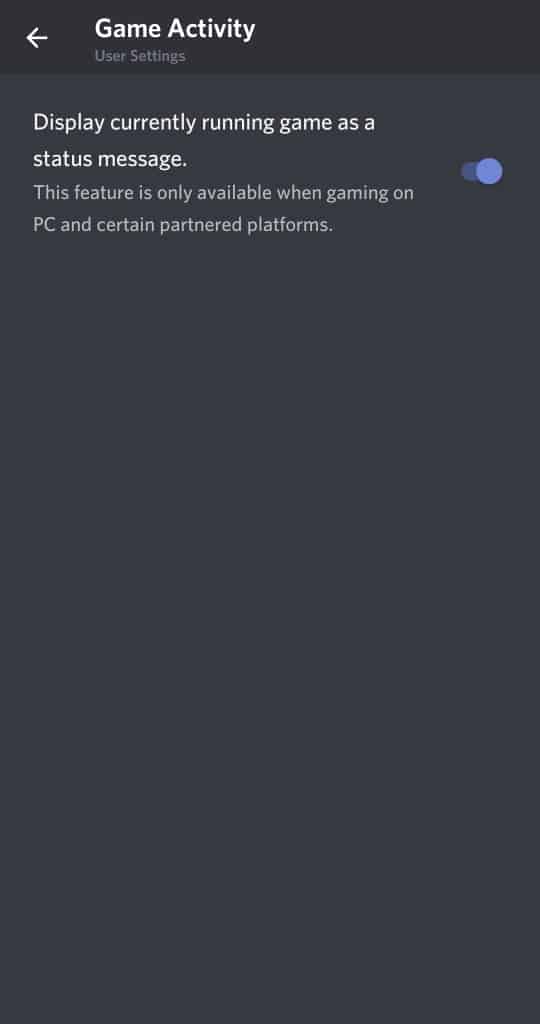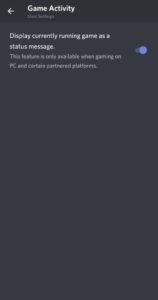 Desktop Application
The Desktop version of Discord will let you show which game you're playing as it's detected in the background of your PC. If you've gone through the Settings and added Xbox under the 'Connections' tab, your current game will link up here.
Manually change your online status in Discord
Discord has four options for your online status: online, idle, do not disturb, and invisible. To manually change your online status in Discord, right-click your avatar in the Discord client and select your status. You will need to manually change it when you need to or it will go back to automatic when you restart Discord.
Change Your Online Playing Status in Discord Manually
Discord presents itself with four online status message options, that are available on almost every other chat platform, such as:
Online
Idle
Do not disturb
Invisible
However, this does not collaborate with your game display. Therefore to change your game display on Discord, you can follow the given steps:
Right-click on the Discord client avatar
Select your playing status from the option there
However, keep in mind that you will have to change this custom game status every time you start the app manually. This is because it will go back to automatic once you restart the app.
But there is a loophole available that can be used that is:
Run the game in the background > open Discord > open User Settings
In the left menu, select Games and Add it on the right.
Manually add whatever game you want from the list that is present
Type in whatever status you want in the message box.
Conclusion
Thus, these are few details by which you can change the game status in discord and enjoy using it a little more. Further, there are a lot of advantages that come with Discord, thus, you need to pay attention to these details also. But make sure that always follow the steps with care and caution so that no problem is caused to the computer or the laptop in any manner.