DesignCap can be a good option if you want to edit images easily and quickly, offering program-free visual editing!
Visuals are undoubtedly one of the most important elements you should pay attention to in the content you prepare. When the images are arranged in a way that will appeal to the people you are addressing, you will have the chance to reach a wider audience and create more elegant content. At this point, one of the best tools you can use stands out as DesignCap. So what does DesignCap offer to users, and with what features does it stand out from its competitors?
What Features Does DesignCap Offer?
DesignCap, which allows you to create images without the need for any program, stands out as an internet-based visual editing tool. This means that on the one hand, unnecessary storage space on your device will not be occupied; on the other hand, you can access your designs from all devices that can connect to the internet. In other words, you can continue your design on your computer later on your tablet and print it out on your smartphone.
Some advantages that DesignCap users get are as follows:
– It does not occupy any space on your device thanks to its internet-based and allows you to access it from all devices that can connect to the internet.
– It has an extensive library of thousands of ready-made templates, graphics, and content.
– It offers free usage for users who do not want to pay as well as paid subscription offers.
– Since it has a plain and understandable structure, it offers a fast and easy use without requiring expertise or skill.
– Along with simple yet powerful tools, it allows you to customize images as you wish.
When you log in to the site, a screen with ready-made templates, designs you have previously edited, and personal fonts welcome you. In the meantime, let's say that you can download fonts that are not included in the tool on the site. When you click the 'Create New' button to create a new design, it offers you a large scaling list. You can open a ready-scaled template by choosing options such as Instagram Story, Facebook Post, Facebook Name from this list. If you want to create a custom scaling, click on the 'Custom Size' button.
The screen that opens after that includes the following options:
– Elements: This tab contains line, shape, arrow sign, or various icons, and you can choose between ready-made icons.
– Photos: This tab includes some ready-made images that you can use in the background.
– Chart: If you want to add some data to the design you prepared, add graphics from this tab. We can say that there are quite a lot of options on this tab.
– Uploads: If you want to add an image or similar content that is not included in these tabs to your design, you can immediately upload it to this panel. Let us remind you that the content uploaded here is also accessible from all devices.
– Text: If you want to add some text to the image you prepared, you can add text with various font options.
– Modules: You can enrich the designs you create from this tab, including ready-made designs such as social media icons, statistical data, or timeline.
– Background: If you want the knowledge of the design to be more customized rather than white, you can make various adjustments in this tab.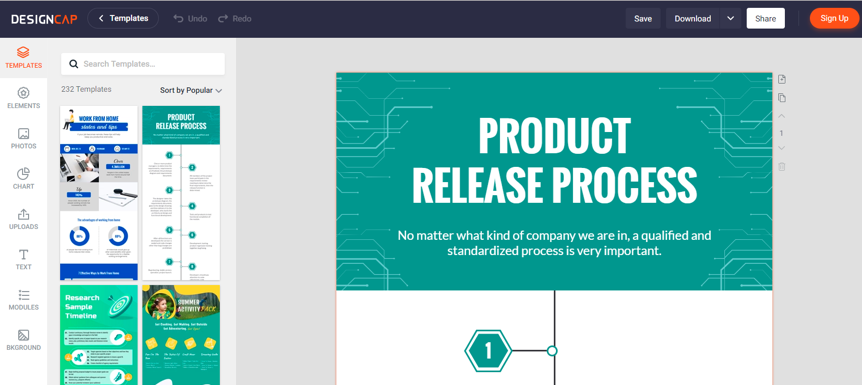 If you want to use this tool to create various infographics, let's say that there is a unique tool for this. I can say that I can quickly and easily create designs during a few trials, and I can edit them and print them easily.
When using the tool, it was possible to use the sizing options I wanted, adjust the background and opacity of the images, and print in the format and title I wanted in a short time. Of course, you will be able to get a faster experience as you get used to it.