Digiarty software's WinX HD Video Converter Deluxe is and takes 4K/HD video conversion to a new level. This all-in-one video software comes with a UHD Video converter/compressor, a video editor and even a YouTube video downloader. All video files on your PC, regardless of their size or resolution are now under your control. Now you can compress 4K video or convert 4K to 1080p like its child's play.


Level 3 hardware acceleration
WinX's reputation as the best 4K video compressor has endured the test of time. If you are still using old and outdated video converters, you are probably familiar with files stopping in between, software and system hanging in between and converters even crashing while working with 4K videos. With WinX, all these problems go down the drain. The software comes with Level 3 hardware acceleration that uses your Nvidia CUDA/NVENC and Intel QSV chips to their fullest to encode and decode videos and allow quicker video processing power to compress 4k to 1080p free and easily.
A level 1 hardware accelerated video converter works at the rate of 33 fps and supports a very small number of video file formats. The most popular of them is MPEG. Level 2 hardware acceleration works at 43 fps, which was great 5 years ago but not now. 4K and Ultra HD videos are very bulky files, almost four times as heavy as your typical 1080p file. To convert 4K video for free, you need a speedy and reliable software. WinX works at a mind-blowing 500 fps that doesn't just works quickly but also retains the quality of the video.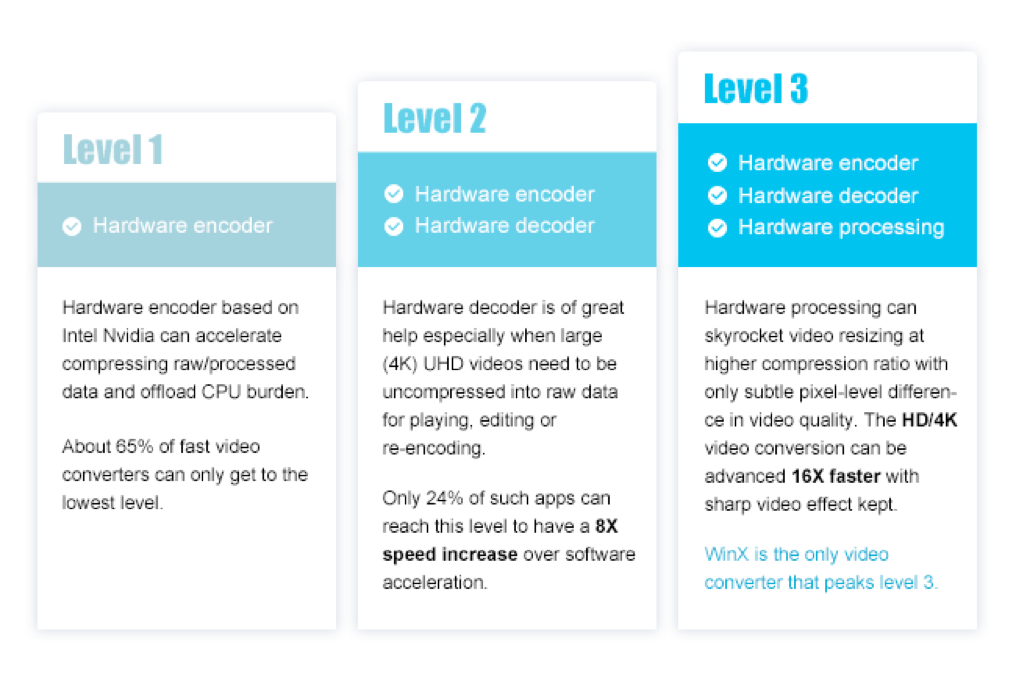 How to use WinX to compress 4K videos?
Compressing high quality 4K videos is an easy task. Before you begin, you will have to download the WinX HD Video Converter Deluxe for PC and install it on your system. Launch the application and follow this simple process to get high quality videos in no time.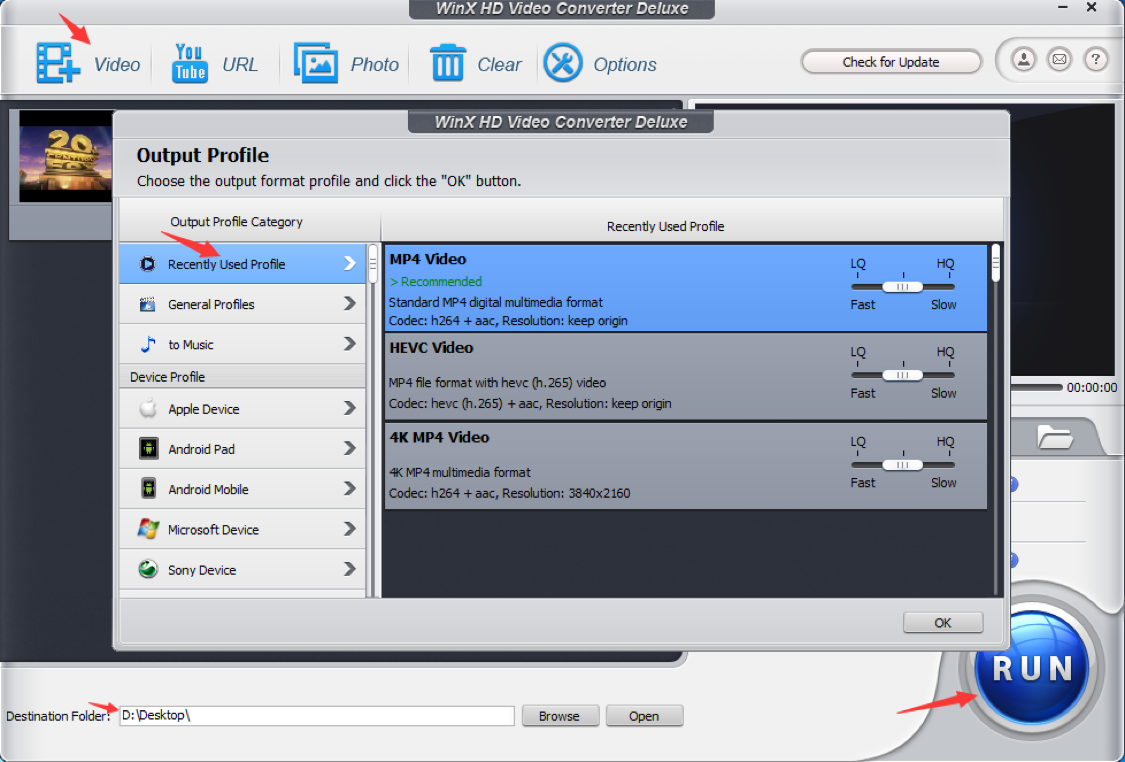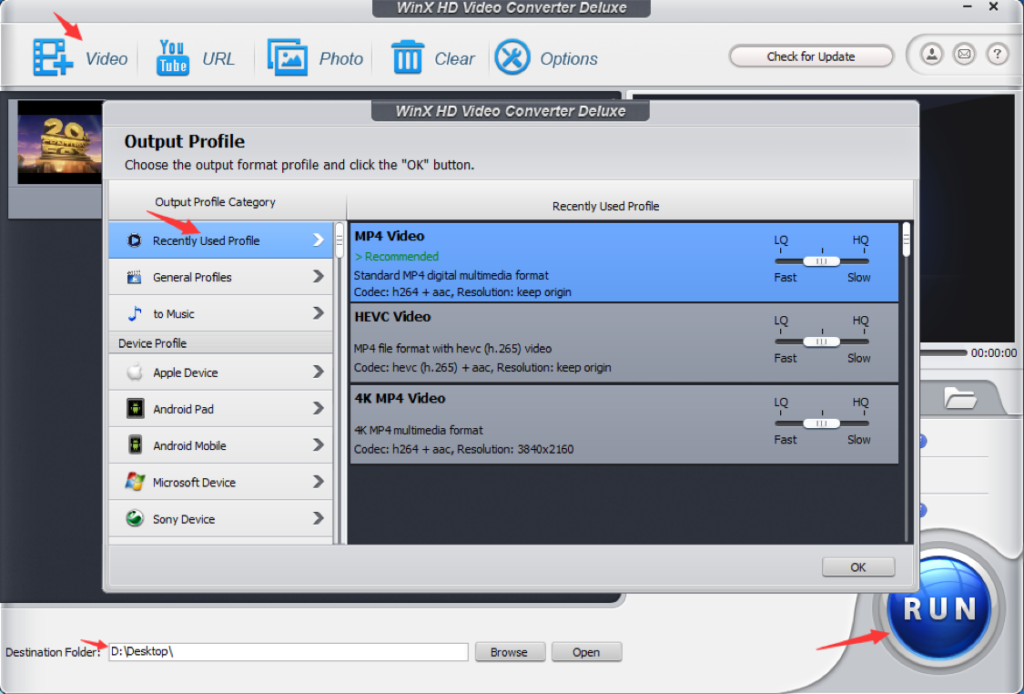 Step 1- As soon as application launches, click on +video button located on top left corner of the screen. This button lets you import any 4K or 1080p video to the compressor.
Step 2- A new window pops up on the screen. It shows the output profile of your video. Select the video format you want and adjust the final output needed. 4K videos can often lose their quality when being compressed. Choose HEVC video which is an MP4 file format with HEVC video codec, located under General Profiles to get the highest quality post-compression video possible. If you want a video format that plays on almost all devices, then select MP4 with H.264 codec.
Step 3- The new video will be presented in the convert list, so you can make final adjustments. The settings gear located on this window will let you control the frame rate, bit rate, aspect ratio as well as the resolution of the video. Select the parameters that suit your need the best. You can also make audio adjustments to the video.
Step 4- Check hardware acceleration options which depend on the computer you are using. This software supports Nvidia CUDA/NVENC and Intel QSV level 3 hardware acceleration.
Step 5- Click on the browse button to find the destination folder for saving the video.
Step 6- Click RUN. Your video will now be compressed in high quality at super speed.
Want it for free?
WinX is offering an awesome 4k video converter giveaway that will certainly bring all your video converting and editing dreams to life. With a free video converter you can process videos at over 16x better speed than software acceleration. Now, you can play, SD, HD, and full HD 1080p videos along with 4k Ultra HD videos HEVC, MKV, H.264 MPEG-4, Blu-Ray, MP4, AVI, WMV, MOV and even Google TV formats.
You can get your free license at https://www.winxdvd.com/giveaway/. The company is giving away only 500 licenses per day. The Windows 10 compatible software, otherwise available for $29.95 can now be downloaded for free. Though you don't get lifetime support and lifetime upgrade, you can remove time limits from your videos. Download videos, trim, merge, edit and crop them. You can even add subtitles and create YouTube worthy videos for your audience.
This one-stop video solution works even as a great slideshow maker. You can use it to simply convert HD videos or edit videos. You can also download YouTube videos or download videos on 300+ sites including Yahoo, DailyMotion and Facebook. You get 50 audio codec and 320 video codec support too. No other tool will ever be needed once you get your copy. Now, you can download a video, convert it to your favorite file type and then play it on any device- iPhone, Mac, Android, Windows and even Chromecast with its 410+ built-in preset profiles.
Don't wait anymore and get your free copy today. The offer won't last a lifetime.