When was the last time you tried to crack a password? If it was back in the day, then a lot of indirect measures were involved. You needed to hire someone with superb coding skills if you didn't know how to do it. Even then, it was still a hard task to hack.
Now, we have simple ways to hack someone's password without any surveys. They are so simplified such that anyone can use them. They also don't reveal your identity, which means the hacking procedure will be a secret.
Check out the five simple ways that will get you all the passwords you need from a targeted user.
Part 1: Hack Password No Survey with Spyic Solution
We are always advised to keep our passwords private. Why? Because giving them to someone opens the door for vulnerability. So, the authentication details you need to be fetched using another way.
One of the methods includes using an undetectable app such as Spyic. This is a monitoring solution that has helped millions of users across the globe. It has a lot of hacking features on it, and one of them is the keylogger.
What the keylogger does is to record everything that is typed on the targeted phone after setting it up. Passwords require the keyboard for input. That means the keylogger will record them as soon as the keys are hit.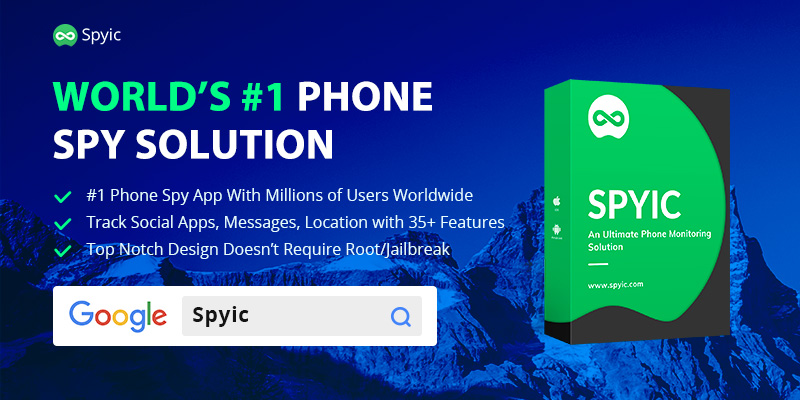 The recorded keystrokes are stored in log files according to the applications that demanded the input. So, if you need the Gmail password, for example, you will just go to the keylogger and click on the Gmail icon to get it.
To reach such a point, Spyic requires a set up on the targeted phone. It does not take more than five minutes since you don't need any rooting or jailbreaking tricks. In Android, a one-time installation is enough on the targeted phone.
Make sure you activate stealth mode to hide the app's icon, and you are good to go. For Apple devices, Spyic hacks passwords using the iCloud ID only. Therefore, that's the only thing you need when signing up for an account on the main website.
After acquiring it, the passwords and any other data are in your online account. When you log in, you get a dashboard that is fully compatible with all browsers. That allows you to access the information anywhere using any internet-enabled device.
Parents and employers are concerned about their young subjects' activities on social apps. That is why accessing the passwords at their convenience is vital. So, you can use Spyic for Snapchat hacking no survey among other social media platforms.
The passwords you hack always remain secure when you access them on Spyic. What it does is to sync the information when you access your account. That implies nothing is stored once you logout. Even the support team cannot reach what you just hacked in case of a crisis.
Here is how you can use Spyic to hack passwords from a targeted device.
How to Hack Passwords Using Spyic Solution?
Step 1: For Android, get the phone you want to hack to install Spyic. Make sure it has OS version 4.0 and above. In Apple devices, get the iCloud ID. It should have iOS version 7.0 or later.
Step 2: Register an account on Spyic website. Next, choose the embattled phone's OS, select a formidable plan, and wait for a confirmation email.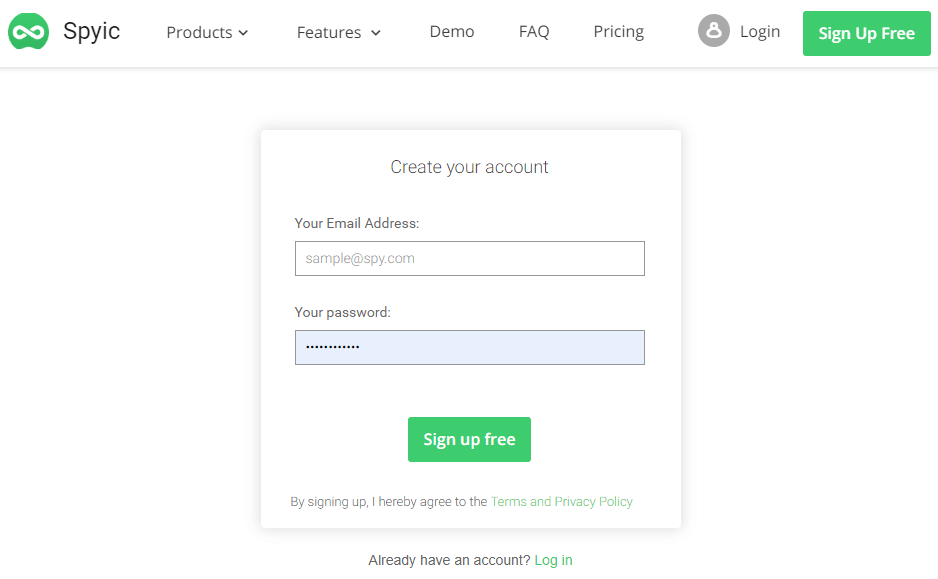 Step 3: Once you the email, in Android, use the sent link to install Spyic on the culprit's phone. Make sure you activate stealth mode and then finish up the installation.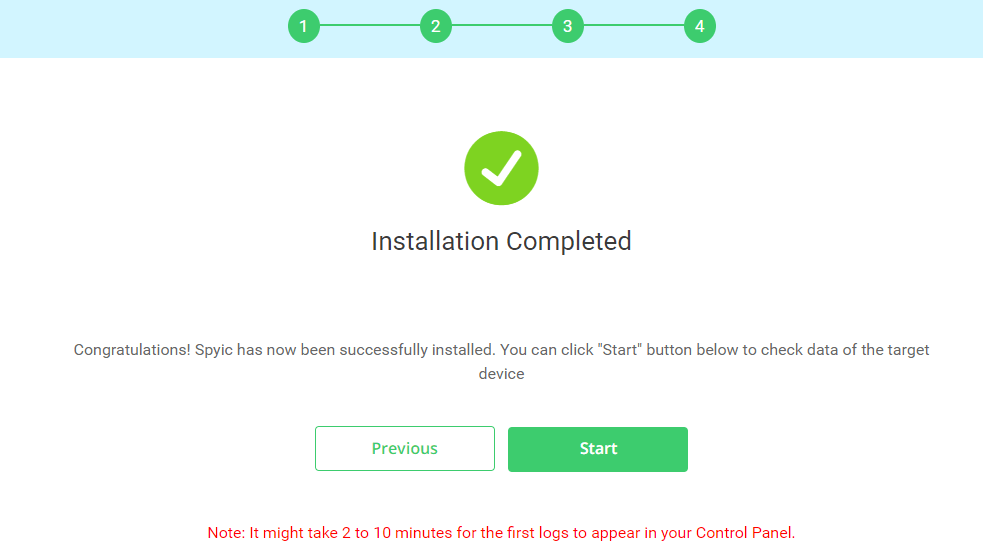 Step 4: In iOS, login back to your account and verify the target's iCloud login details. After that, select the device you want to hack and wait for the synchronization.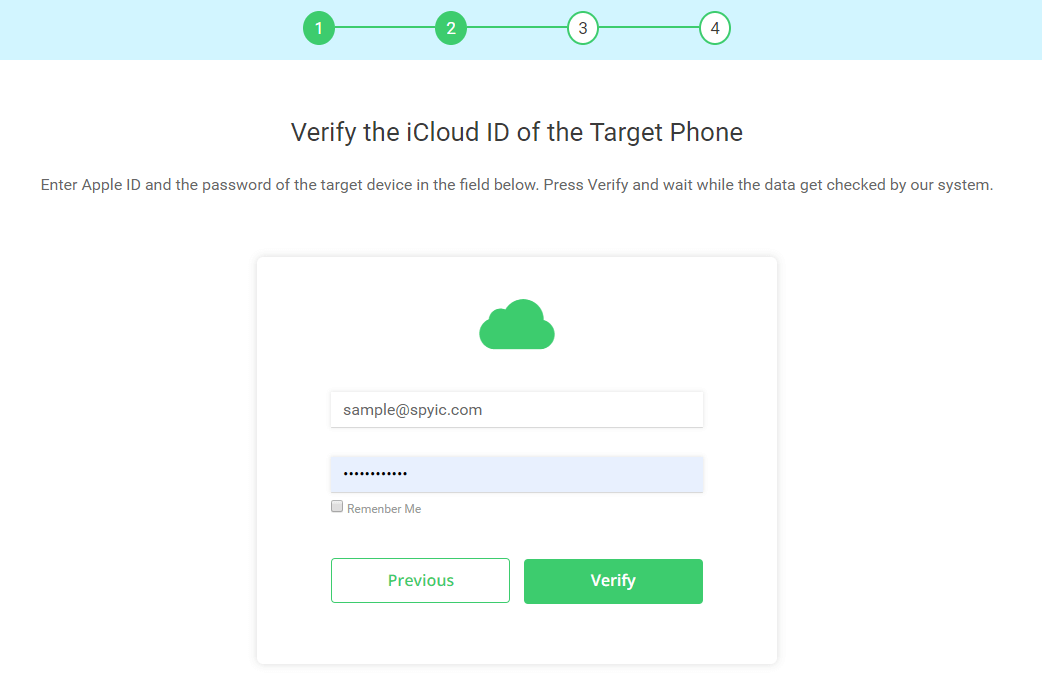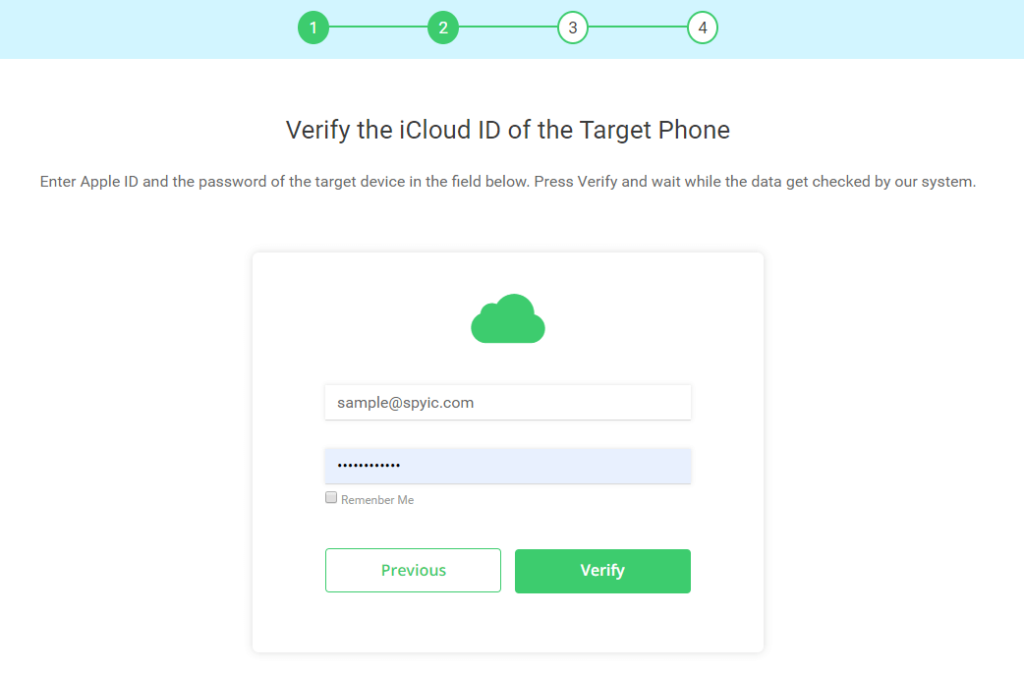 Step 5: Once you get back to your account, on both phone platforms, you will find a user-friendly dashboard. It will have the phone's summary and features on the left menu.
To hack the passwords, scroll down to keylogger and click to access the log files.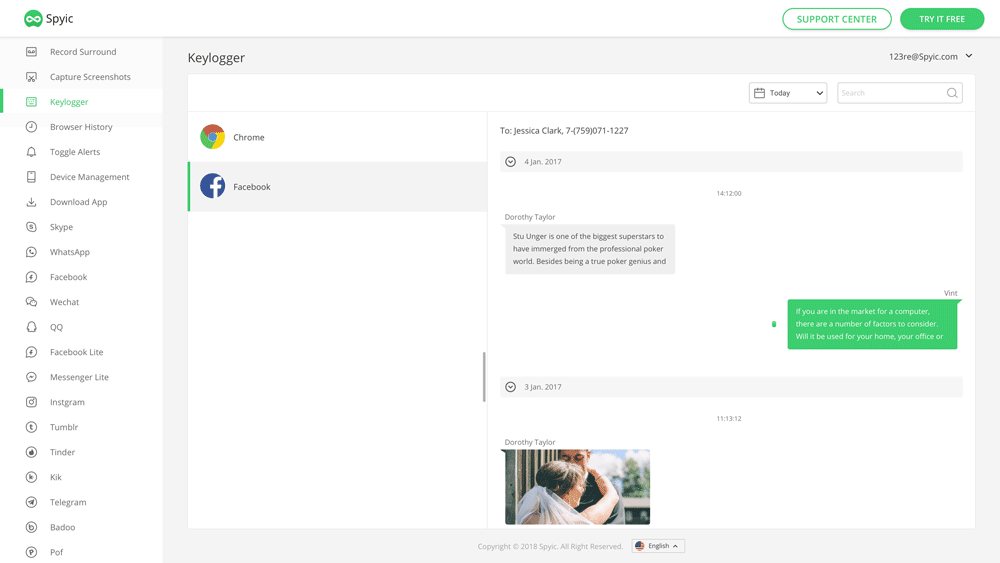 Click on the application icon you need the password from to see the typed details.
Part 2: Hack Someone's Password with Spyier
Another simple way to hack passwords is by using Spyier hacking tool. It works on all Android and iOS devices without rooting or jailbreaking. It also has the stealth mode feature to hide it as it fetches the passwords.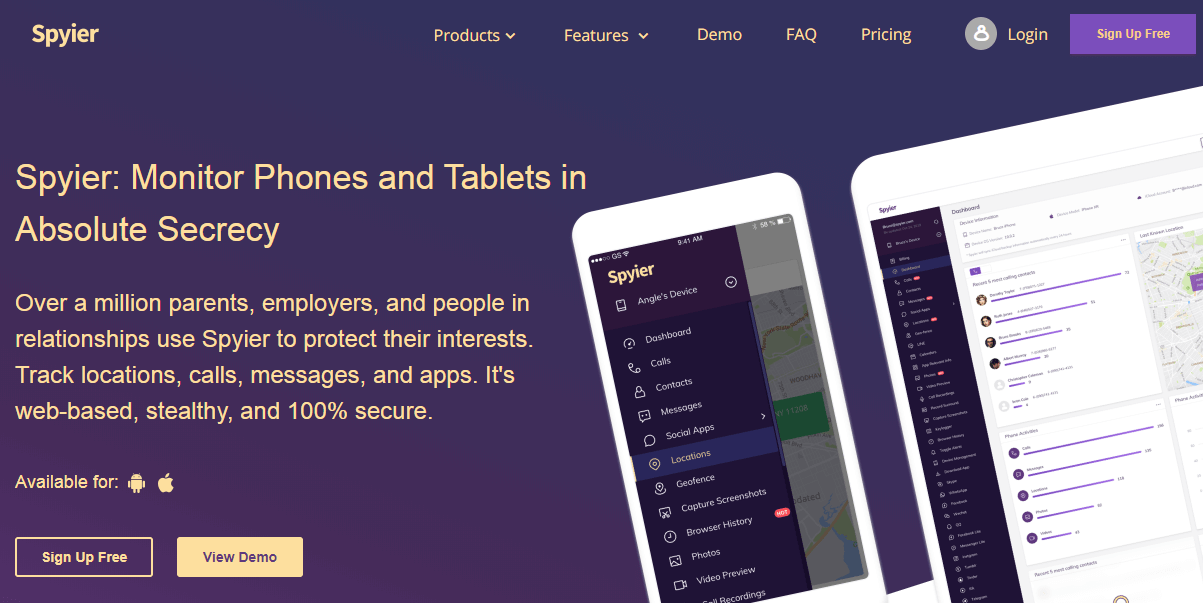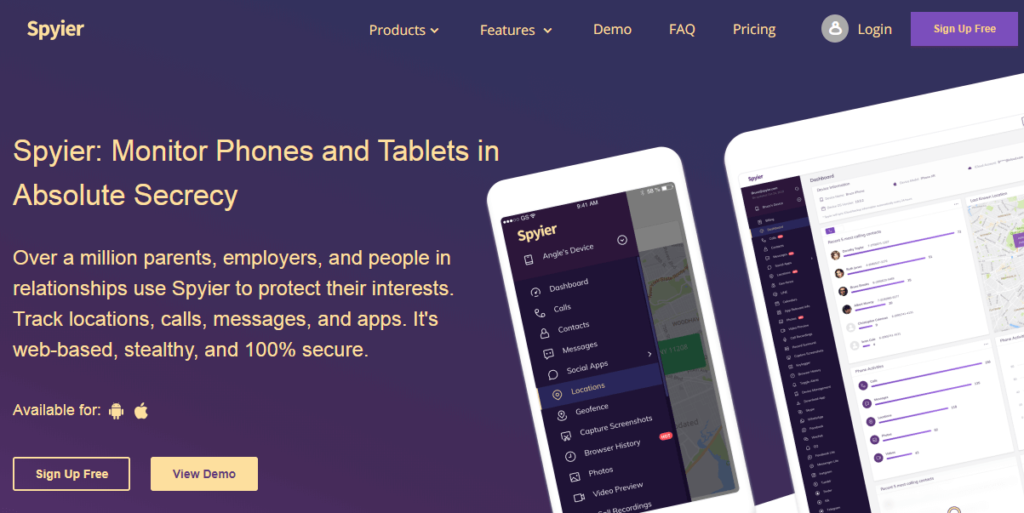 To make it work, just install it once on the targeted Android phone. In iOS, verify the iCloud credentials on Spyier's website after registration. After the setup, the passwords and any other data will be online in your secure account.
You can access it anywhere at any time since the control panel hosting the results is compatible with all browsers. Fetching all the passwords you need is via the keylogger feature.
Part 3: Hack Someone's Password with Cocospy
Cocospy is a veteran hacking application that has been used by millions of people in more than 190 countries. It also has the keylogger feature that records all the keystrokes from the victim's phone.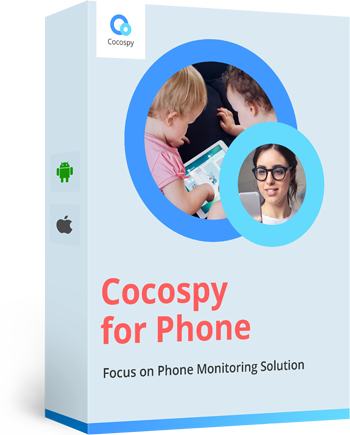 You can use it on any Android or iOS device running versions 4.0 and 7.0 or later, respectively. You don't need to root or jailbreak the targeted phones to get the passwords. Androids require a one-time installation while Apple devices need iCloud details verification online.
Since it uses stealth mode, the passwords and any other data are fetched secretly.
Part 4: Minspy Password Hacker
The Minspy hacking tool also has the keylogger that records every keystroke made on the targeted phone. You don't need to root or jailbreak the Android or iOS devices to hack the passwords.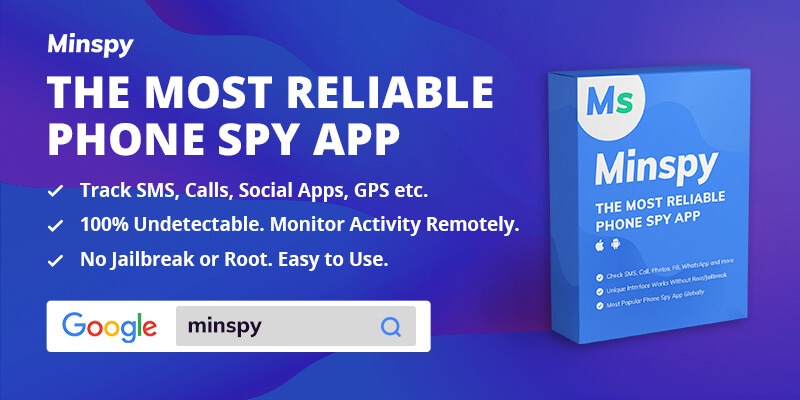 After setting it up, just go to your online account and click on the keylogger to see the typed details. Minspy uses stealth mode to hide when hacking Android phones. For iOS, it uses the iCloud to fetch the authentication details.
So, on both phone platforms, you will never be detected.
Part 5: Spyine Password Hacker
We close the chapter with Spyine password hacker that will also tell you everything typed on the culprit's phone. It records the keystrokes using the keylogger feature before storing them in secure log files.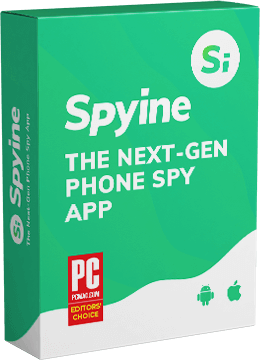 To access the typed passwords, Spyine requires you to log in to your online account after the setup. The control panel displaying the data works with all browsers. So, you only need an internet connection to gain entry.
Spyine is also a non-root and a non-jailbreak solution that applies to both Android and iOS devices.
Conclusion
Hacking a password is now simplified to the point of just using an amicable solution. In our five simple solutions, none of them needs the hard coding skills. They also don't involve rooting or jailbreaking, which are some of the things that can alert the target.
So, stop searching for a solution and deploy Spyic in your password hacking problem. Later, enjoy the comfort of fetching passwords anywhere via your online account.