Want to find influencers to promote your brand on social media? Influencer marketing is a strategy that can bring you a good return on investment, but in order to be successful, you can't simply choose the first influencer who comes your way.
When finding influencers, you need to have a clear idea of what you're looking for, and you need to thoroughly analyze their profiles before selecting who you want to collaborate with.
Fortunately, artificial intelligence can help you do just that. By analyzing data about the influencers' profiles, AI can help you search for the influencers you want to find and also evaluate their profile performance and audience metrics.
Before searching, define your campaign
AI can be a great ally in the influencer discovery process, but you need to be able to tell the technology what to look for. This means thoroughly defining your campaign before you start searching.
Before doing anything else, decide on your campaign's objective. Do you want to raise brand awareness? Drive sales of a new product? Set up some key performance indicators that will help you track your progress toward your goal.
Second, know your target audience. What are the buyer personas that you're trying to reach with the campaign? Understand the chief demographics about them—age, gender, interests, country and language. Also research which social network they use most.
Finally, consider other practical aspects of the campaign, like:
What is the timeline you're working with?
What type of budget do you have for this campaign?
How many influencers are you shooting to work with?
What can you offer them in terms of incentive (products and/or fees)?
What social network and geographical region are you aiming for?
Use an AI-powered influencer marketing platform
If you have a lot of time and/or manpower, you could search for influencers directly on social media. However, understand that your search will be quite manual, and you won't be able to see all the metrics about the influencers' profile.
If your campaign budget allows it, you could hire an influencer marketing agency to find influencers, vet their metrics, reach out, and manage the relationship. Just know that agencies charge hundreds or thousands of dollars per month, depending on your campaign.
A good middle ground option is an AI-powered influencer marketing platform. This kind of software lets you search with filters and provides on-the-spot analytics about influencer profiles, like follower growth and engagement rate. You have to subscribe to these platforms, but there are a variety of plans available for different needs.
How to search with an influencer marketing platform
Each platform will have its own filters, like category, location, followers or engagement. Set them with the parameters that fit your campaign, and see only the results that match them.
There are some general tips to keep in mind to make sure you get the most out of your search:
Consider micro influencers. These influencers, who have between 5-50K, often have high engagement rates and relatively low costs when compared to top influencers. So if you don't have a huge budget, prioritizing micro influencers could help you get the most for your money.
Open up your target ranges a bit. If you know you want an influencer between 25-35 years old, search a bit outside that range, too. You may find a 23-year-old who's the best option for your campaign.
Search for various related categories. Brainstorm related categories and search each of them. For example, if you want to find an influencer for your makeup brand, try searching for makeup, cosmetics and beauty.
Save more influencers than you think you'll need. During your search process, you can bookmark influences and save them to lists for later on. Save more results than you think you'll need. Later on, you can compare and choose your favorites. And then, if your top choices aren't available for collaborations, you have backups.
What AI can show you about influencer profiles
The artificial intelligence that powers influencer marketing platforms makes it possible to see insights into each profile and evaluate metrics with how well influencers perform on social media.
Followers and growth
Follower count is an important metric because it affects an influencer's reach and how much they charge for their services. However, it's equally important to look at growth, or how an influencer gained their followers.
Healthy growth doesn't happen immediately. It could take years for influencers to grow a sizable following. Organic growth will look like a gentle hill sloping upwards. The growth increments may be small, but these followers are more likely to stick around over time.
On the other hand, if growth shows sudden spikes, dig into what caused them. Did the influencer recently host a giveaway, which requires participants to follow them? Have they gone viral or appeared on television? Both of those instances could explain jumps in growth. But if there's no clear, logical explanation, sudden growth could be a sign that the influencer bought fake followers.
Engagement
Engagement rate is another important metric to evaluate, as it shows the rate at which followers interact with an influencer's content. Generally, the more followers enjoy content and trust the influencer's opinion, the more probable it is they'll like, comment or share that content.
When you analyze engagement rate, keep in mind that it varies depending on the social network and the number of followers an influencer has. This is where AI helps us out, as it can immediately analyze an influencer against the averages for their peers and make a recommendation with respect to the quality of their engagement.
Watch out for extremely high engagement, because it could be a sign of purchased engagements (likes, comments, etc.). AI will warn you when engagement looks suspiciously high, and you may need to dig deeper or request further information directly from the influencer before finalizing your decision.
Audience demographics
Above we mentioned the importance of defining your target audience for each campaign. And when choosing influencers to work with, don't just assume that because they fit into your target audience, that their audience will, too.
An influencer marketing platform can scan an influencer's active audience and provide you with demographic information like their age ranges, genders, interests, country location, and posting language.
Imagine your company only ships within the US, and you choose a Seattle-based influencer to help you promote sales of a new product. However, midway through the campaign you realize a majority of their audience is based in Canada, where you don't ship. You may get some branding in Canada, but those followers won't be able to help you with your sales goals.
Audience authenticity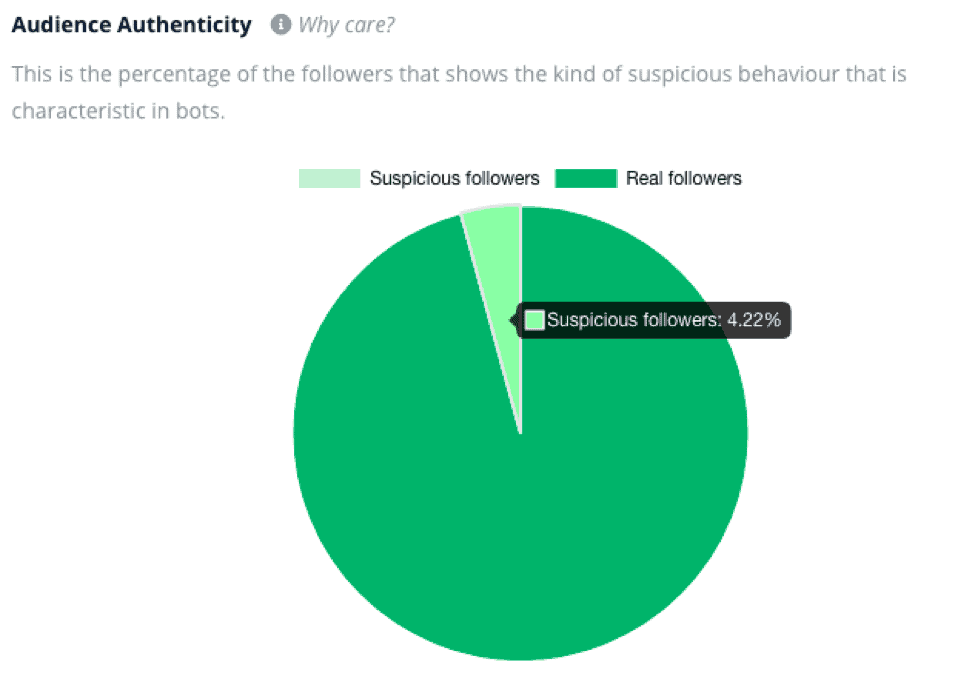 Audience authenticity is another metric we can examine thanks to artificial intelligence. AI looks  for behavior common in bots, and then suggests a percentage of followers which looks potentially suspicious.
It's normal for influencers to have a small percentage of followers labeled as suspicious. But if you see large chunks of suspicious followers, it could be a sign of purchased followers. Evaluate this metric in tandem with those we've already outlined, and when in doubt, ask the influencer for their media kit and more detailed information about their followers.
Conclusion
There are various metrics to evaluate before choosing influencers for your marketing campaigns, and thankfully AI can help us out with this analysis. However, in order to be successful, you still need to know what you're looking for.
Author Bio:
Kate Santoro works on the Marketing team at Heepsy, an AI-powered influencer marketing platform that lets you search for over 11 million Instagram influencers, Youtube influencers and soon, TikTokers. When Kate isn't writing about influencer marketing, she enjoys travelling, cooking and painting.