If the online store has already started bringing in money, then we recommend switching to a paid theme. Paid themes have more functionality and add personality to online stores. If you install a theme with perfect code and no errors, your site will have excellent results in terms of conversion, speed, and other important metrics.
Do you need an online store to start selling today? I'm sure you've already heard about shopify theme development .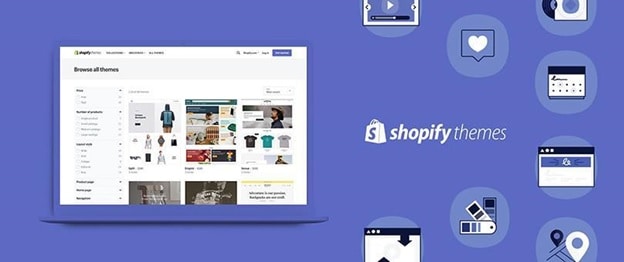 Features of Shopify themes
In addition to having a corporate identity, your online store should have a number of important features that will make your site stand out from many other similar sites. All themes differ to a greater extent in functionality and adaptability for different devices, so your task is to find the theme that suits your online store.
When creating it, it's not just the technical requirements that need to be considered. Before you start the development process, check out the different options for pre-built on Shopify. You can analyze them, understand their strengths and weaknesses, and only use the best for your themes. But it's worth remembering that your theme should be significantly different from the ready-made themes on Shopify.
For example, pay attention to additional options for products or unusual placement of elements on the page. Find something that inspires you and make your own theme different from what is already in the catalogs of Shopify themes. What are today's buyers looking for?
Contrasting colors that blend well
Short descriptions of goods
The value of the product must stand out
Well-organized content
Simple navigation
Intuitive action control
There are hundreds of thousands of themes created for the Shopify platform, but only a few are really worth considering. To make sure you create a quality one, even if you don't intend to use it for your online store, check all the rules and restrictions.
If you managed to get the theme on the Shopify Store, it means that there are no errors in it. It never hurts to double-check this during development.
Key Features:
Adding animation to cart
Sticky add to cart button
Purpose of the basket
MegaMenu
Currency Converter
product video
Product tabs
Unlike other Shopify themes that target one or two specific niches, Debutify integrates easily with different business categories. Whether you run an eco-friendly store or a high-end designer accessories store, Debutify may be your safest proposition. It's a one-click one, which means you don't need to be a coding professional to install this on your Shopify store.
Read more info here: https://www.makebecool.com/services/shopify-virtual-assistant
Before purchasing a theme, be sure to read the reviews and also look at existing stores that use the one you choose. It is not recommended to use an unknown topic, about which there are no real reviews, so as not to face such problems as poor adaptability, slow loading speed, limited functionality, incorrect compatibility with applications / third-party services.
Output
Presently that you understand why Shopify is an excellent platform for building your market, you may begin right away and sign up! We are creating a set of guides to teach you how to create your online store in one day or less. If you're not sure about making your online shop yet, you might get excited by reading our article Shopify Empires – The Method Behind Ecommerce Stores Worth Over $ 100,000 Per Month.