We live in an age where communication and technology have intertwined. Technology has provided us with a variety of ways to communicate with our fellow humans. There are video calls, audio calls, emails, texting, social media, streaming platforms and so many more options we carry at our fingertips.
Imagine having to go through the pandemic without this developed technology. A lot more jobs have been lost and parents will be worried sick of their children living in different cities. Imagine a pandemic stricken world without easy home deliveries and without online payments.
Do you know what is one of the most popular ways of communication today? It is texting. Texting has come a long way since its inception.
With more than 3.3k emojis about 70 Billion texts are sent per day. Thanks to our creativity texting are no longer the plain old Joe way of communication that it used to be.
Ask yourself, How many personal calls you make each day versus how many personal chats you have?
Another thing that has made texting in India even more popular is the local language option that a lot of Keyboard Application provides.
But an even better option for language keyboard is keyboards that are specifically made for a single language.
This article has one such Keyboard that is the best Bangla keyboard app you will find online.
Bangla Keyboard with Bangla Stickers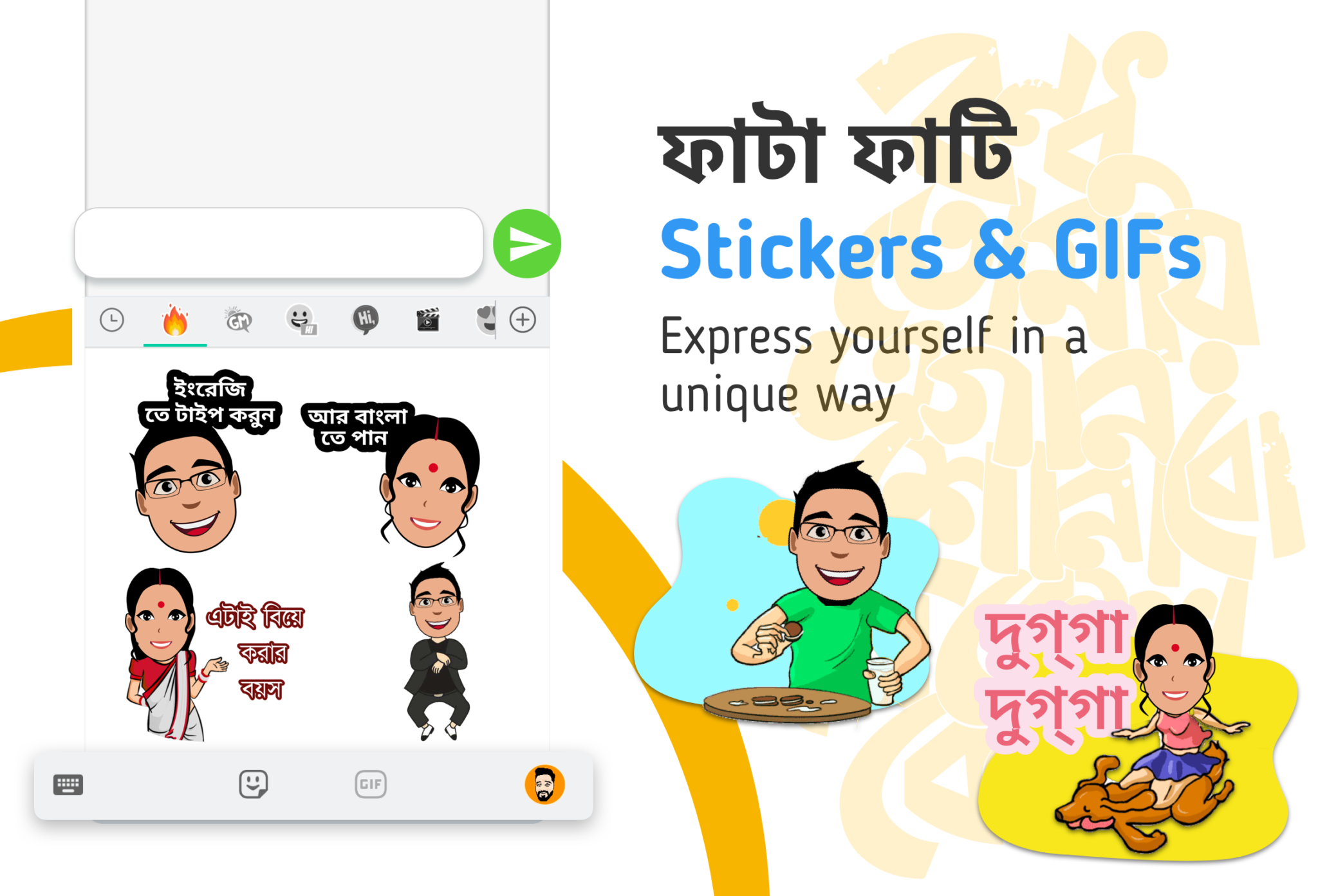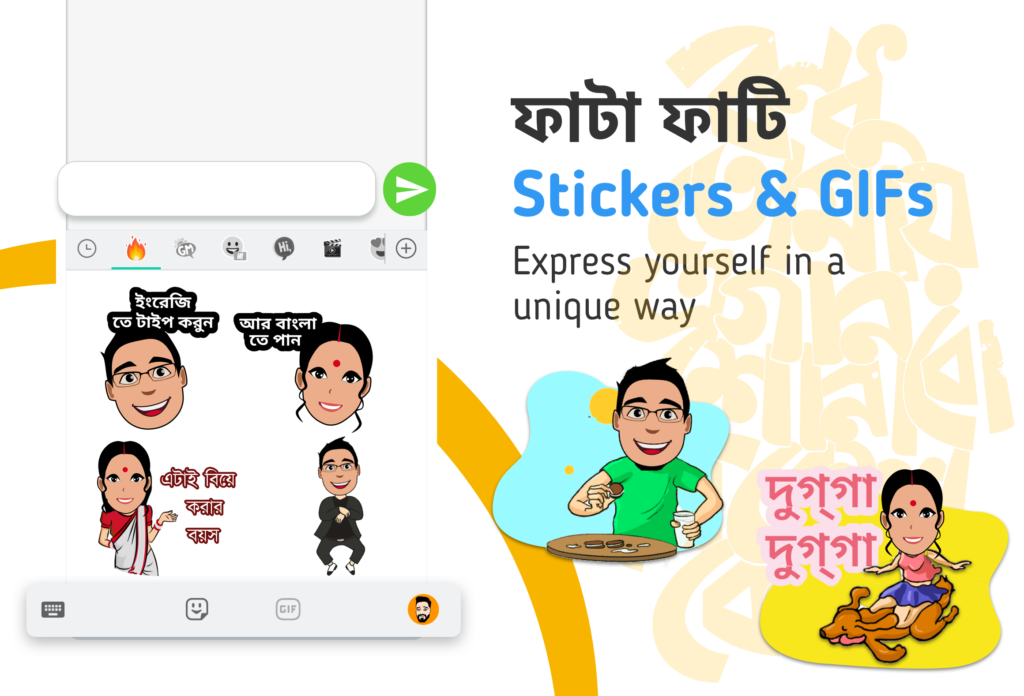 Play Store Rating – 4.6
If you go ahead and read the reviews on this app than you will see that has significantly changed Bangla typing skills and made chatting in Bangla and even in English ways more fun for its users. This Bengali Keyboard is one of the most feature-rich Bangla Keyboard App on Play Store. This app has really touched all bases when it comes to a regional keyboard app. Bangla Keyboard with Bangla Stickers is highly customizable. This app allows you to customize the look, behaviour, and even your chats.
When it comes to looks, you get to add your pictures as the theme of the keyboard. In addition to that, you can also choose from a list of themes that are you get when you install the app. You can change the height of the keyboard and choose between small, medium, or long height. You can choose to have borders on the keys of the keyboard or remove the borders. Another looks related choice you have is to choose if you want a top row of emojis or not.
Its behaviour is also customizable. With this app, you can change key tap and notification sounds. You can also select between different levels of vibrations. This app even allows users to change settings like auto spell checks, spell correct, auto-suggest etc like most keyboards. But one of the most impressive customizable behaviour for me is that users can choose the intensity of Auto-Correct between Light, Modest, and Aggressive.
My favourite part is how this Bangla keyboard app personalizes chats and gives them a more native feel. With the avatar creation feature, you can create your animated avatar by clicking a selfie or select any picture of yourself from the gallery. Create your animated avatar with just a few taps. You can then use this avatar on various sticker templates and make your own collection of Bangla stickers. These stickers can be shared on any platform. The app keeps up with trends and festivities so you will always get new templates to experiment with. For example, In Navratri you get Navratri themed stickers and during IPL season there are a bunch of IPL themed templates to play around with. You can customise the stickers further by adding text to stickers (text can be in Bangla or English). So the sticker you share will have both your animated avatar a personalized message or an inside joke. This amazing Bangla keyboard app even supports GIFs making your access to fun GIFs very easy. Another feature that is rarely found on keyboard apps is the feature of BigMoji. A BigMoji is perfect for expressing those emotions that you feel more intensely. And these BigMoji are super easy to share too all you need to do is long-press any emoji from the emoji row or from the emoji keyboard.
We have talked about a lot of all the additional features, now let us see what makes this keyboard so good. This Bangla keyboard has great user intent and this in combination with its smooth voice to text feature is a godsend for people who have problems typing Bangla. Users can even write in English and the app types it in Bangla. But for all you who have good Bangla typing skills, you can use the elaborate Bangla Keyboard. Since not everyone on your chats will be able to chat with you in Bangla you can quickly shift to English Keyboard with a tap using the button located on the left of the spacebar.