Gone are those days when kids used to play with friends! Mobile devices replaced friends and now almost all the kids and teens are deeply hooked with smartphones. Do you know what they are watching or browsing on their smartphone while you are reading this article?
It gets difficult to constantly keep an eye on their smartphone usage as you can't be around them all the time however technology has blessed us with various such apps that can monitor their daily activities and report us of any odd usage.
Though Android has constantly worked head-to-head to improvise on their operating system and Android P is much safer, reliable, faster and powerful than others on the list, your kid can still be exposed to uncensored content and can be misled to do odd activities. Here comes the need of using hidden spy apps for Android with which you can keep a close watch on your kid's mobile usage and activities on all other apps and browser.
You can check out the Top 5 Free Spy Apps for Android Devices and ensure that your kid is making the most out of the smartphone usage. If you are looking for an advanced spy app for Android and ready to go for a monthly subscription, continue reading this article.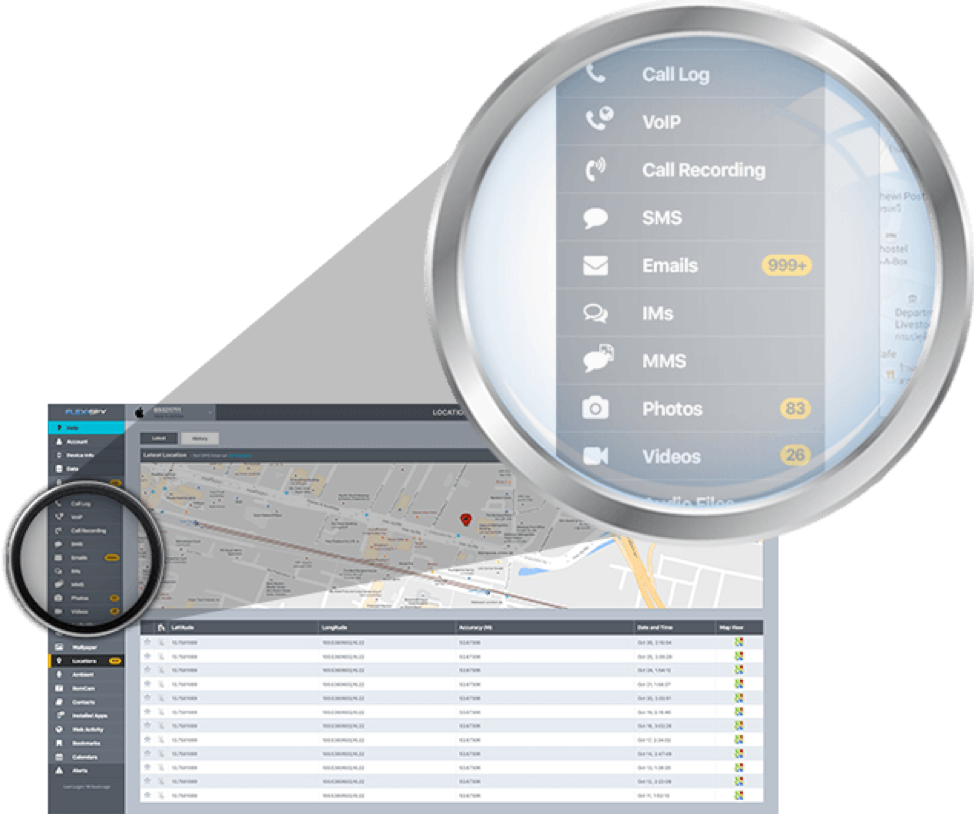 Are You Already on Tracking Radar?
If you are using Google products on your smartphone, you may know or not, but Google is tracking you every time everywhere. Ever imagined why you continue receiving similar kinds of advertisements whenever you search for a specific product? You can get rid of this tracking by replacing Google with other products like DuckDuckGo. Google uses your search history, your YouTube search history and other details with its advanced Artificial Intelligence and Machine Learning capabilities.
How Spy Monitoring App Works?
Smartphone spying apps secretly monitors and gathers required information from the target cellphone. It can record phone calls, screen text messages (SMS) and other sensitive information on the target device. Enable GPS tracker of the target device, look through pictures' gallery, URLs visited, Social networking monitoring, etc. Every spying app will require a constant internet connection to transmit data.
Recorded and captured data is sent to the spy app server and you get hold of everything through the server. The spy app runs in the background and the user of the target phone doesn't even get to know anything about it. The technology used behind different hidden spy apps for Android may differ however they all work the same way for the same purpose.
You will need to gain access on the target phone just once for a few minutes and it can be spied forever. All you need to do is just install the spying app on the targeted smartphone, enter the license key and let the app do its job in the background. It will start transmitting the required information on your smartphone or computer. You can check their activities remotely.
It is a bit tricky to spy on an iPhone device as it requires jailbreaking. It will void the iPhone's warranty if you do that. If you don't want to do that, don't get disheartened. There is still a way to do that without jailbreaking.
Spying Without Installing Software
You will be surprised to know that you can spy on a smartphone without even installing the spying software on the target device. There are a few apps that claim that there is no need to access the target device to install the app as we can install the spying software through different channels. These modern spying apps are claimed to be so powerful that they can even hack the Facebook profile of the target device. We have listed two proven ways to do so.
Bug Them Via Email
The best way is to get hold of the phone and install the app however if you can't get a chance to access the target device, send an email link to bug the target device. Create a new ID that doesn't have your traces and send a mail to the person you want to bug. If the trust factor is good, then you can also send an image and ask them how you look. As soon as he will try to access the attachment, the software will install automatically itself and you can start monitoring the target's activities.
mSpy is one such parental control, spying or detective app that can help you monitor WhatsApp tracker, Snapchat, Facebook Messenger, Instagram, Call logs, SMS, Location tracking, Keylogger, Photos & Videos or Internet usage of the target device. It is compatible with Android and iOS devices to track. There are other tracking apps that you can install on the target mobile devices like FlexiSpy or Highster Mobile that will solve the same purpose. All these apps are paid apps and they will cost you somewhere around $10 to $60 a month however they are the best at their job and does what it says.
Conclusion
If you consider that spying one someone is not that important to shed out some cash, you can always rely on the Best Free Spy Apps that will give you basic spying authority on someone's smartphone. In my point of view, if there is a relationship that you have maintained, there shouldn't be a need to spy on them, however, if you are spying just to keep them safe, it is always better to start with basic and then go for a paid app if things are at its worst situation.