Microsoft regularly delivers featured updates and security updates for the Windows operating system. These updates are aimed at fixing bugs, improving security, and optimizing the overall system performance. While the update process has become pretty simple and convenient, a lot of people still have difficulties with it.
A lot of the times, users fail to install updates on their system. If you are facing similar issues and are annoyed by them, fret not, because we are here to help you.
In this article, we have listed some suggestions that will help you fix common Windows update problems. You may not need to apply them all, but you will find the solution that works for you.
Let's begin!
Scan the PC for malware:
Malicious software, including viruses, worms, and spyware, can change critical system files and proxy settings that you might need to update Windows. Therefore, it is a good idea to scan your system for malware and ensure that your PC is not compromised.
There are multiple antivirus software for Windows that can protect you against malicious attacks and security threats. Windows 10 always run the Windows Defender application by default to scan your PC for malware. However, you can perform a manual scan by following these steps.
Go to the Start menu and tap Settings
Click Update & Security and then head to Windows Security
In the window, select Open Windows Security


Click Virus and Threat Protection followed by Quick Scan to run an anti-malware scan on your PC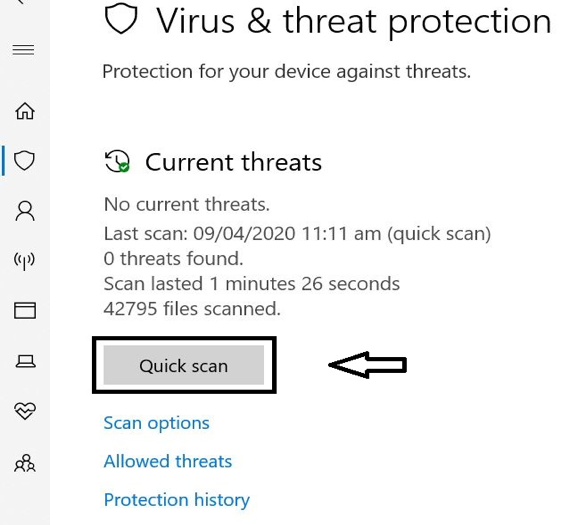 It will perform a scan and provide you the results. If it finds any malicious files and software on the PC, it will offer options to remove them from the system. If your PC doesn't contain any malware, you will need to try the next solution.
Uninstall third-party antivirus software:
Antivirus programs are developed to protect you against security threats, but it has been noted that they can also cause Windows update failures. Windows 10, which comes with a built-in security app, have prevented users from installing new updates if they have a third-party security app installed on their computer.
If you're facing this issue, then all you need to do is disable/remove the program temporarily and install the new update. Here is how you can uninstall it.
Go to the Start menu, and click on Control Panel
Select Programs and Features and look for the app that needs to be removed
Right-click on it and tap Uninstall
Now, restart your computer and check if the windows update issue is resolved.
Update your drivers:
Another reason for Windows updates failure may be outdated or faulty drivers. If you have installed any driver on your system, you need to make sure that you have installed it directly from the manufacturer's website or an authentic third-party website.
If there is a new version of the driver available, try to update it from your system's Device Manager. Here is how to update drivers Windows 10
Go to the taskbar and type Device Manager in the search box
Tap on a category to see the devices
Right-click on the intended device and choose Update driver


You will get options to either browse the computer or search the web automatically for the driver
Choose your preferred option and see if this solves your problem. Of course, you can also download the latest driver from the manufacturer's website and install it manually.
If the services related to Windows updates are not up and running, you may still face issues with installing new updates. Hence, you need to make sure that all the services associated with Windows updates are operating fine. Here is a step by step solution for it:
Press Windows + R and enter msc in the search box that appears.

Choose Windows Update in the popup window, right-click on it and select Properties.

In the new window, locate the Startup type and set it to Automatic. Also, keep the Service Status started
Click Apply and OK to make changes
Now go back to the previous window and locate Cryptographic Service and Background Intelligent Transfer Service, and repeat the process.
After you have made all the changes, reboot the system, and check if the problem is resolved.
Corrupted windows update:
Another common issue that users face is that of faulty Windows updates. Signs of a corrupted update are blue screen crashes, lags, and messages like 'Sorry, something went wrong.'
The Windows Update Utility will continually try to update the PC, but it will fail to complete the process. To fix this annoying problem, follow these steps.
Press Windows + R and type msc in the search box
Select Windows Update service and click on the Stop button
Now, use the Windows Explorer and go to C:\WINDOWS\SoftwareDistribution\Download
Delete the entire content of the folder. You may need Admin access
Restart the Windows Update service
This process will allow the Windows Update Utility to download a fresh copy of the content. Hence, if the update had failed due to a corrupt file, the new copy would solve the issue, and you will be able to install updates.
If all this fails and you are still facing issues with your system, here is the final solution that restores your system to the previous version of Windows.
Windows 10 Error Recovery:
Windows Update failure can become irritating if you fail to find a solution for it. If none of the above solutions works, you may have to uninstall the update altogether and reset your PC. Here is how you can uninstall the Windows 10 update.
Go to Settings and tap Update & Security
Search for Recovery option and locate Go back to the previous version of Windows 10.

Select Get started
Click Next until you find the option Go back to earlier build
These steps will revert your Windows OS to the version prior to the failed update. It is pertinent to note that this option is available only if you updated Windows less than ten days ago.
Final Thoughts:
We have walked you through the common solutions that will fix most of your Windows update problems. However, we do not claim that these tips will solve every update issue. In case you are still stuck with an update problem, you can always contact the Microsoft support team for further assistance.