EXIF or Exchangeable Image File Format is the standard that is applied to digital files like images, sounds, etc. This includes recording of all the other data apart from the original capture itself. For example if you have clicked some photos then you would not only have your image but also the data on what the exposure settings, was it all on auto, format, address, GPS location, etc. All of this information was recorded even when the digital cameras were not in trend. The creators had to carry a notebook and a pen with them everywhere and write down each detail for every picture they shot. Back at the lab, at times it became very hard to match all the details with respective images. So a lot of data got lost too, though almost all the details are captured automatically but a lot of times after editing and exporting the files from editing software, a lot of this EXIF data gets lost. So in this article, I am going to share with you the process of how you can preserve the image's EXIF metadata even after exporting the files. Have a look:
How to preserve EXIF Metadata from Images
There are a lot of apps and software in the market that are particularly designed to work on this EXIF data. After these issues of exporting wrong metadata and exporting none of it came into light, a lot of companies in the photography industry started working on stopping it from getting lost. It was not just some accompaniment but it was also a way to tell amateur photographers and other people trying to understand the conditions, how a certain picture was shot in certain conditions using certain settings, at a certain place.
One of the best software to work on metadata is Photos EXIF Editor. It is quite versatile and combined with an intuitive user interface, for users to navigate their way easily through the app. It can work on EXIF, IPTC and XMP metadata on a bunch of different photos all together. It is quite powerful and useful even on a professional scale. If you want to work on RAW format photos, then too don't worry, you can preserve the RAW format, as it is supported too. So here is how you can preserve image EXIF metadata.
Photos EXIF Editor
Download and install the application on your computer.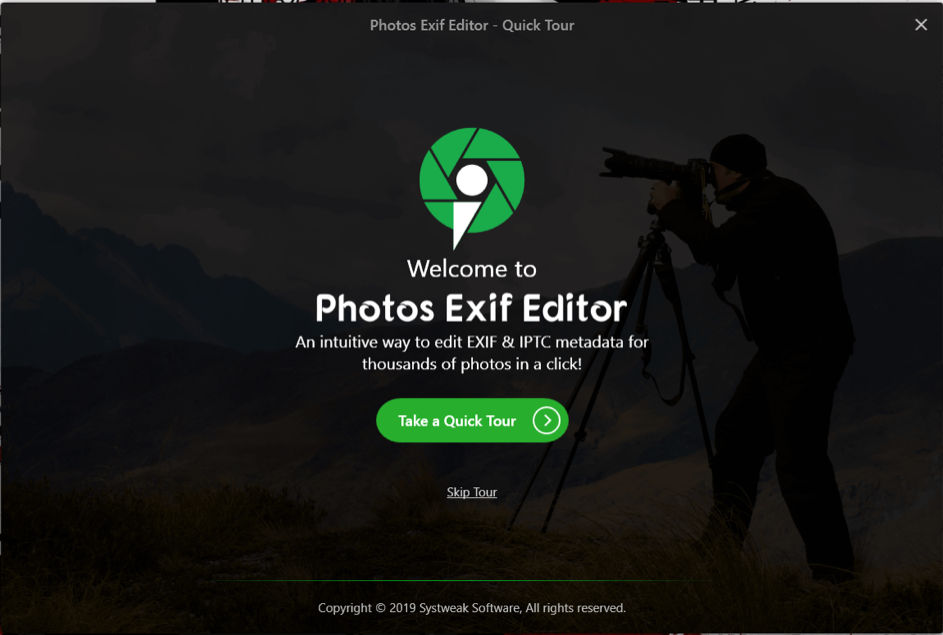 After you have installed the application, it should launch on its own. If not, then you can double click on the icon placed on the desktop.
A new window will appear, you can take the tour of the app if you wish to otherwise you can just click on Skip Tour.
On the next page, you will be given two options of either to Add Folder or to Add Photos. You can drag them directly on the application if you like.
After you have selected the photo you want, click on Select Photo.
A new page will appear in the app, here on the left panel you can see the list of all the photos that you have selected, their name, format, location on the system, etc and on the right side of window you will see all the data related to the image, whether it is EXIF, IPTC or XMP. You will also get some editing options there and you can proceed as you want to.
You will also get the options to set presets for future edits, renaming option, and even restoring the old EXIF data that you may have changed.
So here, you need to fill in all the details of the EXIF data that you want to export with the images. And this way you can not only restore the lost data back but you can also set and edit in the data that you want to show or want to hide.
After you have filled in all the desired fields, click on Start Process. After the process is complete the app will notify you. Click on close.
So that is how you can easily restore all the lost image EXIF metadata. Almost all the image editing software are able to read this metadata but only a handful of them are able to edit it. Photos EXIF editor is a powerful tool that can also edit EXIF data of a batch of RAW images. You can put in minute details like time, date, etc too. The program is compatible with Almost all the versions of Windows operating system on both 32 and 64 bit depths. So why wait, get this incredible application now.
Hope it helps.
Thanks for reading!