The latest update to iOS has brought many new features to the iPhone lovers. There are tons of new features that iPhone users will love, especially the updates on the home screen. Surely, the new iOS 14 will be accepted all over the world. However, there are some drawbacks to these new update. Even though users are enjoying the benefits and features of the new OS, there are some users who are facing problems with the new update. Today we will be looking at such problems as well as the ultimate solutions to all these issues—AnyFix – iOS System Recovery.
Let us begin with some of the issues that iPhone users are facing
iOS 14 Update/Downgrade Problems
Users who are using iOS 14 have reported different errors and issues. These include problems such as iOS 14 update stuck on estimating time remaining/update requested. While downloading the new update, odds are high that your handset might get stuck on the screen with the "estimating time remaining" message. In addition to this, users might also see a stuck screen. When updating to new iOS, users might get stuck on downloading screen for more time than expected. There are many such issues that users might face while upgrading. Most of the time, users also face issue where they get stuck on Apple logo. If you are one of those users, you can always refer to this guide where you will get all the solutions. Or you can use AnyFix to solve the issue instantly.
iOS 14 Other Issues
There are users who have successfully downloaded the new update and have faced issue afterwards. This includes different issues such iPhone stuck in Recovery mode, iPhone stuck in DFU mode, iPhone stuck on Apple logo, iPhone stuck on activation screen, iPhone stuck on Emergency SOS, iPhone stuck on black screen, iPhone stuck on spinning wheel, iPhone stuck on loading screen, iPhone stuck on zoom, iPhone stuck on white screen, iPhone battery drain, frozen iPhone, iPhone keeps restarting, and other iPhone system problems
One-Stop Solution for All iOS 14 Problems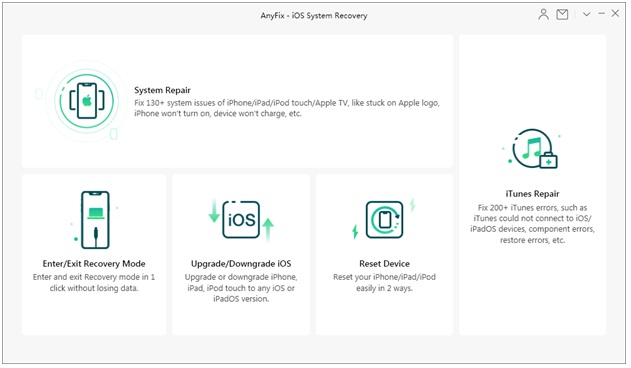 In order to get an easy and quick fix on iOS 14 issues without any data loss, you can always get hands on AnyFix tool. AnyFix is a handy program that can assist you fix different iOS-related issues including iOS 14 software problems, update failed errors, and app issues after update, among others. The tool is the best iOS system recovery solution that gets rid of any problems in iOS within no time. In addition to this, users can also update to latest iOS version using this tool as well as downgrade to preferred iOS version if they do not like new features. This makes AnyFix one of the most liked tools among users.
Here are some features of AnyFix that might grab your attention:
Solution to 130+ system issues for almost all Apple products
Solution to 200+ iTunes issues
Fix issues in a few clicks without the requirement of any technical knowledge
Professional team with more than 7 years of experience
100,000+ satisfied users
Continuous support from experts whenever needed
By the way, if you're looking for a solution to recover your lost data after upgrading to iOS 14, an app called PhoneRescue would be a lifesaver.
In a nutshell, we just had a look at different iOS 14 issues that users are facing nowadays. We came to conclusion that all these iOS issues have only one ultimate solution—AnyFix.