WhatsApp is part of your daily routine as you connect with your friends, family, and colleagues. WhatsApp has all your memories stored in form of chats, messages, attachments etc. Hence, when you switch to a new phone the first thing you do is immediately install WhatsApp.
However, after installing WhatsApp on your new phone and moving your WhatsApp account to the new phone, the old messages will not be transferred automatically. We all are aware of the fact that WhatsApp helps create backups to local storage and Google drive, but you need to transfer WhatsApp messages to new phone on your own. WhatsApp transfers can be tricky if you don't know the right method to do it. You may lose data in the process which you would never want to. So, it is always better to go with the option that is easy, secure and quick and you can utilize it without any hassles.
There are a set of methods that help you transfer WhatsApp messages to the new phone, but there are a series of steps involved to accomplish the task and can be time-consuming. If you cannot invest much time and need a quick and secure way to transfer WhatsApp messages to a new phone then iSkysoft Toolbox – Transfer can help you do the job.
The program helps you easily transfer WhatsApp files from one iOS device to another or to Android device. It saves a lot of time and as the process is easy and the screen instructions are clear. You don't need to spend a lot of time learning how to carry out the transfer. The software itself handles the entire transfer process without much of your intervention except for several clicks.
iSkysoft Toolbox – Restore Social App helps transfer WhatsApp data that includes
Images
Attachments
Videos
Files etc.
Part 1. How to transfer WhatsApp messages from old iOS to new iOS device
For example, if you want to transfer your WhatsApp messages from your iOS to your new iOS device, iSkysoft can help you perform the transfer easily. Here is how iSkysoft can help you.
Step 1.  Connect your iOS device to the computer
The first thing that you need to do is to install and launch iSkysoft Toolbox application on your PC. Once it is completed, click – "Restore Social App" which can be seen on the homepage of the app. Now plug your source iOS device and target iOS device to your PC.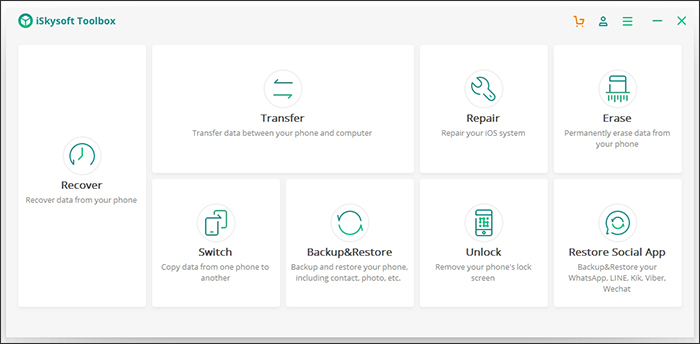 From the options shown on your next screen select- 'WhatsApp' located on the left-hand side and then tap on the option – "Transfer WhatsApp messages"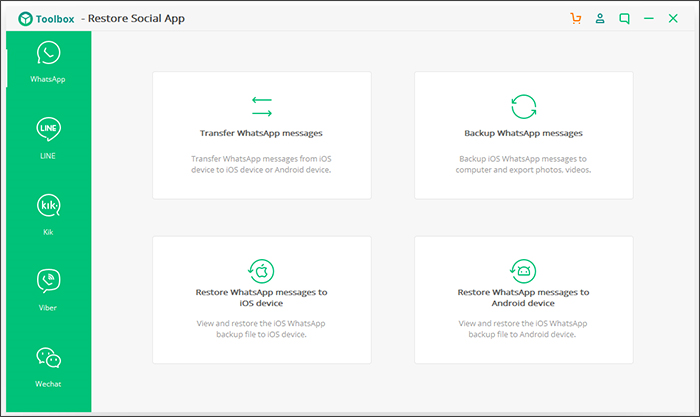 Step 2. Get ready to transfer WhatsApp messages from iOS device to new iOS device
At this stage, the software will show the source and target iOS device and will tell you whether the two devices are connected properly. Remember your source iOS device will be seen on the left side while the target iOS device will be displayed on the right side of your screen. Next, click on- 'Flip' to change their positions.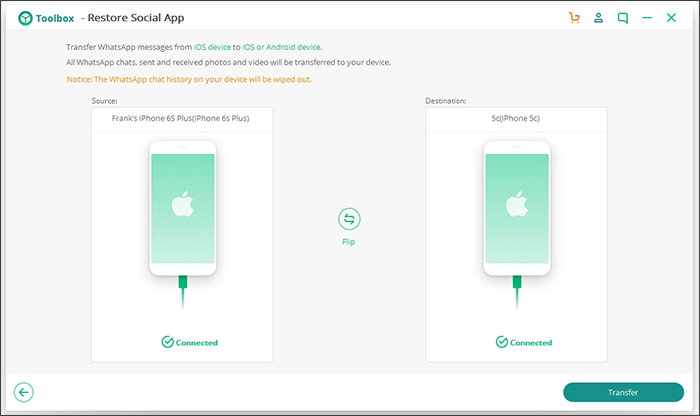 In order to transfer your WhatsApp messages successfully ensure that you are signed in to your WhatsApp account on your target iOS device. Now, you just click – "Login successfully. continue". Now the click -'Transfer' as shown in the screen below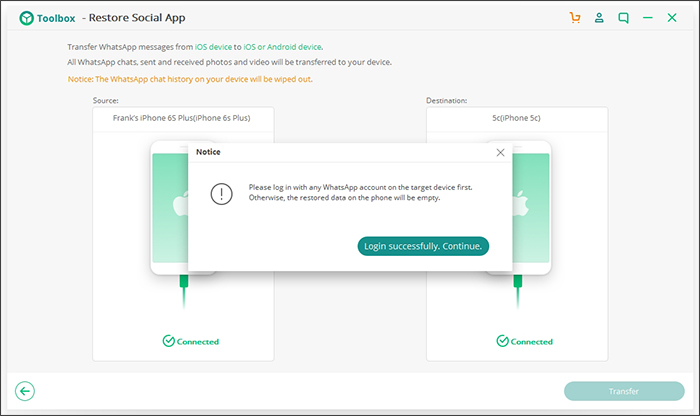 Next, click – 'Yes' when the pop appears seeking permission whether you wish to continue or not. The pop wants to confirm and inform you that current WhatsApp chat history present on target iOS device will be now overwritten if you agree to continue.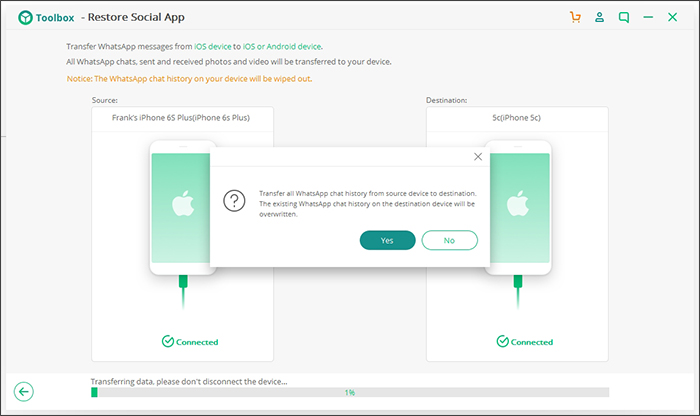 Step 3. Begin transferring your WhatsApp data to an iOS device
Once you agree to transfer WhatsApp messages, the process of transfer will initiate until the process is completed.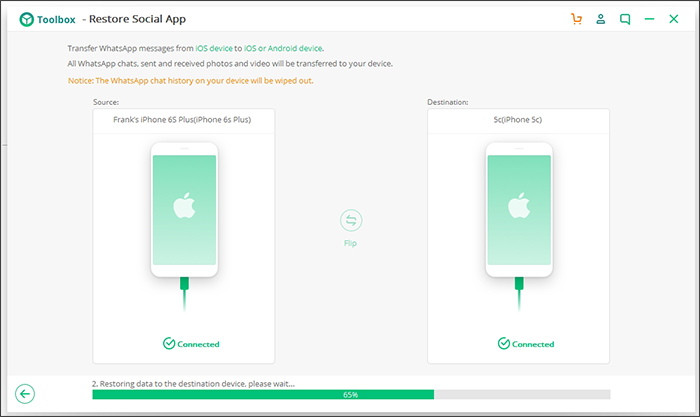 Once you get the notifying message saying – " Transfer completed" you can simply detach the target device from your PC and check if the entire WhatsApp data is successfully transferred.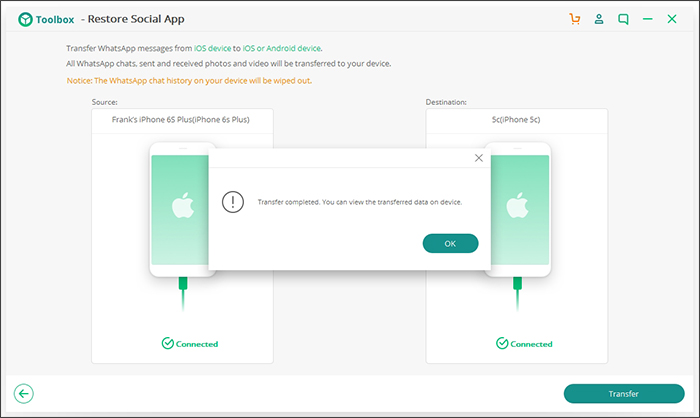 #2 Transfer WhatsApp messages from iOS to Android swiftly with iSkysoft
Similarly, you can transfer whatsapp messages from iPhone to android easily with iSkysoft. The entire process comes handy as after installing iSkysoft tool you can use its 'Restore Social App" feature. Restore Social App feature embedded in iSkysoft Toolbox lets you transfer WhatsApp messages swiftly.
You can follow the steps given above and the two things that would differ would be your target device which will be an Android device. Secondly, at the stage where you prepare for transferring your WhatsApp messages to Android, you need to ensure that you type in your Google play account and skip the step if you never signed into your Google Play account on the target device. You can even search for sad whatsapp status video.
Conclusion
You may choose the transfer option of your choice, but iSkysoft Toolbox is a structured way for WhatsApp transfer across Android and iOS devices. iSkysoft Toolbox- Restore Social App ensures that the transfer is carried out successfully. No need to worry after buying a new phone as you will get all your WhatsApp data safely on the new phone using iSkysoft Toolbox.