People have different types of data in their computer. We use computers and laptops for keeping all types of data. We keep our photos, videos, documents and other files safe in our hard drives. Sometimes we store the same files many times. Each file has its own size. We store a lot of photos, videos and files. So, many people store the same file more than once. I've done it many times. We store too much data. We don't check and store it again and again. It is a bad habit. We should keep our hard drive clean and free. We should remove duplicate files from our drives. We need enough space for all types of data. If we store too much data in our drives, our hard drives don't have enough space for storing other data. You need to find your duplicate files and delete them.
It isn't easy to find duplicate files if you have a large amount of data in your computer and laptop, but you can do that with iBeesoft duplicate finder file which is amazing software. You can easily use it and find your duplicate files with this software. It saves your valuable time. It cleans all your duplicate files in your hard drives.
There are so many reasons that you should keep your hard drive clean. When you delete all your duplicates files in your hard drives, you will get more space. Your system works faster and smoother. A system gives better performance if it has enough space. So, removing duplicate files from your PC and laptop is a great idea and iBeesoft duplicate file finder 2.0 is a great choice.
I used this software on my PC and I want to tell you that it works great. I can easily find all duplicate files with this software. I cleaned my hard drives and got amazing space in my hard drives. If you have a lot of data in your hard drives and you have no idea how many duplicate files are stored in your hard drives, you should definitely use this software. I usually store different data so I had to find all duplicate files and iBeesoft helped me find them. I could remove them in one click.
If you have a large amount of photos and videos and other big size data, you should use this software. You can clean your duplicate files with this software. You can easily understand this software and clean your duplicate files.
You can remove all your duplicates files with three steps and I want to share with you all three steps:
When you open this software, you need to target your location. You have some drives and many folders in your computer. You need to decide you location first. You can easily set your location. You can drag and drop your drive or folder. It scans your target locations. You can add a filter for better scanning. You can set your file types and you can do that easily.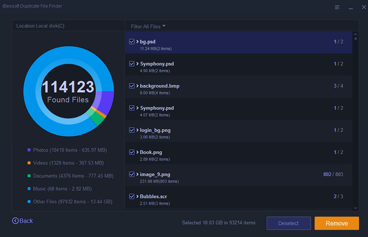 It takes less than one minute to scan your drive and folder and provides all duplicates files. You can check them clearly.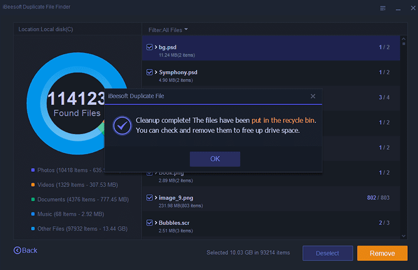 After check your all duplicate files, you can remove them with just one click. You will see the remove button. You need to press the remove button. It will remove all your duplicate files from your drive.
When you remove all duplicate files from your drives, you will get amazing space. You can store other different data. If you have enough space in your drives, your computer and laptop will work faster. It will boost your system performance.
If you try to remove your duplicate file manually, it is impossible to do that. This process also consumes you a lot of time to find duplicate files. We should work faster and smarter. That's why we should use the best software which makes our work easier.
You can file all types of data like photos, videos, music, documents and other files. We face problems when duplicate items appear while listening to music, watching videos and photos. So, it is the good thing to remove all your duplicate files.
You can also use this software to find duplicate files in your external hard drives, flash drives, SD cards, TF cards and other storage devices. You can easily scan them and check all the duplicate files and remove them easily. You will get enough space after removing all duplicate files. Your external storage device will work smoother and faster.
So you can ask yourself why you need this software. Well, we do work daily on our computer. We store different data. We store personal and professional data. We should have enough space in our drives. If we have enough space, our computer will work better. You should use this app. It makes your work easier.
Download iBeesoft Duplicate File Finder 2.0