The vaping market is seeing its growth. From regular e-cigs to complicated box mods, vaping devices have a great variety of choices.
For many years, people have been choosing RDA vapes. And the main reason why many vapers love RDAs (rebuildable dripping atomizers) is getting a chance to enjoy the best flavors. However, most people will agree that they are less portable and usable in real life. Thus, modern vapers are looking for an option that can deliver a great smoking experience and be portable at the same time.
The answer? Squonk mods!
There's no wonder that another trend in the vaping industry is a squonk mod. If you want to enjoy the clouds without constant dripping, squonk mods can be a good choice for you.
Squonk mods are relatively new on the market, so it's vital to understand more about them before deciding whether they can be a good choice for you or not.
Let's dive into squonking.
What is a Squonk Mod
A squonk mod, also known as a bottom feeder, is a vaping device that has a bottom-fed rebuildable dripping atomizer (RDA) which delivers a dripping-style experience. However, you don't need to drip liquid every time –  the mod has a bottle for the e-juice, so carrying a separate bottle isn't needed.
Every time you need to deliver e-juice to an atomizer, you need to squeeze a bottle through a squonk hole. Once you release the bottle, it takes its original shape back.
A regular squonk kit includes a drip tip, an RDA, a feeding tube, a battery, a squonk bottle, and a squonk mod.
Here's how a squonk mod looks like: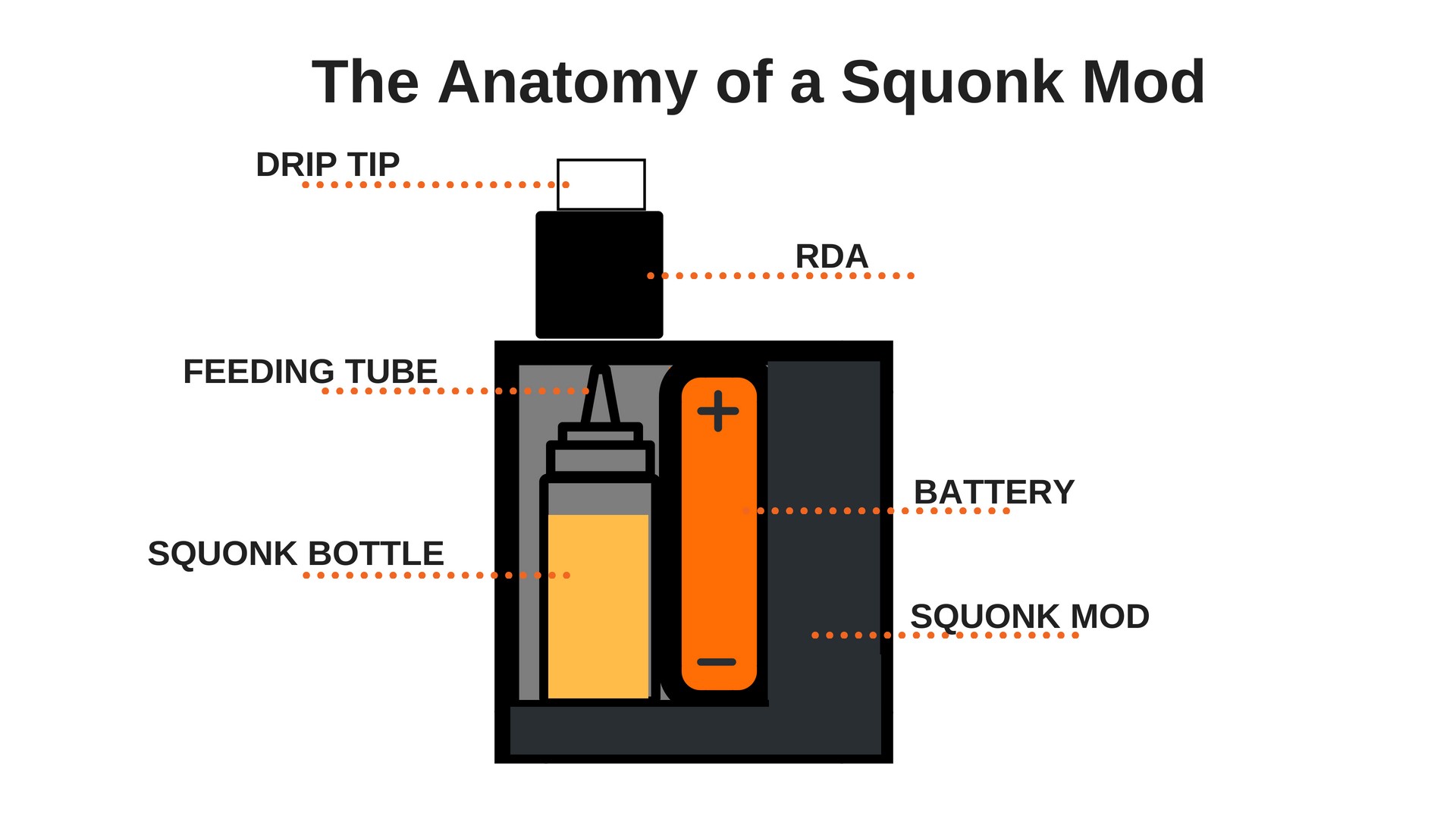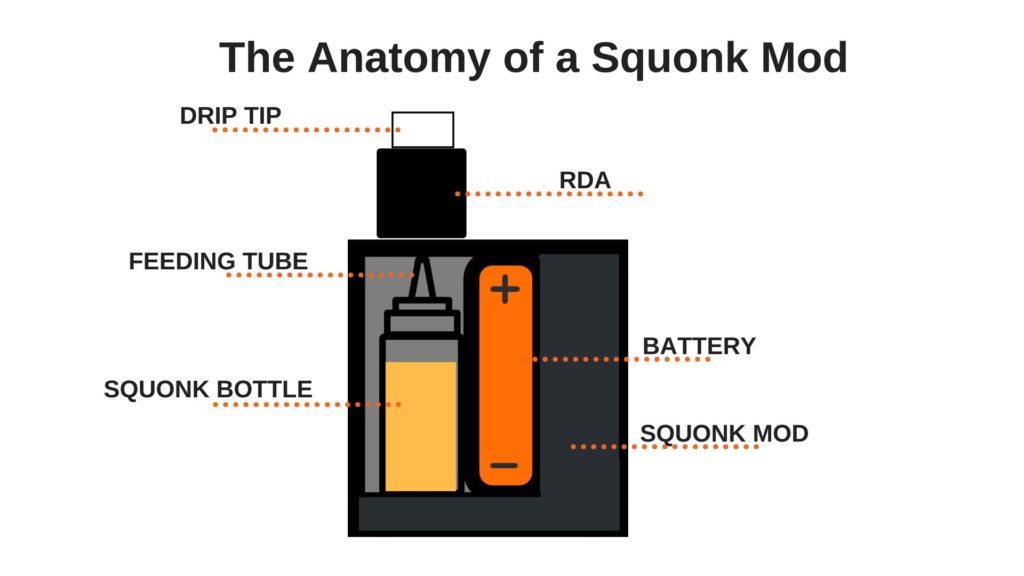 The good news? A squonk mod is a way out for people looking for the combination of the inherent performance of a conventional RDA and a possibility to drip without dripping.
Reasons to Choose a Squonk Box Mod
Doubting whether you need to get a squonk mod? Look through the main reasons to choose a squonk mod:
You want to smoke on the go. No matter where you want to smoke, whether while driving or going somewhere, a regulated squonk mod is a great choice as you don't need to carry an additional e-liquid bottle to drip it on the atomizer. Just squeeze the bottle inside the device when you need it.
You value thick clouds of mist-like vapor. If you're chasing thick milky clouds, squonking can be a great opportunity for you. What is more, there is no need to sacrifice the flavor.
You don't need to refill your bottle often. Most squonk bottles have 7 ml e-liquid capacity as a minimum. Thus, it takes much time for your cartridge to go low. It goes without saying that a bigger bottle will last longer, so it can be more cost-effective as well.
You want to avoid leaking and overflow. Since a squonk bottle retains its shape, it allows users to get a leak-free design. Moreover, the liquid comes back to the bottle, so it's another proof that your device won't leak.
For a variety of reasons, squonk mods can be a great option for vapers who value comfort. On the other hand, as any device, these mods have some drawbacks.
What Are the Drawbacks?
A bigger and heavier device. As a squonk bottle is bigger, it takes much space, and therefore it leads to a larger device. Moreover, some squonk mods have two batteries inside which affect the weight of the device.
Unregulated mods. In most cases, squonk box mods are unregulated which means they supply raw battery power to an atomizer.
Higher e-juice consumption. Although squonk mods don't leak, most squonkers agree that these devices need a higher e-liquid consumption. As a result, get ready to spend more on e-juice.
Conclusion
Squonk mods are gaining popularity among newbies and experts in the vaping industry. For people who value comfort and want to smoke on the go, it can be a great choice. And if you're ready to get the best squonk mod, ask professionals to help you! It will allow you to save time and energy on finding something that can suit your demands.
So, are you interested in squonk mods? Is squonking right for you?
Ooh, by the way, if you would like to stay up today with the latest vaping trends it's worth to check this article.