As the COVID-19 pandemic continues, more businesses are going digital. And it's easy to see why. Over the course of the past few months, internet use has skyrocketed. With social distancing regulations in place, people are spending more time at home, on their phones, and on the internet.
Whether you recently launched a startup or run a small business in Dallas, establishing a winning online presence is a surefire way to keep your business afloat. In fact, research indicates that the number of online shoppers in the U.S. is expected to reach a whopping 230.5 million by 2021.
While going digital is a great way to get started, it's not enough. Think about it. With the large majority of Dallas businesses using online platforms to market their products/services, competition is at an all-time high.
So how do you improve your rankings and get your local business seen by your target audience? You turn to local SEO services in Dallas
If you're just getting started with marketing your local business, we've rounded up the top three dos and don'ts to help you get the hang of things.
3 Dos
1. DO Tweak Your Keyword Research Strategy Every Month
When it comes to local SEO, keywords are a game changer. They're your golden ticket to the first page of search engine result pages (SERPs).
However, many brands are guilty of using the same keyword research strategy for months on end. While this may not sound like that big of a deal, it is. In fact, it's a cardinal sin in the SEO world.
Here's why.
Like it or not, consumer preferences are changing every day. There's a new trend on the horizon almost every minute. Needless to say, old trends fade in the background just as quickly.
In short, user search interest is rapidly evolving. While the list of keywords you finalized in March may have been extremely relevant then, it'll be of no use in October when there's a new set of trends dominating your industry.
Instead of using the same keyword strategy, update it each month to ensure relevance. Use a wide range of local keywords—short-tail, long-tail, canonical, LSI, etc.—to reach a wide target audience and maximize reach.
2. DO Create Local, Optimized, and Trending Content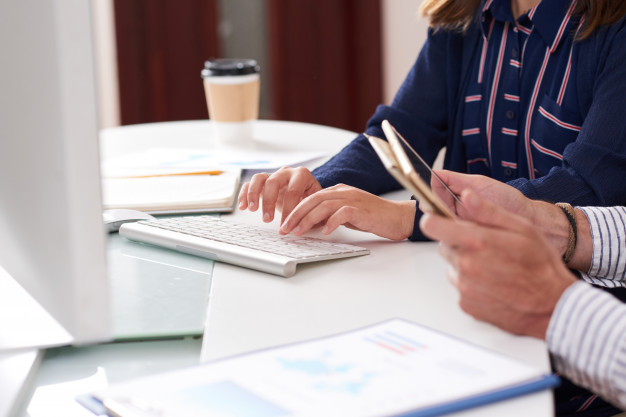 While keywords are important, they're not the be-all and end-all of local SEO. If you're looking to give your Dallas business the visibility it deserves, you need to think outside the box.
With many businesses creating generic content on the daily, you can easily stand out by creating personalized content that resonates with your audience.
Create content around local news stories, trends, events, holidays, special themes, pop culture references, etc. As long as they're relevant to your industry, you're on the right track.
If you can add a local touch to these pages, even better!
Remember, targeting local customers should be your top priority. If you offer tech support in Dallas but end up targeting customers in Houston, you won't earn a conversion. Localize your content, and keep a close eye on optimization. Use high-ranking keywords, title tags, meta descriptions, alt text, heading tags, canonical tags, and short URLs to climb SERPs.
3.DO Claim and Optimize Your Google My Business Listing
Local SEO and Google My Business (GMB) go hand in hand.
If you're looking to target local customers, claiming your free GMB page is non-negotiable. The platform allows you to market your business on Google by sharing basic information (name, address, phone number, timings, URL, etc.), images, videos, reviews, and more.
Each time a web user searches for products/services in your industry, they'll receive a bunch of results. If you've claimed and optimized your GMB page, your listing will be one of them.
GMB pages appear in the Google 3-Pack—a search box with the top three local search results. For instance, if you search for "auto dealers in Dallas," you'll receive the following 3-Pack with GMB listings: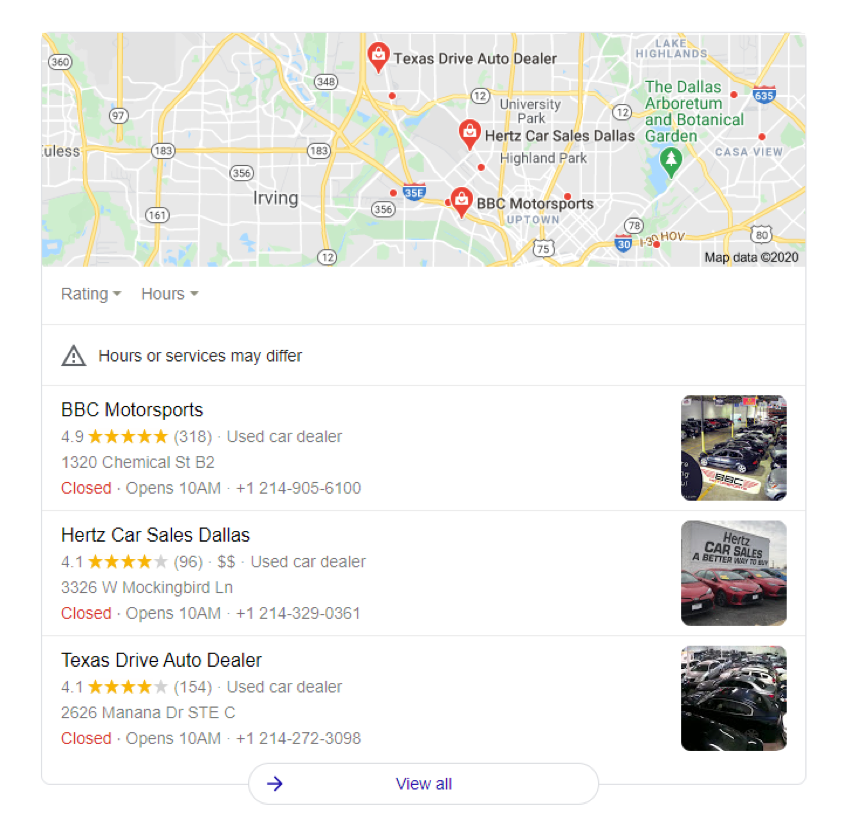 Maximize your chances of earning a spot in the coveted Google 3-Pack by optimizing your listing. Use high-ranking keywords, post regular content, share high-quality images and videos of your products/services, ensure NAP (name, address, phone number) consistency across the board, and actively respond to customer reviews.
3 Don'ts
1.DON'T Overlook the Importance of Mobile-Friendliness
If you run a local business in Dallas, your website should be mobile-friendly. There's no way around it.
According to research, a whopping 52.2% of all web traffic is generated via phones.
And that's not it.
76% of customers who search for a local business on their phone end up visiting the store within a day.
Despite these staggering statistics, many local Dallas businesses are still making do with a desktop website. This is a big faux pas that could end up tarnishing your sales in the long run.
Create a user-friendly and mobile-friendly website (in addition to your regular desktop website) to ensure local mobile users can easily access your products/services. You'll be taken aback by the gradual—albeit impressive—increase in traffic and sales.
2.DON'T Steer Clear of Your Competitors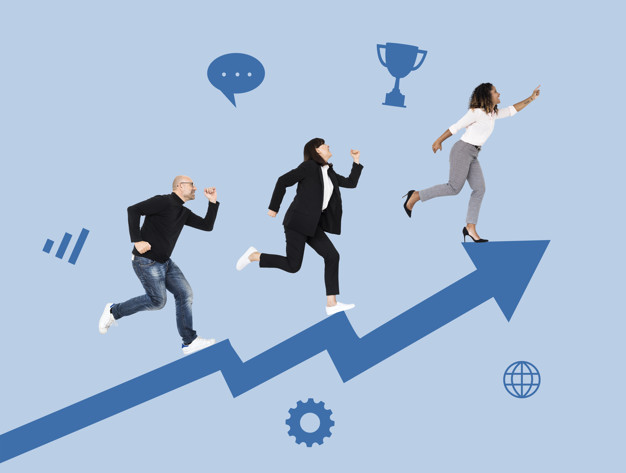 Many brands boast about their ability to run a successful business without comparing themselves to their competitors and getting caught up in who's doing better, and the whole gamut.
Well… this isn't exactly something to be proud of.
Sure, avoid getting caught up in unhealthy competition. However, keep an eye on your competitors, especially if they're doing exceptionally well. This is a great way to up your game and get inspired when you're running low on ideas.
As long as you're only seeking inspiration and not going down the path of black hat SEO, you're good.
Tweak your SEO strategies accordingly to ensure long-term growth. Turning a blind eye to your competitors' analytics and strategies can put you at risk of stagnancy and complacency. To avoid these, keep up with their performance to ensure yours is up to par, or better.
3.DON'T Sideline Reviews
According to research, an astounding 97% of customers read product/service reviews before finalizing their purchase.
Reviews can make or break your business.
In fact, Google uses online reviews as a direct ranking factor. If your Dallas business receives great reviews in abundance, you'll rank higher on Google SERPs. In comparison, if a business has a handful of reviews, with most of them being negative, their rankings will remain in a state of limbo… on the 30th or 31st page (or worse).
Great SEO has a lot to do with reviews, and this is where many brands tend to get things wrong. While waiting for reviews to organically pour in may sound like a good idea, it's anything but. You'll receive a handful of reviews at best and struggle to improve your rankings.
Instead, adopt a proactive approach. Create a separate page on your website that both displays and requests reviews. Share the link on social media and incorporate it into your blogs, articles, etc. as anchor text. Optimizing your content to maximize reviews will go a long way in improving your rankings, reach, traffic, and conversion rate.