It can be both confusing and overwhelming to find the right tool for the job, especially if you're relatively new to the job. This is doubly challenging when many of the tools either sound very similar or they use all sorts of cryptic jargon that you're not familiar with. That's exactly how many bloggers, online content creators and small business owners can feel when it comes to search engine optimization. They know they have to take SEO seriously, but what should they use to do it?
Three of the better known players in this space are Moz, SEMrush and Ubersuggest. Perhaps you've heard of them, but you're not really sure how they compare against one another. How can you decide which one offers the right features for you, is the easiest to use, and delivers the best value? Let's break them down, one by one.
Moz: Smarter Way to Do SEO?
Front and center on the homepage, Moz proclaims that "there's a smarter way to do SEO." Going further, Moz describes itself as providing "SEO software and data to help you increase traffic, rankings, and visibility in search results." How does it do that?
Main Features
There are two Moz SEO products. Moz Local is geared toward SEO-integrated business listings, whereas Moz Pro strives to deliver all-in-one website SEO. Most users would likely be more interested in the latter, particularly if your business is wholly or primarily online.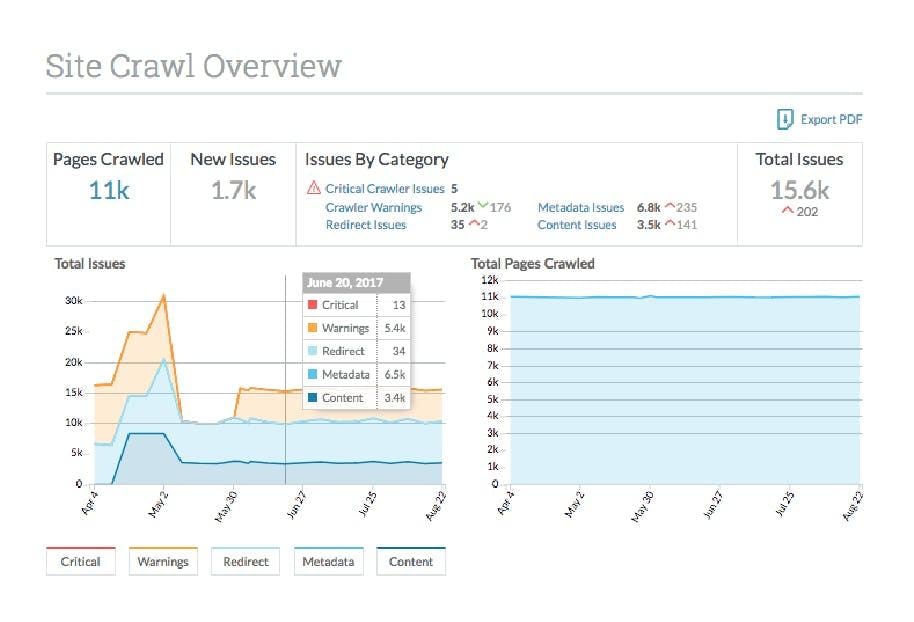 With Moz Pro, you're giving a complete SEO toolset. This includes utilities for conducting keyword research, working on link building projects, performing site audits, and revealing page optimization insights. For example, Moz promises to crawl large sites fast, keeping track of any new or recurring issues over time. This way, you can ensure your site doesn't have any glaring problems that are preventing it from getting ranked.
Similarly, you can also track your rankings with Moz Pro. Simply enter your target keywords and you can see how both your site and your competition are changing over time.
Ease of Use
Because Moz Pro offers multiple functions as part of its all-in-one SEO toolkit, you'll need to familiarize yourself with each one individually. The presentation is consistent, but each aspect works in a slightly different way.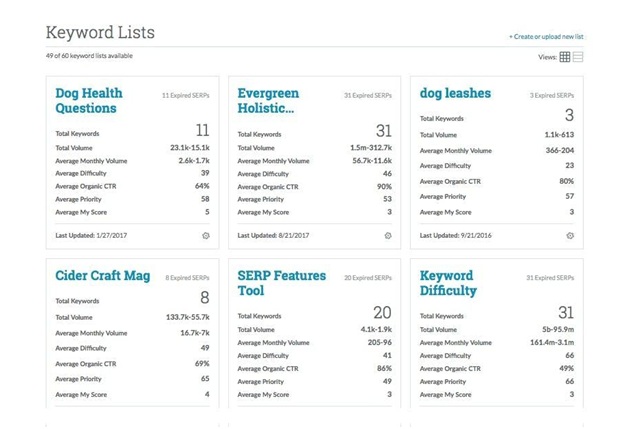 When it comes to keyword research, you can start with a single term to determine its relative difficulty, expected monthly volume, organic click-thru rate (CTR), and overall priority score. Another big component is going through the keyword suggestions to reveal potential opportunities. When you do, you can create (or upload) keyword lists like the examples shown above. By gathering related keywords together, you can see how they add up in terms of total volume, average difficulty, and so on. These groupings can then help to guide your overall SEO strategy.
Free Trial and Monthly Plans
Moz offers a free 30-day trial of Moz Pro. After that, you'll need to sign up for one of the plans to continue using the toolkit.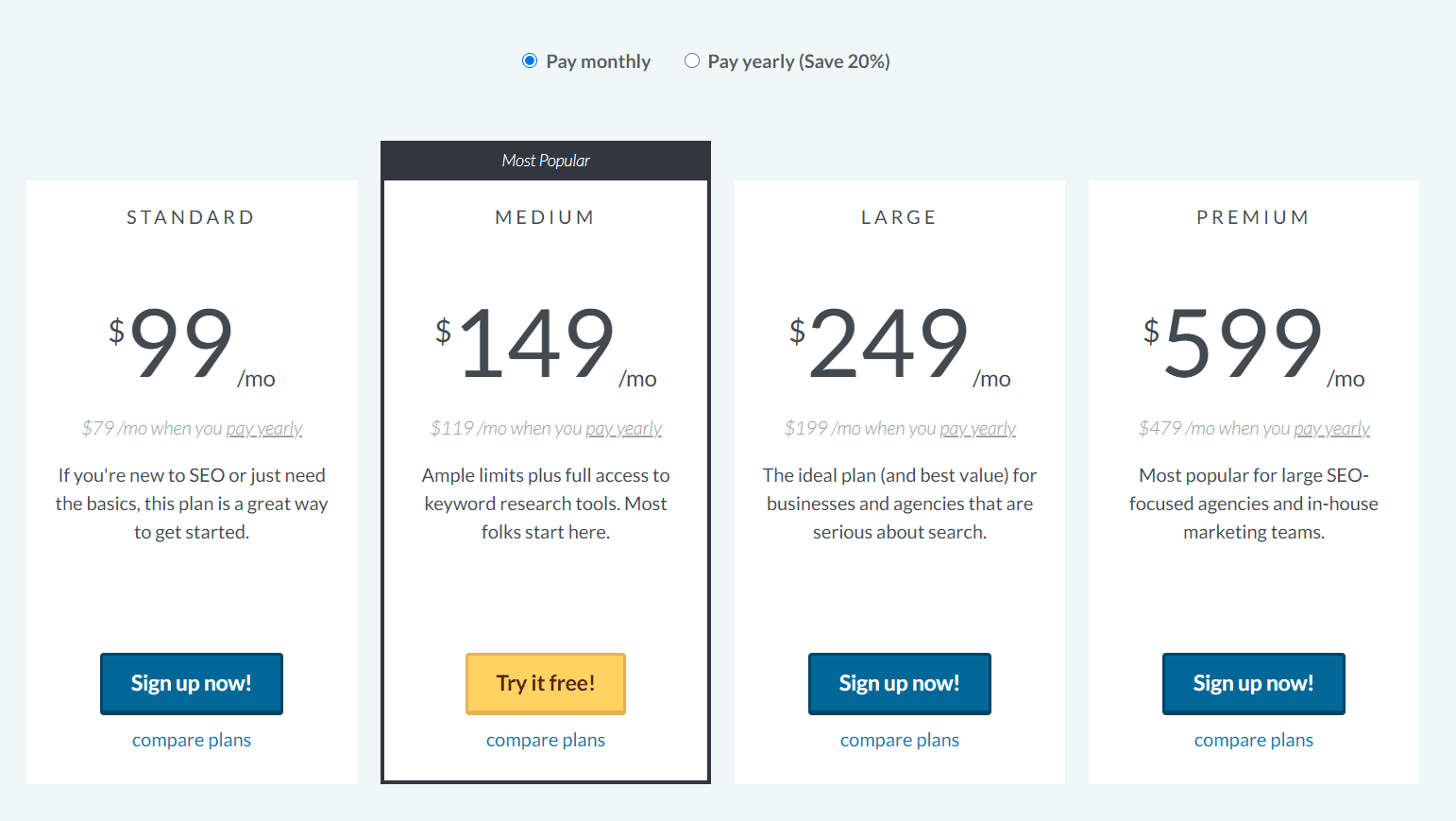 Monthly pricing starts from $99 for the standard plan, which is geared toward providing just the basics for people who are new to SEO. The most popular plan is the $149/month medium plan with full access to keyword research tools. You get a 20% discount when you pay yearly.
SEMrush: All-in-One Marketing Toolkit?
Targeted at digital marketing professionals, SEMrush proclaims that it provides users with an "all-in-one marketing toolkit." It's trusted by such companies as eBay, Quora and BNP Paribas.
Main Features
There are multiple facets to SEMrush, allowing for a "complete workflow for any SEO professional." It also expands into PPC marketing, social media, content marketing, and market research.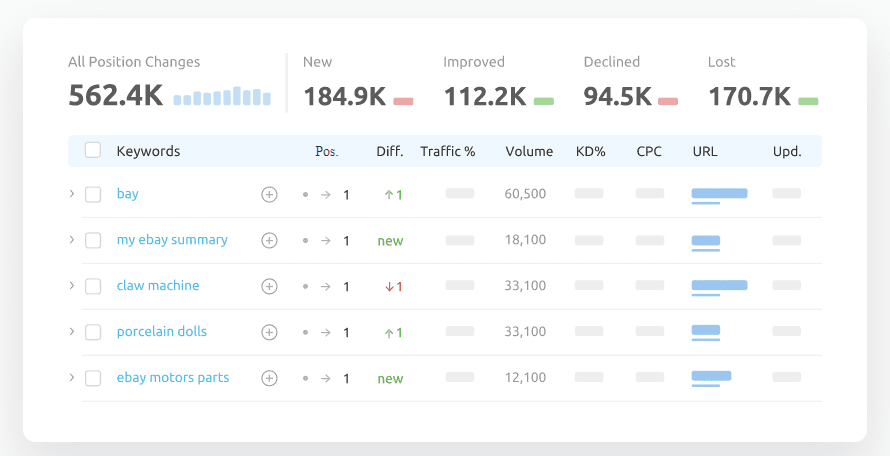 For example, just like Moz Pro, SEMrush also lets you track your position changes over time for your target keywords. You can see the current position, the change, the traffic percentage, volume, and so on. SEMrush also lets you run technical SEO audits, analyze the competition's SEO strategy, review any domain's backlink profile, uncover paid search strategies, optimize your negative keyword list for paid search, and more.
There's a lot going on here, because SEMrush positions itself as relevant for a wide range of potential users. Whether you're in e-commerce, work in enterprise, want to conduct competitive research, or even if you're a digital agency, SEMrush wants to be your preferred SEO tool.
Ease of Use
Because of all these different facets, SEMrush provides a bevy of data, information and functionality. This can prove very valuable for experienced veterans who know exactly what they want to find and track.

The reports that you get from SEMrush are among the best in the business with such a wealth of data at your fingertips. You can spend hours deep-diving and scouring through all this information to reveal the best opportunities and how you should shape your SEO, PPC, and other marketing campaigns. It's understandably dense and complex, so while this may be great for higher-level professionals, it may not be accessible for less experienced users.
Free Trial and Monthly Plans
SEMrush offers a 7-day free trial for either the Pro or Guru level. You can cancel after the trial is over or sign up for one of the monthly plans.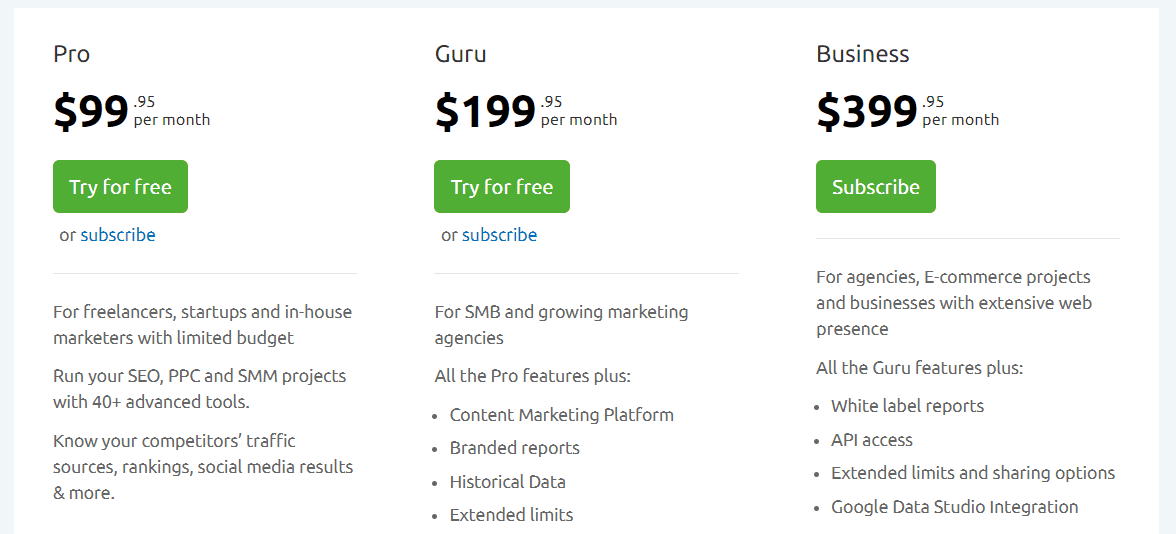 The $99.95/month Pro plan is suitable for freelancers and startups with a limited budget. The $199.95/month Guru plan is better for small and medium-sized businesses, adding such features as the content marketing platform and historical data. You save 16% when billing annually.
Ubersuggest: Want More Traffic?
Do you want more traffic? Ubersuggest says that it will show you "how to win the game of SEO." Right away, one of the more appealing aspects is that you can start using the Ubersuggest tool without even needing to sign up for an account. No obligation, no catch.
Main Features
Taking a very broad stroke, the features of Ubersuggest fall into one of two main categories. They relate to keyword research or to analyzing a specific website (domain). In both cases, this research can relate back to your own site or to that of your competitors.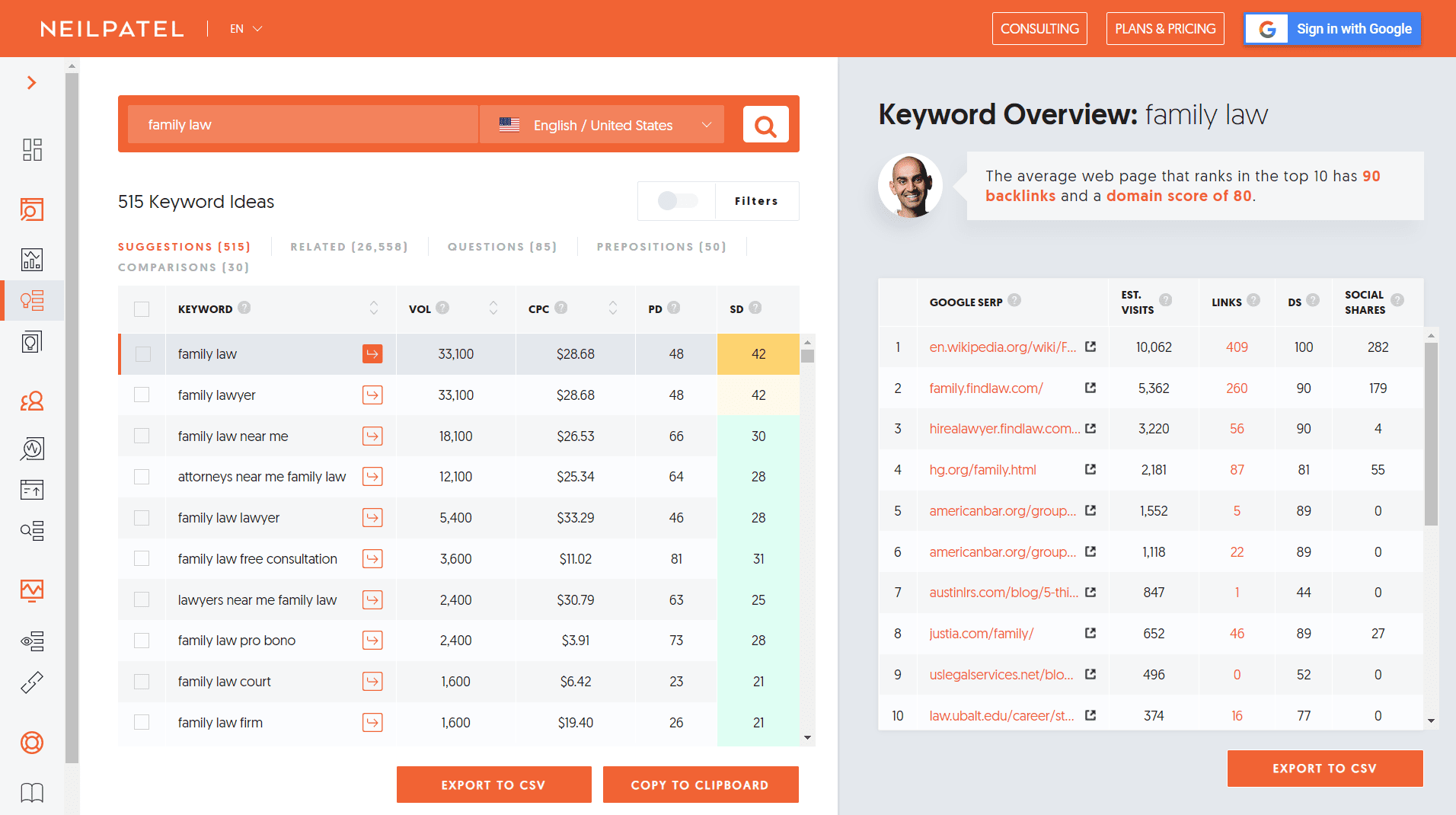 On the keyword side, you can start with a single keyword or keyword phrase. You'll then get the standard SEO information about relative keyword difficulty (both paid and organic), anticipated monthly volume, and estimated CPC.
As you go through this keyword report, you'll uncover additional keyword ideas organized into suggestions, related keywords, questions, prepositions and comparisons. You can also see what the competition looks like for these keywords, uncover potential content ideas based on actual published content, and more.
Ubersuggest also lets you conduct site audits, competition analysis and more based on domain. Reveal the top pages of your competition, what keywords they're ranking for, what errors or warnings you have on your own site and more.
Ease of Use
Because Ubersuggest isn't trying to be all things to all people, it is much more user friendly, particularly for beginners and other less advanced users. The interface is clean and efficient, clearly displaying the data you want to know in a way that's easy to interpret and understand.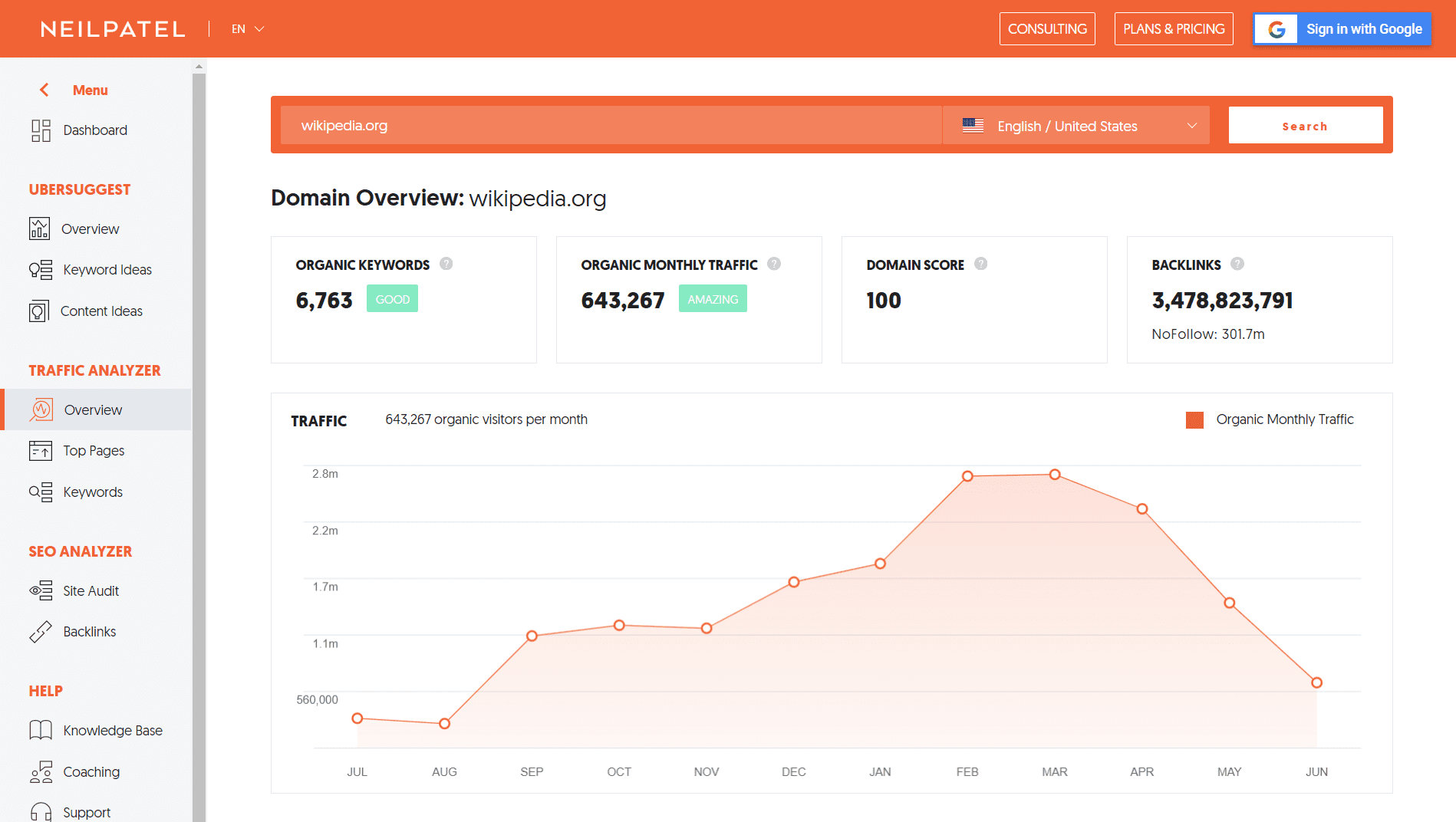 When you take a look at a domain overview, for example, you can clearly see the high-level information at the top. This includes the organic keywords for which the site ranks, the estimated organic monthly traffic from those keywords, the domain score, and the total number of inbound backlinks.
As you scroll further down the page, you're shown clear and colorful graphs for SEO keyword rankings over time, top SEO pages by country (including estimated visits, backlinks and social shares), and top SEO keywords by country. For each of these, you can choose to click through for more information. The learning curve is gentle, making Ubersuggest very approachable.
Free Trial and Monthly Plans
You can start your trial period with Ubersuggest without signing up for anything. The number of results is limited, but you can see exactly what the tool can do. When you sign up for a free account, you gain access to even more data and features. These are free forever and you can use your free account for as long as you'd like.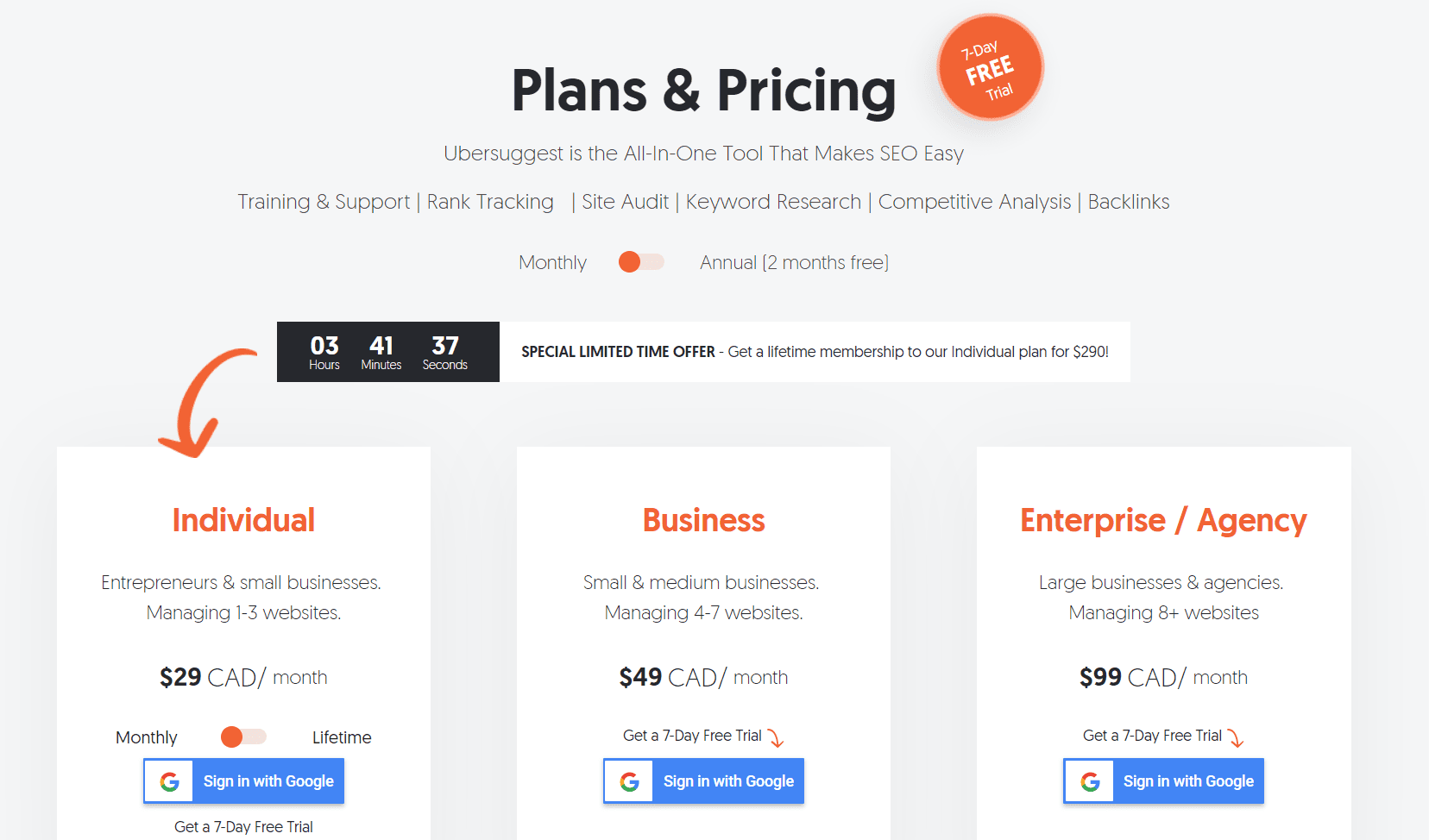 If you do choose to upgrade to an optional paid plan, which unlocks additional lines of data for each report, the individual plan starts from just $29/month (or $290 for lifetime access). That's good for small businesses managing up to 3 websites. You can also enjoy a 7-day free trial. Upgrading to the business plan to manage up to 7 websites is $49/month.
Which SEO Tool Is the Best?
With so many different SEO tools and solutions out there, it can be quite a challenge to find which one is best for you. This will likely come down your SEO knowledge, site budget, competitive niche market and your level of experience and overall needs.
For example, larger organizations with more complex needs may find that Moz Pro or SEMrush are worth the added expense and complexity. However, for the majority of smaller and medium-sized businesses — including freelancers, bloggers, and independent online retailers — Ubersuggest is both more accessible and more affordable.
Each of the solutions highlighted in this review are great, but depending on your needs and budget, some might be better than others. With this in mind, be sure to take a good look at Moz, SEMRush and Ubersuggest to see which SEO tool has the features and tracking in place that you'll actually use.