Hi, friends. Today we would like to introduce you a new pod from Smok RPM series – SMOK RPM 2 kit. I think it is the crystallization of the original RPM40 and RPM80 kits. Compared with the original RPM80 kit, RPM 2 uses a larger battery and increases wattage, while retaining a smaller form factor. Let's see more details.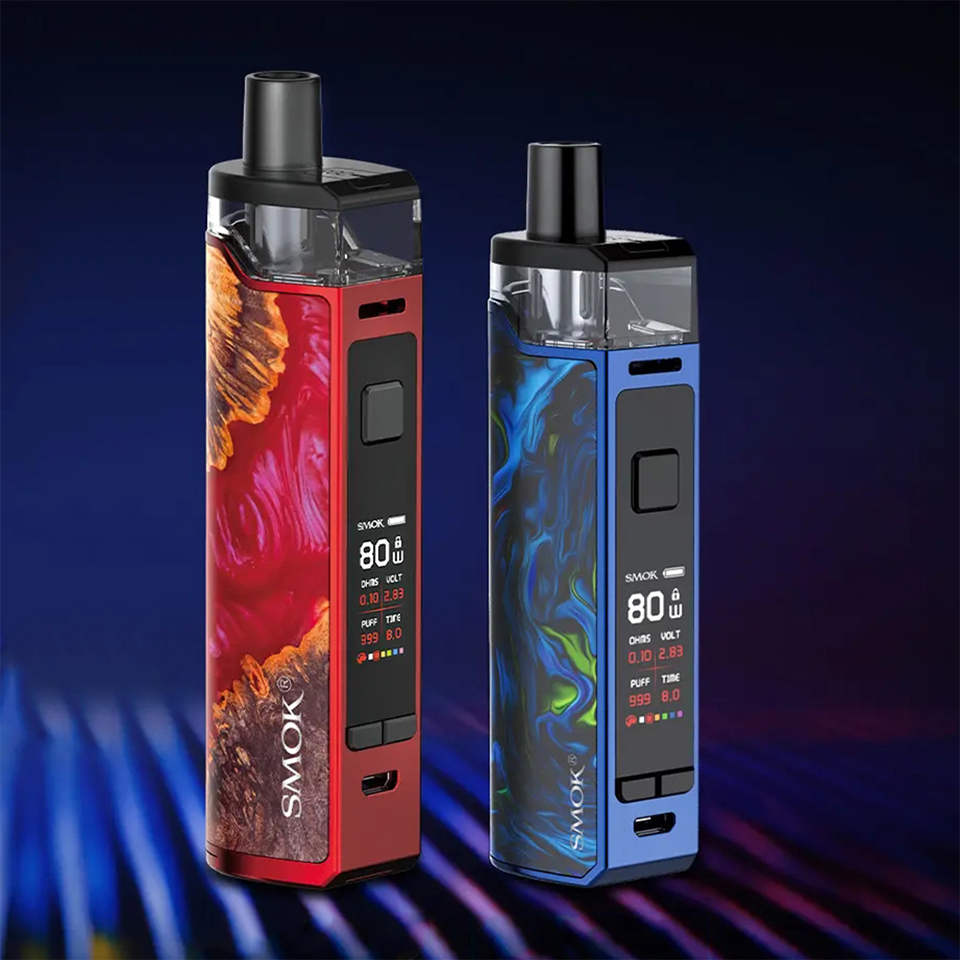 Features
Dimensions – 28.5mm by 31mm by 108.55mm
New IQ-80 Chipset
Integrated 2000mAh Rechargeable Battery
Wattage Output Range: 1-80W
Voltage Output Range: 0.5 – 8.0V
Resistance Range: 0.15-3.0ohm
Zinc-Alloy Chassis Construction
Striking Resin Panel Inlay
Intuitive Firing Button
Two Adjustment Buttons
Large 1.14"TFT Color Display Screen
Refillable Pod – Replaceable Cartridge
Magnetic Pod Connection
Design
It is designed as a middle ground between the Pod Vapes Kit and the Box Mod. Make it an ideal travel e-cigarette or starting point for beginners or advanced travelers. It has a large and spacious 2000mAh rechargeable battery with a maximum output of 80W.
While maintaining compatibility with the original RPM coil, RPM 2 introduces a new DTL0.16Ωmesh coil, which makes the aroma in the mesh coil act as a reverse funnel, regulating and compressing the aroma and cloud mist, thereby providing A satisfying e-cigarette experience.
Cartridge
Frankly speaking, for more e-liquid consumption caused by higher power, it is important for users to always pay attention to how much e-liquid remains inside. Simply enlarge the size and make it more transparent. By the way, the capacity of the Smok RPM 2cartridge is 7ml, which is larger than the 5ml of the Smok RPM 40.
Battery
Equipped with an upgraded battery with a capacity of up to 2000mAh, it can provide a rich flavor, and the effect can be obtained at the press of a button. The newly upgraded Type-C USB connection can provide users with fast charging to ensure that their devices are charged all day.
Summary
Well, the latest RPM new memberSMOK RPM 2Vape Podsof this family has not seen some of the previous features, but in my opinion, this is a just an updated version to RPM80, which with a slightly lower battery capacity and a larger screen.
If you would like to learn more detail of Smok new vape, you can click here ti visit Vapesourcing best online vape shop.