SaaS or Software as a Service involves several marketing strategies that marketers use to sell their products online as a service to their clients. It is worth mentioning, SaaS businesses generally work on subscription business models.
If you want to collect recurring revenue, you must deliver regular value to your clients through your website. Keeping this in mind, let us learn some smart ways of marketing your SaaS business online.
Develop your SaaS marketing strategy
SaaS marketing is the newest form of marketing that has come up in recent years. Your client will have the urge to purchase your product only if it can solve his business problem.
To educate your potential customers about your solution, you have to create empathy and build necessary information about the capacity of your technology.
To evaluate your marketing strategy and to check if it is effective, there are 3 main metrics you should consider for a successful model-
LTV or a customer's lifetime value
ROI or return on investment
CAC or customer acquisition cost
A simple comparison between your acquisition cost and the value you get from your customer will determine whether your ROI is negative or positive. Ideally, the ratio between LTV and CAC should be 3:1 but again there is no rule.
Constant optimization of conversion rate
Your website is the first thing your clients are going to see. Hence, the website should not only look good but it should have the potential to convert your leads too. Make the website as engaging as possible for your website visitors.

It is inaccurate when people say that achieving greater results implies increasing your expenditure on your website. All you have to do is optimize your website conversion rates by figuring out what generates leads through web traffic.
You may have to experiment with different content on your website pages, bringing in more fundamental information about your solution.
Exhibit your expertise & become their thought leader
After optimizing the layout of your website, the next challenging task is to acquire the power of persuasion. There is a high probability that your software will share some similar features with your rival solutions.
Hence, to stand out from the crowd, it is important that you bring about certain unique features that differentiate your solution from others.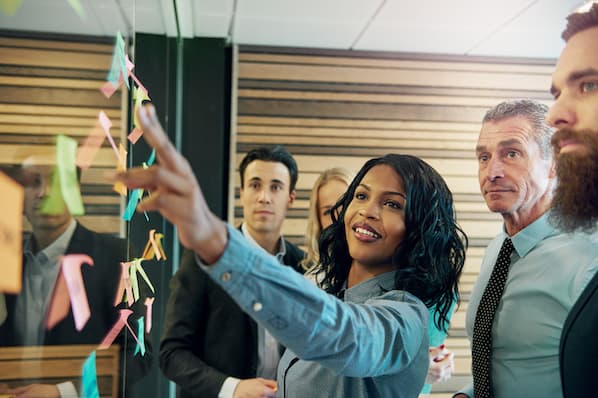 Develop valuable content that makes you an expert in your field. Worth mentioning, do not become too arrogant while striving to be an expert. Try to soften the information without emphasizing much on high-brow material.
Use different social media channels like Facebook, Twitter, etc. to promote conversations and to reach your target audience.
Moreover, your original strategy should be consistent. You can start gaining authority by creating a regular content schedule. This will enhance your customer's awareness of your brand much before your important decision-making instant.
Pay more attention to the benefits and not the cloud
You must have created your software on an amazing technology and it is on the cloud. All that is great! But unless you are selling your software to an IT person, nobody cares how you created it.
Forget about the technology if you are trying to market your product. Forums on the benefits that your customers will derive from purchasing your product.
Consider essential elements for your marketing messages, keeping in mind the benefits for your clients –
No hardware or software to handle or install
Eliminates or reduces administrative burden
Negligible capital investment
Develop your prospects
It takes time to sell a SaaS product since it is normally not an impulse buy. Some customers may visit your website several times before signing up. It is most likely that they are visiting your competitor's websites too.
Hence, your website must always be moving forward, always updated, and evaluated whenever necessary. Update your content and change the feel and look of the website from time to time.
Your content must be engaging if you want to capture your clients' contact details. The nurture does not take place overnight and thus, understanding the average purchasing cycle is important for building the correct depth and length of your marketing strategy.
While nurturing your prospects, do not rush too much. It takes patience to develop a pile of compelling contents like webinars using best webinar software, explainer videos, infographics and adequate time to create an important database of engaged customers. Once the database is ready, send out regular emails to them with information on special offers. This continuously adds value to your product.
Engage your existing customers
Remember your current customers may or may not renew their subscription once it is over. This means your existing customers are prospective and hence, you must not neglect them.
What is good about prospective clients is that retaining them is more cost-effective compared to customer acquisition. So, your work as a marketer is to maintain the level of customer satisfaction & upsell whenever possible.
The task is to get your clients on board in a cost-effective way, keep them engaged and informed regularly about your software enhancements. This helps in maximizing the benefits from your solution.
Use the right software to build your software
The magnitude of marketing activity that one can deliver is endless. There are many software available in the market today that speeds up and automates certain processes. Do not get attracted to the latest brand new software and especially if your agency pushes you to get their software.
First things first, chalk out a fine marketing strategy and determine your current position and where you are planning to be. Note down a series of requirements and then figure out which software suits your requirements the most. Carry out a regular evaluation to make sure that the investments are delivering adequately.
Conclusion
To sum up, SaaS achieves some great benefits as it is extremely cost-effective and provides easy delivery of service to subscription-based clients. So, SaaS marketing ideas include winning fresh customers, increasing and improving your potential leads, generating more traffic for your website, building new brands and becoming the industry's expert, and reducing churn rate.