Knowing how to blur photo background without a portrait mode is something that many photographers and mobile photographers could benefit from. Blurring out a background can give focus to the subject of the photo and can make it look more professional. While portrait mode is an excellent way to create a blurred background, many camera phones, computers, and digital cameras don't have this feature. Thankfully, there's still ways to accomplish this effect on any device.
Automatic & Accurate Background Blur – AiPassportPhotos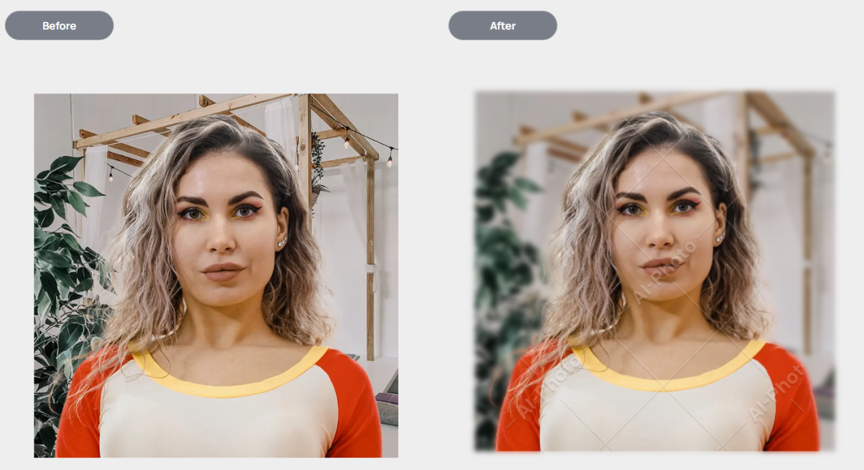 If you are looking for a reliable and easy-to-use photo background blur tool, look no further than AiPassportPhotos. The AiPassportPhotos makes it easy to blur photo background in seconds, helping you create amazing visuals for whatever project you're working on. Both beginners and professionals can make good use of this AI blur background. There is no need to install any software and it supports Android, iPhone, Windows and Mac.
Before you get started, you'll need to open AiPassportPhotos website and upload the photo you want to blur the background of.
Step 2: Adjust the Blur intensity
AiPassportPhotos will automatically blur photo background in a few clicks. If you are not satisfied with the result, simply adjust blur intensity and preview blurred image.
Step 3: Apply the Blur and Save Your File
Once you've selected your blur level, it's time to apply the blur. AiPassportPhotos will also prompt you to save your edited photo, so be sure to save it before you exit the website.
And that's it! You've successfully blurred your photo background with AiPassportPhotos. With its easy-to-use interface, it only takes a few simple steps to achieve amazing results. So give AiPassportPhotos a try and create stunning visuals with ease.
You also can restore old damaged photos, color correct pictures, make big head cutouts and even create compliant passport photo online. This all-in-one online photo editor saves you both time and cost on repetitive photo processing. Whether you're expert or just setting out your photo editing journey, you have a place at AiPassportPhotos.
Traditional ways to blur photo background
The most basic way to blur a background is to move further away from the subject and to zoom in on it. This will automatically blur the background as it's too far away from the lens to be in focus, making your subject stand out more. This is ideal when you don't have any digital editing software, and you want to get it done quickly. However, if you have access to digital editing software, there are plenty of excellent tools that can help you out.
One option is the blur tool, available on many editing software solutions. Using it, you can select an area of the background and blur it out until you reach the level that you desire. This is a great option if you want full control over the amount of blur that you want and don't want to rely on the distance and zoom method.
Alternatively, you can also find software solutions like Adobe Photoshop that have a Blur Gallery tool which gives you a number of presets to work with. These presets include techniques like the Tilt-Shift, Iris, and Field Blur which come with a set of sliders to control the blurriness of the background. You can move around the presets to blur out both close and distant backgrounds for the desired effect. However, it requires prior experience in photo editing.
Compare traditional ways with AI-backed blur background
Traditional editing software has become a mainstay in the world of photography and videography. With their users' ability to manually make adjustments and refine images, they provide a great opportunity to make changes that can really make photos and videos look their best. However, they lack the same complexity and accuracy that AI-assisted background blur tools can provide.
AI background blur tools are a recent innovation in photo and video editing, and they bring a level of technology never seen before. Unlike traditional editing software, they have the ability to detect objects in an image and automatically blur, pixelate, or otherwise adjust the background accordingly. This can be especially helpful for quickly and effectively blurring a face or other objects in photos or videos without having to manually select and adjust the image.
For photographers and videographers who don't have a lot of time to manually adjust their images, AI background blur tools can be a huge time saver. In addition, they can also provide high quality blurring with fewer mistakes or inconsistencies that could be caused by manual adjustment.
So which is better – traditional editing software or AI background blur tools? The answer depends on how much time and effort you have to put into creating your photos or videos. If you need to make quick and easy touches to your images, AI background blur tools may be the way to go. But for serious photographers and videographers who have the time to carefully adjust their images, traditional editing software may be the right choice.
Closing Thoughts
The results speak for themselves – the photo has a beautiful blurred background, while still keeping the subject of the image in focus. With this technique and a few simple clicks, you can blur the background of any image without needing fancy or expensive portrait mode. So next time you're out taking photos, you'll know exactly how to get that dreamy, blurred background with no extra fuss.