Prescription lenses are a part of corrective measures for different eye defects. Different brands are producing a wide range of reading glasses. We know how tricky it can get to choose a pair perfect for your eyes. Here is a guide for finding a good pair of prescription glasses for you: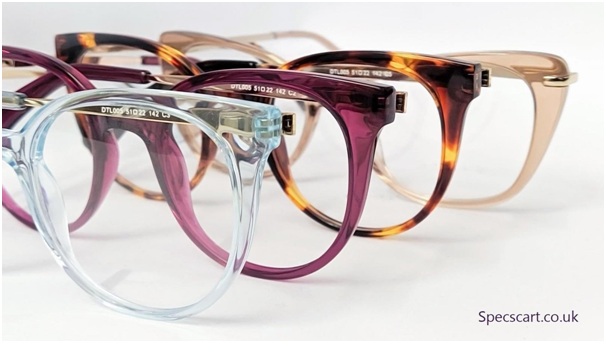 What does a regular pair of prescription glasses cost?
Prescription glasses in the UK are more expensive than what an essential commodity should cost. A regular pair of blue light glasses here can cost anywhere between eighty to two hundred and fifty pounds. This is why middle-class people can not afford more than one pair of regular glasses.
However, there's one brand called Specscart that is constantly striving to bring its prices as down as possible without compromising on the quality. Customers can purchase a basic pair of glasses from Specscart, starting at just twenty-five pounds.
Things to consider before purchasing prescription glasses
The shape of the frame
You must choose your spectacle according to your face shape:
Square faces are characterised by bold and angular features. The trick is to balance out these angles and draw attention away from the square shape. For this, you can choose to purchase round or oval-shaped frames, preferably in an eye-catching colour. Choose a thinner frame that is not overwhelming.
Triangular faces are widest at the jaws and narrow through to the forehead. So, here, to bring balance and proportion to the face, you can try to pick a frame slightly wider than your jaws. Frames with detailings on the upper rim can do this job perfectly. Cat-eyes, browlines, and aviators can be a good option for you.
Invert triangle/ Heart-shaped
Heart-shaped faces are widest from the forehead and gradually narrow down to the chin. A wide frame can help to bring a balance.  A winged frame, slightly wider than your forehead and with a rounded lower rim works best for them. A wayfarer with a modified lower rim can also be a suitable option.
Round shapes have soft and round curves. There is an almost equal proportion between the jaws and the forehead. Just like other face shapes, we need to balance out the features by choosing a frame shape opposite to that of the face. Sharp geometrical frames can be used to add angles to a round face.
If it's comfortable 
Whether you have to visit your friend's birthday party or you need gaming glasses for that gaming night, prescription glasses need to be lightweight and comfortable. You should not be bearing a heavyweight for an entire day and end up teasing your nose's bridge. For regular use, you can choose acetate frames that are not just comfortable but last very long. Metal frames with an adjustable nose pad can also be an excellent option to go with.
Anti-blue light coating
Blue light is the last colour of the visible spectrum of white light. This wave, moving with the highest energy, is damaging for the human eyes. X-blue light coating is the latest technology in optics that is used to block and filter the devilish blue waves from entering our eyes. Even if you are not prescribed glasses, you should wear blue light glasses while reading, watching TV, using different screens or playing games.
Why do you need blue light glasses?
To block harmful blue rays from different screens.
To prevent Age-Related Macular Degeneration.
To soothe symptoms of the Computer Eye Syndrome.
If you have recently had cataract surgery.
Blue light damages the retina by inducing toxic reactions in the retinal cells.
Latest trends
If you like dressing up in the latest trends, here is a list of the most fashionable styles in 2020-2021:
Metallic rims
Geometrical shapes
You can easily spot different celebrities sporting various geometrical shapes like hexagons, octagons, and trapeziums.
Transparent frames
Tinted transparent frames in light hues like pink, blue, green, orange, brown, etc. are in hot trend this season.
Statement rims
Rims embellished with pearls, stones and metallic calligraphy are used as a statement accessory.
Tortoiseshell print
Apart from nails, you can also find a variety of tortoiseshell prints on acetate frames at almost all the eyewear stores around the UK.