Creating and editing videos has been considered a special reserve for dedicated computer apps for a long time now. However, online video editors are taking over. Apart from offering affordable subscription plans and convenience, the perfect online video editor also comes with a ton of resources to customize your videos. So, let's waste a little time and discuss a few options on the table.
Key features:
Hundreds of free templates.
Offers thousands of free stock media.
Allows editing of local files.
Exports in 1080p and 720p qualities.
Dedicated Android and iOS apps.
Want to create beautiful videos for your Facebook, Instagram, TikTok, and YouTube following? Use Wondershare VidAir. It's simple to use and supports multiple video, audio, and image file formats. With VidAir, you can trim, crop, add background colors, apply background music, and many other video resources. Best of all, it comes with a feature-packed free plan. You can upgrade your plan and enjoy more video editing resources by paying only $71.88/year.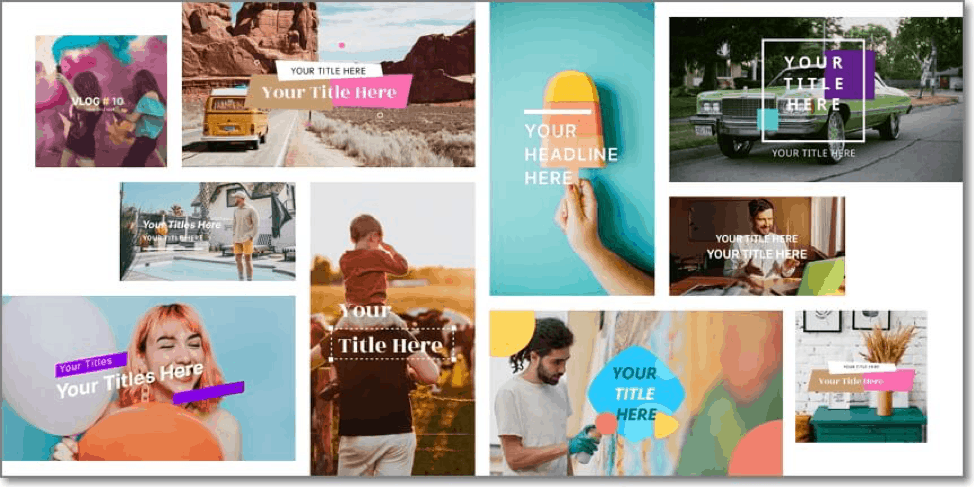 Key features:
Millions of inbuilt stock content.
Can exports videos up to 4K UHD resolution.
Record screen and webcam concurrently.
Directly publish videos to social media.
Available on iOS and Android.
WeVideo is another top-class online video editor that beats most offline computer apps, hands down. This program is straightforward to use and lets users create 4K UHD quality videos. Interestingly, it features millions of stock content that you can download, edit, and use as you please. Also, users can create horizontal, vertical, and square videos, depending on their preference. But on the flip side, there is no free lunch here. So, check the other options if you're on a budget.
Key features:
Excellent video and slideshow maker.
Video editor to rotate, trim, and compress files.
Features a screen and webcam recorder.
Extensive template library.
Helpful video converter.
It's no wonder that Clipchamp is one of the highest-ranking online video editors. This app has been creating and editing videos since 2014. That said, this innovative website lets you complete almost all basic video editing tasks. Users can trim, split, combine, crop, compress, you name it! As expected, it features an extensive stock library full of customizable templates to help you make perfect videos for your social media platform. Plus, it boasts a screen and webcam recorder.
Key features:
No watermarks.
Excellent free plan.
An extensive list of editing functions.
Uploads custom fonts.
Download SRT files.
Do you want another free online video editor? Use Kapwing. With this software, you can create unique digital stories and edit them like a pro. Users can edit GIFs, videos, audio, and images. Surprisingly, the free plan allows users to export content with no watermarks. Also, users can access all video editing tools and save content for up to two days. However, you'll have to upgrade your plan to free up additional storage space.
Key features:
Excellent video editor.
Features an intuitive meme generator.
More than 3 million stock media.
Allows use of animated texts, music, and special effects.
Quick exports and fast downloads.
If you want to create a professional-looking HD video, use Invideo. This app comes with an intro maker, Facebook video ads maker, meme generator, YouTube intro generator, and so much more. But it is its video editing capabilities that make it stand out. With Invideo, you can complete basic video editing tasks and add resources like stickers, templates, filters, emojis, and more. Even better, you can directly publish the video to social media.
Key features:
Offers free professionally designed fonts.
Comes with thousands of free photos.
Features multiple layouts and colors.
Share stories via email and social media.
Sync projects across the web and iOS apps.
Adobe Spark lets you create kickass web pages, video stories, and graphics in minutes. Although the subscription is a bit steep compared to other programs on this list, Adobe Spark compensates with a wide range of features. First, users will get thousands of free icons and templates to customize with texts, fonts, stickers, filters, and so on. Also, you can customize projects with custom logos to make them unique and beautiful. And yes, Adobe Spark removes watermarks from your videos and images.
Key features:
The free plan makes video clips up to 10 minutes long.
Excellent Magisto video editor.
Features more than 3 million full-HD stock photos and videos.
Unlimited HD downloads.
Maximum cloud storage of 5TB.
Magisto is arguably the best online video editor, at least when it comes to cloud storage. Although the basic plan ($4/month) doesn't support cloud storage, the premium plans let users access up to a massive 5TB storage space. With Magisto, you'll enjoy premium editing styles like adding logos, texts, watermarks, and more. Also, you can create video clips up to 10 minutes long.
Key features:
More than 1 million clips, photos, and animations.
Exports HD 1080p resolutions.
Add custom watermarks and branding.
Unlimited exports.
Excellent free plan.
Biteable is quite unbeatable when it comes to offering a free online video editing service. With it, you'll enjoy a 100% free plan with unlimited exports and millions of resources. However, videos created using a free account comes with a Biteable watermark. But luckily, you can upgrade to the Plus or Ultimate plan and create videos with customizable watermarks. The premium plans also allow users to export 1080p videos.
Key features:
Feature-rich free plan with Animoto branding.
Add custom logos, watermarks, and brand colors.
More than 1 million free images and videos.
Exports high-quality 1080p videos.
Premium plan supports 3-user accounts.
Like Biteable, Animoto comes with an excellent free plan, although you'll have to live with the Animoto watermark on your exported files. That aside, this intuitive online video editor offers more than 3000 free audio tracks, 40+ professional fonts, and one million-plus stock images, audios, and videos. With all these resources at your disposal, you can be sure to produce the perfect HD-quality video clips.
Key features:
Access 250,000+ free templates.
100+ design options for social media, letters, presentations, etc.
Thousands of free stock photos and videos.
5GB free cloud storage.
Affordable subscription plans.
Did I save the best for the last? Well, it depends on your preference. Canva is a popular online video creator and editor that comes with a helpful free plan. Its free version allows users to access more than 250,000+ templates and customize them with 100+ design types. You can also add thousands of free graphics and custom fonts to your projects. But most importantly, Canva offers free users up to 5GB of free cloud storage.
Conclusion
So, the next time you want to create and edit videos online without installing anything, choose one of these apps. But before you make a pick, go through the available features like templates, designs, fonts, and more. Also, don't forget to check the subscription fee. In this industry, the cost means nothing.