Smartphones have, not so slowly, creeped in and become an integral component of our lives. From communicating to loved ones to paying our bills, they have sorted it all. It's like holding the world in your hand, with an ocean of information and entertainment, just a click away. Owing to this degree of importance of smartphones in our lives, one needs to be well informed before making a purchase decision. The most important factor dictating this decision is the price to feature ratio. The better the ratio, the more purchasable the phone is!
That being said, just because a phone has all the cool features doesn't necessarily mean that you HAVE to buy it. It's just an option for those who take it as a luxury and might have sufficient budget to support that desire. I have listed down (in no particular order) smartphones based on their feature to price ratio. Scroll through the article and let me know in the comments, which one did you choose and why?
#1 OnePlus 6T
OnePlus 6T comes with everything basic, one asks from a smartphone. On top of just having features, it works superbly well.  It comes with a base price tag of $550 with all those bare necessities like good appearance, quick and long lasting charge, high-quality camera for great photos and seamlessly running android system and apps.
In short, this smartphone comes with an excellent design, performance and great value for money. In addition to this, it is the first OnePlus phone to be sold by – T-Mobile – and the first one yet by the manufacturer to be Verizon compatible.
Price for 128 GB Model: $550 for 6GB RAM
T-Mobile Price: $580 for 8 GB Ram for the same model
#2 LG G8 ThinQ
Released in April'19, the LG G8 ThinQ has everything fancy to offer. Outlandish features like a minimalist design, fingerprint, hand and face ID. Hand ID uses a biological basis, like the vein structure in your hand to unlock the phone. One of the coolest features is the hole-less speaker system – The whole screen is the speaker, it uses vibrations to transmit boom box speaker level sound quality. Enjoy more defined portraits with the new LG G8 phone, effectively enhancing the subject from the background. Even with all these cool new features, it still faces competition from lesser-priced alternatives like Samsung Galaxy S10e.
Price: $ 847 for 128 GB storage model
#3 Samsung Galaxy S10e
Mobile phone enthusiasts have crowned this one to be the best value for money in the $700 plus category. It runs on the same processor as the Galaxy S10, which is otherwise given a price tag of $900. Moreover, it has the cool reverse charging feature too, which Samsung might've chosen to keep for its expensive phones but luckily it didn't.
It comes with an ultra-wide camera and a fingerprint sensor on the power button. In short, it is as good as the expensive S10, but with a little smaller screen.
Price: $ 799.99 base price for 128 and 256 GB phones
#4 iPhone XR
The $750 iPhone XR is deemed more appealing than its expensive-r counterparts like the $1000 iPhone XS and $1100 iPhone XS Max.
In the case of iPhone XR, you're almost getting the same experience as the XS phones. Except for the dual-lens camera, the superior OLED display, thinner bezels, etc. But take my word for it, these fancy features aren't worth the $250 bill over the XR's price tag. With the right high-speed internet, the world will be at your fingertips.
Price:  The 6.1 in iPhone XR comes within a price range of $749-$899
#5 Google Pixel 3 and Pixel 3 XL
Being Google's very own product, these smartphones get Android updates, the moment they are released. Not every Android phone is able to boast this fact. For photography enthusiasts, Pixel 3 comes with the dual-selfie camera, which takes ultra-wide angle selfies, on top of regular selfies.
Owing to Google's Nexus devices being so affordable, I wasn't expecting Pixel series to be this expensive. However, both phones do not fail to exceed the user's expectations. The only difference in Pixel3 and Pixel 3 XL is that the later has a more notched design as compared to the regular design of the former.
Pixel 3 Price: $800
Pixel 3 XL Price: $900
#6 LG V40
The $900 smartphone by LG with five camera lenses (three rear and two font) in total, might convince that more is actually better. With a 6.4 inch display, it is one of those few phones with the largest display. Just as Galaxy Note 9, this too is an OLED display phone, with the best picture quality and deep rich colors.
The LG V40 can take a "cinematograph" that is a still photo with a single moving object in it. Up your Instagram game with this cool new feature. Less battery life is one drawback that some heavy smartphone users might face. Nevertheless, LG V40 charges super-fast and has a wireless charging option to cope up with the latest technological advancements.
Price: $950
#7 Samsung Galaxy Note 9
Mobile geeks call it the only smartphone worthy of its $1000 price tag. With a large 6.4 inch display and great quality camera, design, and the gorgeous OLED screen, Note 9 offers everything to its users. The S Pens stylus is another cool feature that enables the user to take notes instantly and rightfully deserves more appreciation.
As is the case with all Samsung phones (well, most of them) Note 9 comes with a gorgeous design and display. However, beautiful it may look, Galaxy Note 9 isn't the easiest phone to handle with one hand. Considering how often a user unlocks their phone in a day, Note 9 comes with effective three options to unlock your device. You can use the iris scanner, the face scanner or the fingerprint sensor at the back to unlock your phone, super quick!
Price: $1000
#8 LG G7
The LG G7 is a great phone for a music fanatic. It comes with the loudest speakers, I have ever come across in a smartphone. Being an LG phone, it also comes with an audio amplifier, for the best headphone experience.
Besides great sound features, it is sufficiently well equipped with a great design, a good camera and other fancy features like wireless charging and water resistance.
Although it is a good phone, the battery life is not that impressive and it fails to distinguish itself from phones like Samsung, One Plus, etc.
Price: $630
#9 Moto G7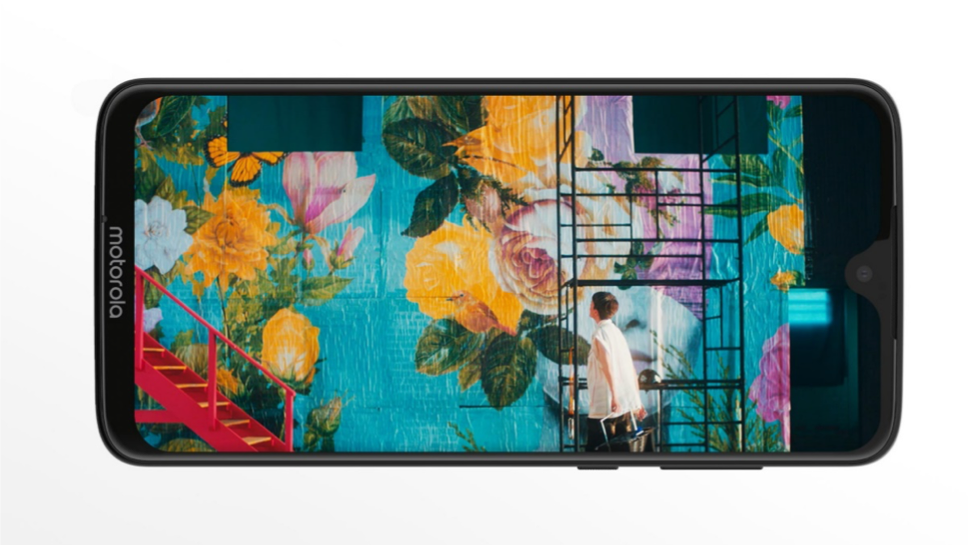 The just-right mid-range phone! Motorola released its Moto G series back in 2013 and it has since been admired for its out-of-style features that some smartphone users still like.
Its predecessor, Moto G6 even received the reviews that it felt like an $800 phone. It comes with a 12 MP dual camera, AI-powered photo assistants and a good 6.2" HD display. In short, a true value for money.
Price: The 64 GB phone costs a mere $300
#10 BlackBerry Key 2
We can safely put this phone into the 'unusual' category. However, it wouldn't have been in this category had it released a decade earlier. BlackBerry Key 2 was a breath of fresh air for the users who still miss the tangible QWERTY keyboard over the digital one. Although one has to trade off the keyboard for a smaller screen, people are still buying this phone.
The camera failed to impress though. In terms of practicality for the mass market, the keyboard makes typing a little slower than usual. Furthermore, the small screen is not fit for video streaming, gaming, etc. However, if one strictly means business, and needs a fast reliable machine, then Key 2 is the choice to go.