Currently, the mobile app market is gaining traction worldwide in terms of the coronavirus pandemic that has caused massive disruption to smartphone usage. Not only can people pay for medicine online within the apps, but they can also use them for work and food ordering. That's why businesses from all corners of the world began migrating from the physical world to the mobile realm. Only by investing in a mobile app for your business can you reach your target audience and meet with success. Moreover, it helps put you ahead of the competition. With that in mind, businesses look for a technology that uses one platform but works on two different operating systems. Fortunately, the demand was met by React Native technology. Sounds interesting, right? Let's dive into the details below!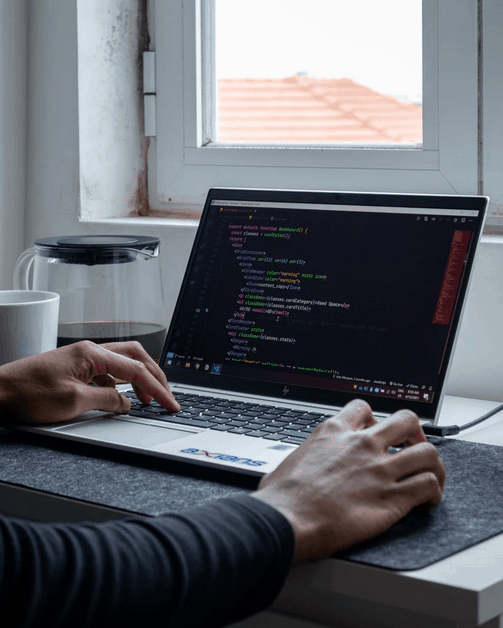 React Native technology: What's it exactly?
Being the most preferred cross-platform solution, React Native technology allows software engineers to create a mobile solution for both Android and iOS platforms. According to a recent survey by Statista, it is the most common cross-platform application framework used by global developers.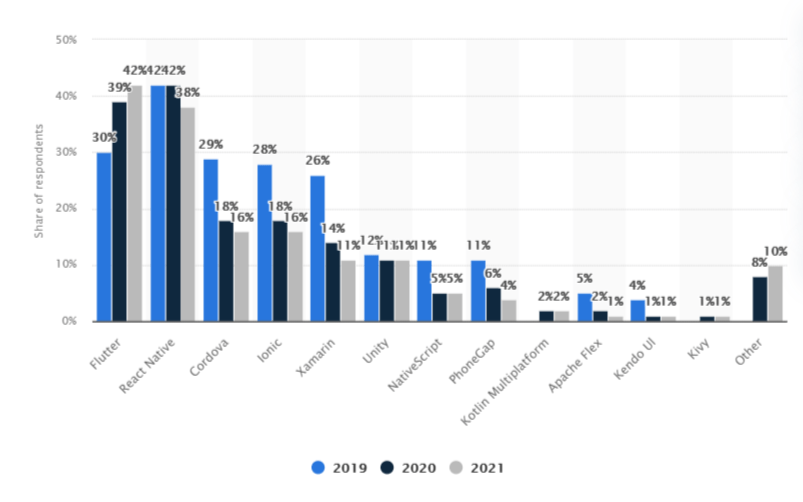 Not only does it allow developers to work with various native components and re-use the code for devices on different platforms, but they also don't need to code from scratch. What's more, its modular and intuitive interface simplifies the development process and allows to create updates and upgrades to web applications with ease. In addition to that, React Native's live reload feature enables them to see the result of the latest changes in real time. This significantly reduces time and development costs and speeds up time-to-market. As you see, React Native is here to stay if you need to create an Android/iOS mobile app for your business.
Top mobile apps powered with React Native technology
Here we are going to overview some world-known apps created with React Native technology. Examples presented below prove that React Native is an attractive option for brands who want their ideas to be successfully introduced in the mobile app landscape. Keep on reading to discover!
#1: Facebook
Being the most popular social media service globally, it allows users to keep up with friends, family, communities and news by utilizing various types of shared content. Not only can you check notifications and see various events and activities, but you can also watch videos and play games on the go as well as follow your favorite artists, companies, celebrities, etc. and share your photos and stories. Moreover, companies that maintain a presence on the platform can build brand awareness, reach new customers and grow their business.
#2: Skype
Written in React Native, Skype can be used in business and personal communication to provide communication for co-workers, family and friends in real time. Moreover, it allows businesses to hold meetings and conferences and exchange different kinds of content. This significantly improves productivity, speeds up collaboration and allows relatives and friends to keep in touch.
#3: Airbnb
Built with React Native, this app is designed for guests and hosts. Hosts opt for it to list their spaces directly from the app and deliver memorable services while guests can find the ideal place to stay and book it when traveling in many countries around the world. Not only does it help businesses to earn money by listing spare rooms, chalets or extensions, but they can also make special offers to guests schedule bookings in advance.
#4: Instagram
Whether you are an artist, store, brand or creator, Instagram is a great solution to go digital. Not only can you create and share your photos, stories, and videos with your followers, but you can also send private messages and use hashtags or geotags that make your account searchable by other users. Only by posting regular and engaging content can you showcase your products, inspire your audience and grow your Instagram follower base.
#5: Tesla
Designed for electric cars, the app aims to diagnose and locate a vehicle, as well as partially control it by using a smartphone. Not only does it help users monitor energy consumption and access vehicle and climate controls, but it also enables them to find nearby charging stations and make payments. Moreover, users can request roadside assistance in a jiffy if any emergency situations occur.
#6: UberEats
Built with React Native, UberEats is used for food ordering, delivering and payment logistics. Not only does it help you open a virtual restaurant and reach new customers, but you can also eliminate the risk of opening a new brick-and-mortar location. What's more, it provides customers with the ability to send food to their friends or coworkers and share details with them as well. In addition to that, users can track the deliveries within their app while business owners can manage their virtual restaurants with effective in-built dashboards.
Bottom line: Ready to go mobile with React Native?
Whether you want to create an app that delivers an exceptional user experience or a fast app running on Android/iOS platforms, React Native is a way out for you. Thanks to its features such as code reusability, live load, modular architecture, variety of libraries and integration opportunities, React Native technology helps businesses explore new revenue opportunities, reach new customers on mobile platforms globally and drive business growth and revenue. Only by opting for React Native technology can you turn any idea into a robust and successful mobile app solution.