Web accessibility is now more important than ever before. With millions of organizations and businesses now using the internet for pretty much everything, it's crucial to have a site that caters to the needs of everyone accessing it.
A perfect example of this can be seen with government websites and banking accounts. Everyone needs access to these sites, and if they don't have the proper navigational settings and customization in place, they could be alienating a lot of customers — especially their senior audience who might have visual impairment or not that great with websites and mobile devices.
As more businesses and individuals rely on the internet on a daily basis, the importance and need for web accessibility guidelines and implementation is at its highest point ever.
In fact, with the latest advancements in ADA and WCAG regulations, websites and businesses of all sizes are now being held liable if they don't have the necessary site settings and accessibility tools in place.
Web accessibility is here and it's quickly changing the way everyone is using the internet. In this article, we will be covering the basics of web accessibility, why it's important and how you can make sure your site and online business are compliant and safe from legal action.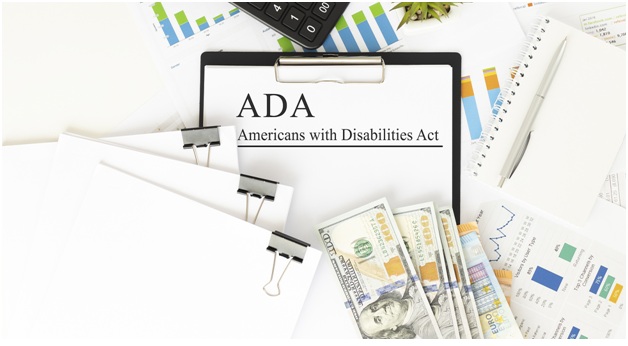 Web Accessibility: ADA and WCAG Guidelines
Web accessibility is the means for catering to the needs of customers and visitors to your site that have disabilities, limitations and special needs. Without such site customization and personalized experiences available to meet the needs of these users, your site could potentially be vulnerable to lawsuits, and losing business in general.
Such audiences can consist of those with:
Visually impairment and blindness
Motor disabled
Cognitive disabilities
Seniors with limitations
Epilepsy patients
Visually impaired
Two of the most popular regulations in place that are the driving force behind web accessibility and making sure websites and businesses of all sizes cater to the needs of everyone, are The Americans with Disabilities Act (ADA) and Web Content Accessibility Guidelines (WCAG).
The key takeaway here is that the ADA and WCAG were both put in place so every person has access to the same information, services and businesses as anyone else — with or without limitations or disabilities.
Other Web Accessibility Guidelines to Be Aware Of
Just with the ADA and WCAG guidelines in place, we've already seen a huge escalation in lawsuits and demand letters being sent out to companies.
As highlighted in this article from Forbes, "From 2017 to 2018, the number of website accessibility lawsuits filed in federal court under Title III of the ADA shot up from 814 to 2,258. This trend will likely continue as more users hold noncompliant websites and other digital tools accountable."
Unfortunately, the number of attorneys and law firms now focused on ADA and WCAG as their next means for financial gain, there are other laws and regulations out there to be aware of as well.
These would consist of Section 508, AODA, ACA, EAA/EN301548 and IS5568 — all of which can be read in further detail here.
As much fun as it would be to read the legalese for each of these, let's instead focus on how to follow the new guidelines in place and to first check if your site is already compliant or not.
How to Run a Web Accessibility Audit on Your Site
With all of this talk on web accessibility and new regulations and guidelines in place, how are you supposed to know if your site is compliant or not?
Thankfully, there is a free compliance tool in which businesses and brands can audit their sites and see where they stand in reference to compliance guidelines.
The tool is called aCe, and it's extremely fast, easy and free to use.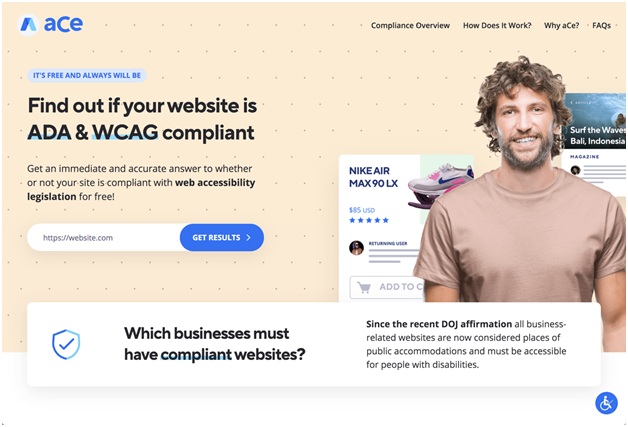 Simply visit the site, enter your site URL and the tool will analyze your site. After a few seconds, you will be provided with a compliance report that includes various scores for different areas of your site.
The full report is accessible within that same browser, or you can enter your email address and have it delivered to your inbox for future reference.
How to Make Your Site Compliant with
After completing your free web accessibility compliance audit, you might be wondering what steps are necessary in order to get compliant. This of course only the case if your site didn't pass with flying colors.
The truth is, you could spend thousands of dollars on hiring a full design and coding team to re-do your site and address each of the concerns highlighted in the report, but your site still likely wouldn't be able to cater to the needs of every single user.
The only way to accomplish this is through the use of an web accessibility tool that displays an overlay and allows the end user to customize their site usage and experience to their specific needs as well as work in the back end to enrich user experience.
Start off with these resources:
The problems you need to address:
Epilepsy Safe (eliminates flashes and reduces color)
Visually Impaired (enhances website visuals)
Cognitive Disabilities (assists with reading and focusing)
ADHD Friendly (more focus and fewer distractions)
Blind Users (screen reader capabilities)
Keyboard Navigation (using a site with your keyboard)
Through the use of this AI-powered solution and technology, not only can any website or online business become fully accessible, it's also paving the way to make the internet a more enjoyable experience for users with disabilities, special needs and limitations.
The Future of Web Accessibility and a User-Friendly Internet
The internet has completely changed the way we communicate with others, perform our jobs and buy stuff from around the world. As amazing as the internet is, can you imagine only being able to use a small percentage of sites because they don't have the necessary customization tools and features in place?
It's a sad fact, and simply a way of living for millions of people that would love to fully access the internet every single day. Make sure your online business and brand is web accessible to not only comply with the regulations in place, but to also make using the internet a better experience for everyone.