Primer for New Purchase Orders in Construction Sector
One of the most critical aspects of the construction industry relates to purchase orders. To ensure that finances do not go overboard a procurement management system has to be in place. Currently, automation is building foundations for new systems in the realty sector. For instance, without the P2P software, it is difficult to execute several functions related to purchases. Many users in the construction industry are enjoying profits by adopting procurement software solutions.
Understanding the procedure and overall paybacks of purchase orders with the correct procurement management system is vital for the construction sector. The following content offers insight to P2P software adaptability.
Controlled Spending
No small or large business can function without the digitization of accounting systems. Keeping expenditure under control ensures everything functions as per the budget. The process of automation has introduced tools and various techniques to absorb variables which crop up in an ongoing project. If you belong to the construction industry, it is important to manage purchase orders and procurements as they define spending by various departments. Expenses need to be organized, monitored, and reports filed on time. With digital records, the systems work more accurately.
Key Areas Where Expenses Need Control Via Automation

Procurement is a crucial feature. Your company will benefit from procure to pay solutions. It avoids frequent friction between finance department and staff requiring funds at various stages of a construction cycle. Both the buyer (your company) and seller (supplier) can be on the same platform to do business. To reduce complexity, the following diagram offers a typical spending cycle template for future purchases.
Ideal Procurement Software Solutions Requirement for a Construction Company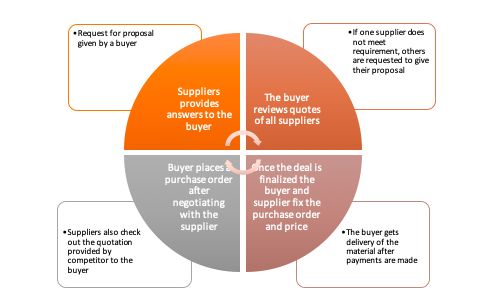 Once a project is under progress, it is challenging to go back to the drawing board. Until now many construction companies experienced difficulty in procure to pay by traditional methods. With the help of automated systems like procure to pay for house builders the time consumption is reduced. The solution offers cost-effective planning on a continuous basis. This is the primary reason why installing P2P software is recommended. It eliminates the need to do several things manually like scheduling requirements, requesting quotes and zeroing on suppliers. Further essentials activity like getting the purchase orders, receipts, making invoices, assessments of material delivered and final reporting can be updated. All checks and authorizations are digitized and do not require manual intervention.
Simplifying P2P Procurement Software for Building Activities
There are several variables associated with the finances related to mega-infrastructure projects. The traditional systems have many challenges to overcome. There are no unifying systems for various processes, especially when sourcing, accounts, and procurement are unconnected departments. It becomes difficult when a company uses diverse ERP solutions to manage activities of each department. A single integrated app reduces many complexities as both suppliers and data required for management is available on a unified platform. Even though some systems work in silos they tend to be inaccurate. They cause delays in work and labor intensive jobs get affected. With the practice of procure to pay solutions governance is simplified. It is also easy to be compliant with industry regulations. These systems offer flexibility in dealing with pre-approvals and avoids bureaucratic hassles if contractual obligations are not honored. A company which is able to adhere to policies via automated systems will avoid serious damage by keeping the control on cash flow and available working capital.
Benefits of P2P Procurement Software Application
Keeping all expenditures aligned with original planning gives the satisfaction of being on track with all payments. The procure to pay for house builders offers visibility from end to end. It is easy to check documents like purchase orders, receipts for all goods and invoices. With the elimination of paperwork, human errors are greatly reduced. Using procurement software solutions, the spending remains in control. It also helps in gaining real-time data for analysis to improve the project.
Training Staff to Use the System
Until now many builders and developers did not pay attention to procurement as a critical business process. With the availability of P2P software, they are seeing the difference it is making in the capital reserves. Even in other related sectors of the realty industry outdated technology has ruined projects. Often the lack of adoption is a result of no training. If various departments are trained to use the systems, the benefits are visible. It is vital for purchasing professionals to understand how procurement management system works. It will offer a strong foundation for processing and also build better ways to control spending. It is important for the management to get the staff trained to use automated systems to avoid errors. Productivity is as important to the procurement team as that of the marketing department.