Big Basket is the most valuable player in the Indian Grocery industry. It is delivering online groceries to the doorstep of many families in more than 30 cities. Last year during the lockdown Big Basket's yearly revenue grew 36%, from 2,802.6 Crore rupees in 2019 to 3818.2 Crore rupees in 2020.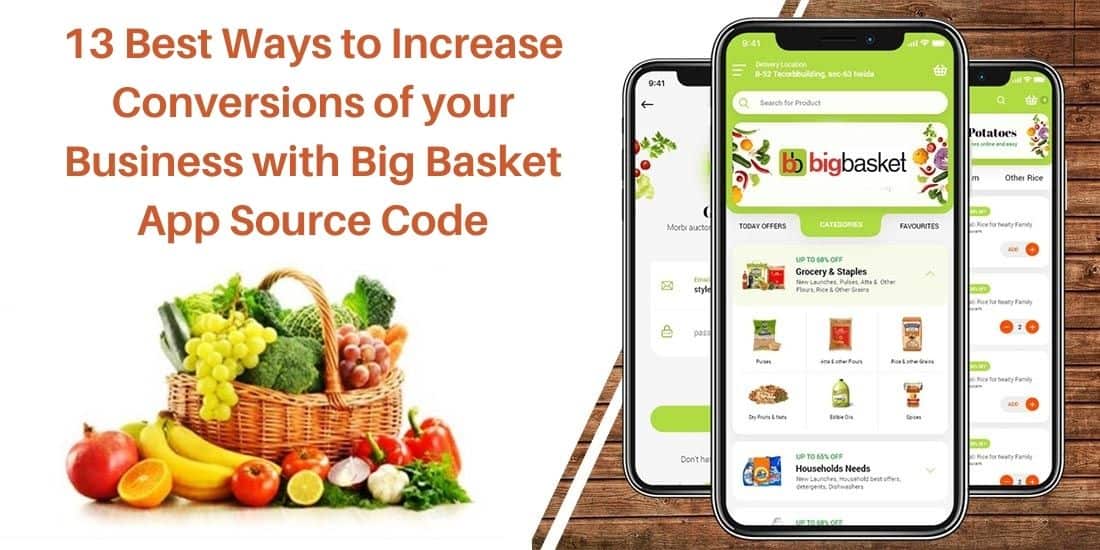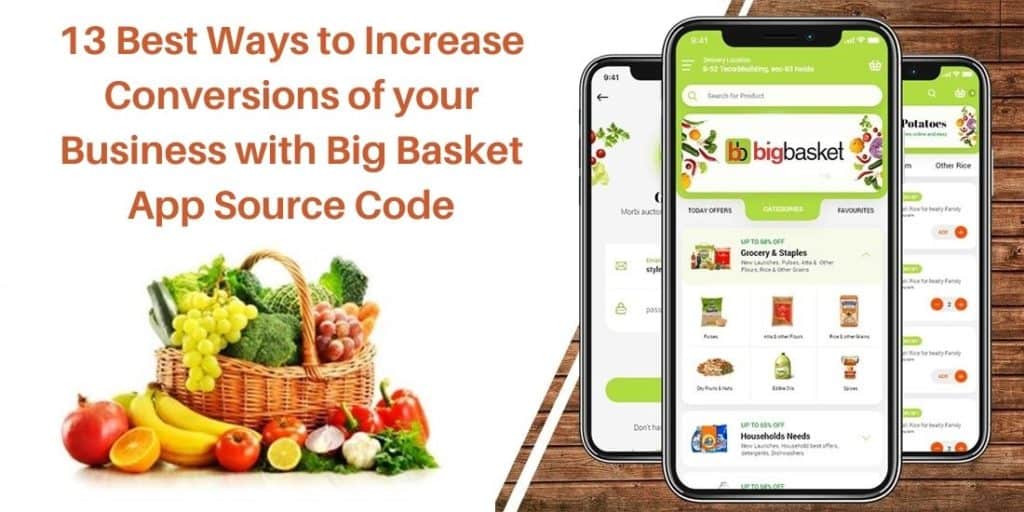 Now when you have witnessed that Online Grocery Shopping is a booming industry, you also want to be a part of it and provide online service to your customers and improve your business conversions. And for that, You'll also be needing a mobile app like Big Basket to provide online services. That is where the Big Basket Clone App Development Company will help you achieve your business goals.
Now since you are building  your clone application with Big Basket App Source Code, here are the 13 best possible ways you can increase your business conversions
#1 User-Friendly Product Sorting
If you are providing a wide range of grocery items, then you must implement functions that will classify and sort the items based on their category. By doing this your online application will be less cumbersome to navigate and also deliver a positive user experience. And this will eventually help your business grow.
#2 Shopping Cart Feature
This feature is a must-have when you are building an e-commerce app. This helps the customer in many ways. They can add items to the cart when they are buying things in bulk or they just can save the item there so that he/she can easily buy the item the next time he/she visits.
Cart feature should also show the total amount of the items added to the cart so that if the customer thinks he/she is out of budget can easily remove 1 or 2 items as per the budget. With Big Basket Clone App Development, you can add this feature very easily.
#3 Secured in-app payments Feature
Since your app is providing online grocery services, it must have an in-app payment method that is both easy and secure. And it should also show different payment options like Phonepe/Gpay/AmazonPay or Debit/Credit Card so that the customer can pay the way they prefer to.
#4 Convenient Pick-up and Scheduling
The customer must have the freedom to accept their delivery whenever they want to and also can schedule or reschedule their delivery time as per their convenience.
#5 Discount And Offers
Your customers must be aware of the offers and discounts you are providing on the app, so You must include the discounts and offers section to your app to let your customers know that some special discounts are going on and they must grab it. Big Basket Clone Script will definitely help you to add this feature to your app and help your business grow.
#6 Specific Product Description
Since you are selling grocery items, people will be more interested in the conditions or ingredients of the products that your online store has. So every product on the app must have a detailed description so that people can trust your service and become your loyal customer.
#7 Availability of Items
Items availability is also a great feature that you can include in your application so that your customer can get notified whenever the item is available. And it can also show the number of items that are remaining on the shelf.
#8 Wishlist Feature
Wishlist is a very exciting feature that you can add to your online grocery store application. This feature is common in many popular applications as people can save their favorite items while scrolling through their favorite online stores. And this feature will add extra charm to your application.
#9 Reviews And Ratings
After purchasing from your online grocery store, customers should have the opportunity to rate the products and write a review. This will not only help other customers find the best products in your store but also see reviews of other customers and feel confident to buy.
#10 Order summary And Tracking Order Feature
If the order is not received on time, then your app should have the feature to track the exact location of the order. Big Basket App Development can help you add this feature. This will increase transparency and boost your customer experience.
#11 Membership Options
Including Membership is a great way to increase your revenue where you'll provide extra offers and fast delivery to your member customers.
#12 Customer Service
After purchasing your product, customers must get the option to get their product replaced or even refunded or any kind of help if they are not satisfied with the product. This will build customer satisfaction.
#13 Feedback And Refer
Ask your customers to give feedback on your online grocery service and refer their close ones. It will help you grow your business.
Final Thoughts:-
The above-mentioned ways will definitely help your online grocery business grow and help in your business conversion. And for that you need to Contact Uber Clone App Company, so that they build your big basket application which helps your business to increase conversions.