There are plenty of Spotify music converters, but this is the best one I've found.
I love it because it's not just a Spotify converter but also a tool that helps you bypass the platform's limitations.
It's really easy to use and allows you to convert your favorite songs from Spotify or copy them from your library. You can make playlists from those tracks or create custom playlists with your songs.
It can convert all your playlists to local computer so you can transfer them to all devices to listen to your music anywhere.
The best thing about this tool is that it doesn't require additional software installation or configuration. The interface is simple, with easy-to-understand options for each type of file that can be created.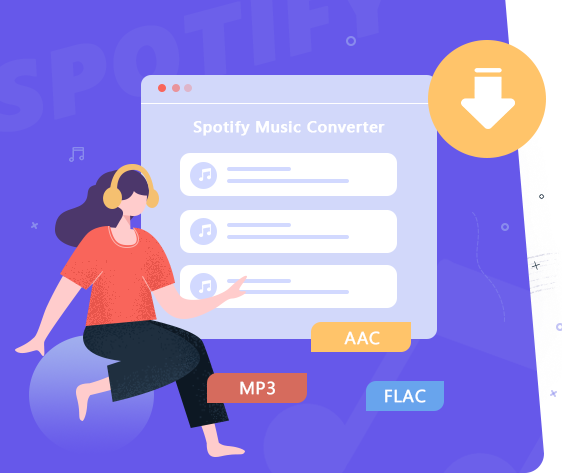 AudiFab Spotify Music Converter Features
Are you a Spotify Premium or Free user? If so, you know how great it is to have all your favorite music in one place. Here are some of the main features of the AudiFab Spotify music converter:
Allows you to convert your music from Spotify to MP3/AAC/WAV/FLAC/AIFF/ALAC:
AudiFab Spotify Music Converter is a simple and easy-to-use tool that can convert Spotify music to audio formats such as MP3/AAC/WAV/FLAC/AIFF/ALAC.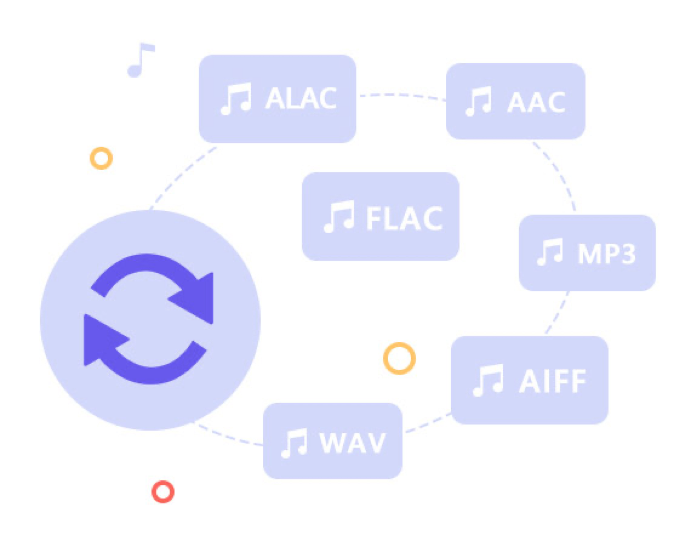 Batch download Spotify music at up to 10× speed
AudiFab Spotify Music Converter is the best tool to download Spotify music at up to 10× speed. With the AudiFab, you can easily convert Spotify songs into MP3 format and save them to your computer. You can also download the entire album for free.
It has a user-friendly interface allows you to record or select specific tracks from your playlist. You can easily convert any song from Spotify into MP3 format without hassle.
Provide technical support and free space
AudiFab Spotify Music Converter supports downloading all types of Spotify songs, including radio streams and offline playlists. It also supports lossless streaming with the option to save in FLAC format or as MP3s. In addition, AudiFab Music Converter provides full functionality when converting Spotify tracks to MP3 files or AAC files so that you can edit them exactly how you want them before sharing them with others on social media platforms like Facebook or YouTube. If you have any problems using the program, please do not hesitate to contact AudiFab support team. They are always at your service.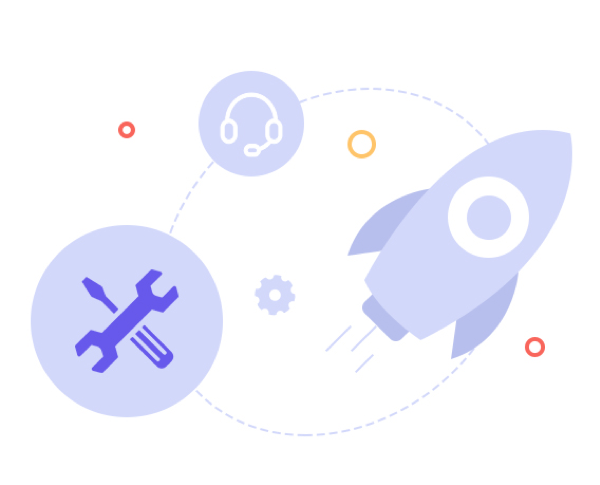 Support Windows 11/10/8.1/8/7 and macOS  10.15~13
It's time to ditch those CDs.
AudiFab Spotify Music Converter is a fast, convenient way to listen to your favorite music on your computer, phone, or tablet.
Whether you have Windows, or Mac, AudiFab Music Converter is the perfect solution for converting your Spotify playlists and streams into an MP3 format that will work on all your devices.
Keep ID3 tag information
With this program, you can convert Spotify music to MP3/AAC/WAV/FLAC/AIFF/ALAC with high quality and keep ID3 tag information, such as  title, artist, album, artwork, track number, disc number, and year, so that you can enjoy your favorite songs on your phone or computer for a long time.
AudiFab has a handy toolbox. You can share and upload Converted Spotify songs to iTunes/Music app directly with AudiFab Spotify Music Converter. Also you can one-click to burn CD.
Keep original sounds quality:
AudiFab Spotify Music Converter is an all-in-one music converter that lets you keep the original sound quality of your favorite tracks and share them directly to any device.
Specially designed with built-in useful additional tools
It's specially designed with built-in useful additional tools that make it easy to convert any audio format to mp3 or wav. You can also share your songs via social media or email, so no matter where you are, you can enjoy your music wherever you go!
AudiFab Spotify Music Converter is a multifunctional tool that can convert your local music files to MP3, M4A, FLAC, WAV, OGG, and AIFF and edit ID3 tags. You can use it to convert your favorite music to any format you want! It's a great tool for anyone who wants to make their music collection more portable or wants to enjoy the music they like on any device.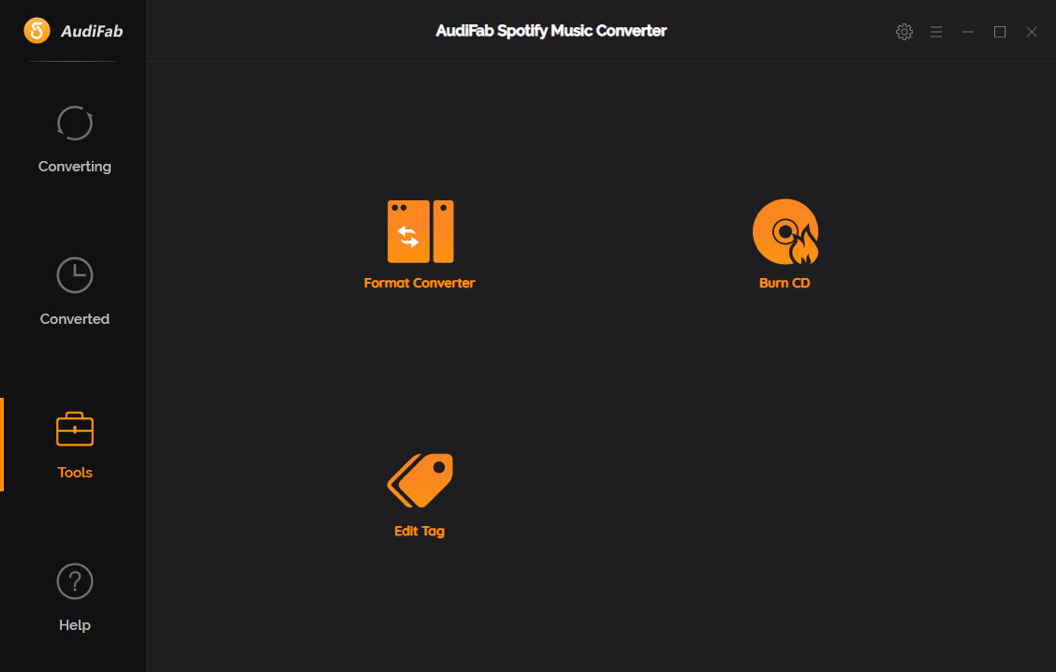 Comes with light and dark skin: remarkable and unique
AudiFab Spotify Music Converter is designed to have both light and dark skins for you to choose from—which means you can have your favorite style at hand when you need it most!
Customize output sorting album/artist
AudiFab  Spotify Music Converter is a great program to convert Spotify songs and albums. With this tool, you can select the format and output quality, further customized in the program by selecting the appropriate audio format.
AudiFab Spotify Music Converter can sort the output folders by playlist, album or artist, depending on your preference. This makes it easier to organize your music files into different folders according to their genres or artists.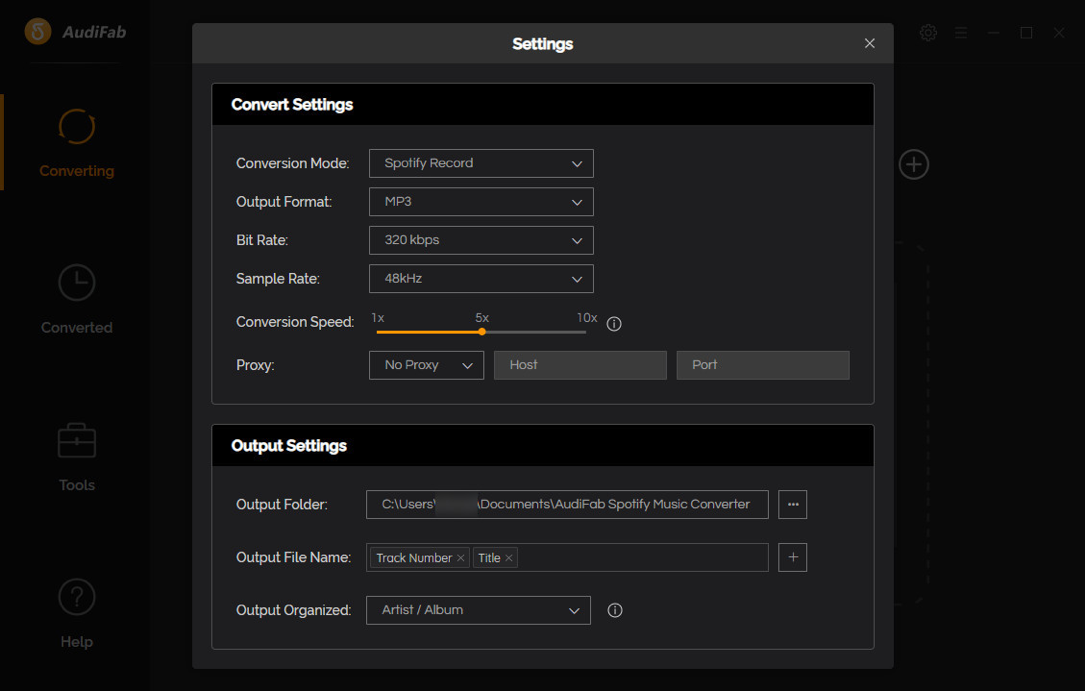 Final thought:
AudiFab Spotify Music Converter is a good program for those who want to convert their music files from Spotify to MP3. The program is easy to use and doesn't require any installation process.
In addition, you'll get three different monthly, annual, and lifetime plans, which means that you can choose the plan that suits your needs perfectly.
Moreover, We also like how easy it is to use this app. It converts Spotify tracks within minutes.
AudiFab Spotify Music Converter supports all modern formats, including MP3/AAC/WAV/FLAC/AIFF/ALAC. All your songs will be converted into MP3 format with high-fidelity quality.