The way we do business has been unquestionably altered by technological advancements. Technology has revolutionised numerous industries and sectors, including banking, healthcare, and education. Gone are the days when we lugged our shopping carts through supermarkets or stood in long lines at check-out counters; technology is already catching up in the food retail industry and transforming it for the better with such options as self-checkouts
supermarkets have begun improving customer experiences in many ways while simultaneously increasing sales, streamlining shopping trips, and delivering targeted promotions. The so-called 'digital revolution' has turned the retail sector on its head, with supermarkets looking for new effective, and creative ways to promote brand loyalty and attract new customers.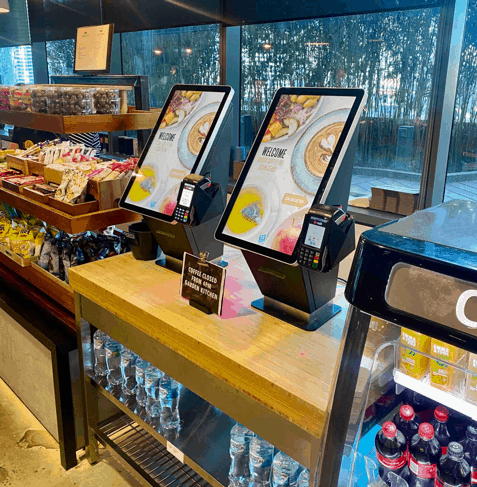 Automation is a critical component of the smart futuristic supermarket, as it lowers costs and allows employees to focus on tasks that improve customer experience. However, at the heart of the brick-and-mortar business is a superior shopping experience centred on high-quality fresh produce, delectable food, and satisfying social contact. Join us as we explore the most disruptive innovations in grocery shopping and examine how inventive retailers are setting the scene for the future of food. Visit rssts.com/quick-service-pos to stay on top of the trends.
Touch Screens
In recent years, the use of touch screens in the food retail industry has become more common. From endless aisle promotions to commercial-grade touch screen monitors, technology has improved customer experience by allowing effective display of business information, store displays, and even product discounts and specials.
Moreover, touch screens can also help streamline the shopping process. New products can be easily added to the grocery list, and images can help customers decide what they want. Regarding payment, touch screens provide customers with the ability to pay on their own. As a result, food retail businesses can avoid payment mistakes.
Lastly, touchscreen technology can help businesses stay organized by easily tracking inventories, expiration dates, and other important information.
Digital Pricing
With the advent of digital tools, food retail businesses have embraced digital pricing solutions to make pricing more effective and efficient. Digital technology allows enterprises to automate pricing, which helps improve accuracy, minimize costs, and facilitate better decision-making.
One of the typical examples of digital pricing solutions for food retail businesses is electronic shelf labels. They can display prices and provide relevant information about the items, like the expiry dates. They can also help determine which products must be re-stocked or delivered, improving the business's overall efficiency.
On the other hand, digital pricing is just one of the tech revolutions food retail businesses can take advantage of. There are other relevant industry trends that businesses like grocery stores and supermarkets should look forward to.
Internet of Things
As technological improvements influence the way shoppers engage with products in-store and at home, the shopper's experience is entering a new era. By linking the Internet to everyday objects, the Internet of Things (IOT) embeds digital technology in a wide range of devices which in turn collects large amounts of data about the customer. As a result, any connected object can gather, send, and receive data. The Internet of Things also presents intriguing potential uses for grocery shops, ranging from adding shelving units that automatically monitor inventory to geolocating customers via a smartphone app.
Some companies in the food industry use TempTag, a temperature-sensing tag that helps to keep food fresh and monitor shop supplies. In addition, many [1] [2] stores across the world use humidity-proof sensors placed in refrigerators and freezer units to monitor temperature and provide store managers with real-time product information. These cutting-edge technologies notify store managers when particular products should be discounted, which helps businesses better manage their sell-by dates, enhance inventory management, and decrease waste.
Virtual and Augmented Reality
Over the last few years, augmented reality (AR) has made a significant contribution to improving customer purchasing experiences. For instance overseas, Walmart's has released its first app with AR features in 2018. With a simple scan of products, the app provides information such as product name, its price, and star rating. Using these features, employees can simplify daily tasks, quickly locate merchandise and quickly answer customers' questions. All in all, retailers can enhance their revenue by using AR technology to improve customers' in-store experience and make in-store navigation easier.[3] [4]
Self-Checkout Shopping
Getting trapped in long queues has always been one of the most aggravating aspects of the in-store shopping experience. Fortunately, technological advances may soon help us avoid queuing altogether. Sainsbury's, a British supermarket, is now testing a new service that lets consumers scan products using the retailer's Smartshop app on their phone and pay for them immediately using Apple Pay. Similarly, Amazon Fresh is also intending to create its own chain of supermarkets that will accept this ultra-fast payment option.
Indeed, a technology that facilitates self-checkout shopping can benefit businesses operating in the food retail industry. Aside from shorter queues, it can improve the store's productivity and save time for employees. Instead of handling cash at the counter, they can focus on more critical tasks, such as keeping the store clean, stocking shelves, and being more available for customer queries and concerns.
Scan and Go
The latest innovations in 'scan and go' technologies hold promise in revolutionising self-service check-outs. The 'scan and go' feature on mobile apps and in-store technology eliminates the check-out step between placing items in a customer's basket. This novel technology helps companies in speeding up shopper experiences to accommodate their busy lifestyles by avoiding costly check-out lines.
Currently, Amazon is upending the retail industry with its latest technology to help shoppers avoid long check-out lines. Amazon Go uses a combination of sensors and machine intelligence to eliminate the need for waiting in a queue. This innovative technology automatically detects what products are taken and returned to shelves, tracking the customer's items in a virtual shopping cart. When the customer is finished shopping, when they leave the store, their Amazon account is charged for the items they purchased – eliminating the need for in-store check-out. Following the successful trial of their "Just Walk Out" in their first Seattle shop, Amazon plans to open 3,000 stores by 2021 at a cost of $3 billion.
Home Delivery
Fast home delivery of goods and services is widely available nowadays. Some retailers are now attempting to take home delivery a step further. For example, Walmart has teamed with August Homes, a smart lock firm, to deliver groceries to customers' homes, as well as stock them in their refrigerators.
Existing revolutionary grocery delivery services can also be updated with the addition of Rappie, a speedy delivery system. Amazon has next-day delivery, while Albert Heijn, the largest supermarket chain in the Netherlands, delivers within two hours of placing an order. In addition, the Dutch supermarket is experimenting with a delivery service that uses a bicycle courier to deliver the mart's most popular food-to-go goods in 15 minutes. Dutch supermarkets are two of Rappie's early users with delivery systems that allow customers to place orders using a dedicated application.
The Use of Blockchain in Supermarkets
Although Blockchain was created to support Cryptocurrencies, this emerging technology presents intriguing possibilities for grocery stores, too. From decreasing food waste, optimising supply chains, or enhancing quality control, Blockchain has the potential to assist retailers by generating safe and incorruptible records of perishable fresh food. In addition, Blockchain also enables businesses to sell fresher, safer, and more affordable foods that customers can rely on.
The Future of Food
Grocery stores can take advantage of an exciting array of opportunities and new challenges as technological improvements transform in-store and online purchasing experiences. Personalised marketing, improved food safety, reduced waste, smarter supermarket shelves, and quicker check-outs are just a few examples of innovations offered by technological advances. Furthermore, these technologies are assisting merchants in attracting new customers and building brand loyalty. It is not surprising that many traditional grocers are now investing in these technologies to remain competitive on the market and provide their customers the best experience.
When it comes to technological developments, especially in the food retail industry, the sky's the limit. These cutting-edge technological innovations have already revolutionised the market, and who knows what the future may bring in the next 10 years?