With more than 192 million daily active users, Twitter stands as one the most popular social media platforms. Even marketers have been showing great interest in the platform as it provides great reach and helps to capture a large audience.
In order to extract further benefits from the platform, businesses have started integrating their website with Twitter. Being the most popular and most used website builder, WordPress now has various Twitter feed plugins that help users embed the feeds without any hassle?

Twitter is a microblogging website where people voice their opinions or share information regarding any trending topic, debate, news, and more. It is the go-to platform for many people who look to stay up to date with recent happenings. Another relevance of the website is, people often use it to share their experiences with a product and brand. Thus, it helps brands to increase their recognition and, at the same time, helps consumers in their buying decision. With various other methods, Twitter provides great marketing scope for brands. Similarly, embed Twitter feed on the website provides a marketing dimension and has been a success.
Top 5 Free Twitter Feed Plugins for WordPress 2021
To ease your process for embedding Twitter feeds in your WordPress website, it offers various plugins. This article features 5 plugins that stand as the best in the market.
1. Twitter Feed WordPress Plugin by Tagembed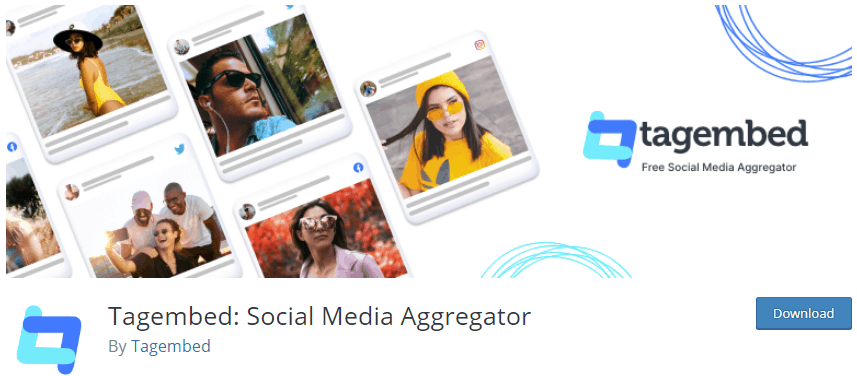 Twitter Feed WordPress Plugin by Tagembed provides an easy process to embed Twitter feeds on the website. It is currently the best plugin to integrate Twitter with your WordPress website. Tagembed is a famous social media aggregator that helps user's collect, curate, and customize content from social media platforms and display them on the website. It provides a dedicated WordPress plugin that gathers Twitter feeds and displays them on the website, making the website pleasing to the eye. Other than Twitter, the plugin is also compatible with 15+ social media platforms and easily displays all kinds of media content.
Twitter feeds add charm to the website, and by exercising the customization feature of the plugin, you can amplify the charm. It allows you to personalize the feed by changing themes, background, and more of the feed. Moreover, you can even change the font size, font style, etc., of the feed to match it according to your website. These measures add beauty to the website and make it appealing to visitors.
As mentioned above, people often use Twitter to share their reviews, opinions, and feedback regarding products and brands. Unfortunately, a small percentage of people misuse this freedom as they mislead customers by providing fake information about products or writing spam reviews. With the help of the moderation feature, users can hide these posts from your website and keep the feeds related to the business.
The plugin eases your process of embedding Twitter feeds. It only involves just three easy steps: Gathering Twitter feeds using Tagembed -> Generating Embedding code -> Pasting the code on the website backend. It is a coding-free tool, and hence even if you don't have any coding skills or experience, you can still operate this plugin with ease.
2. Feed Them Social by SlickRemix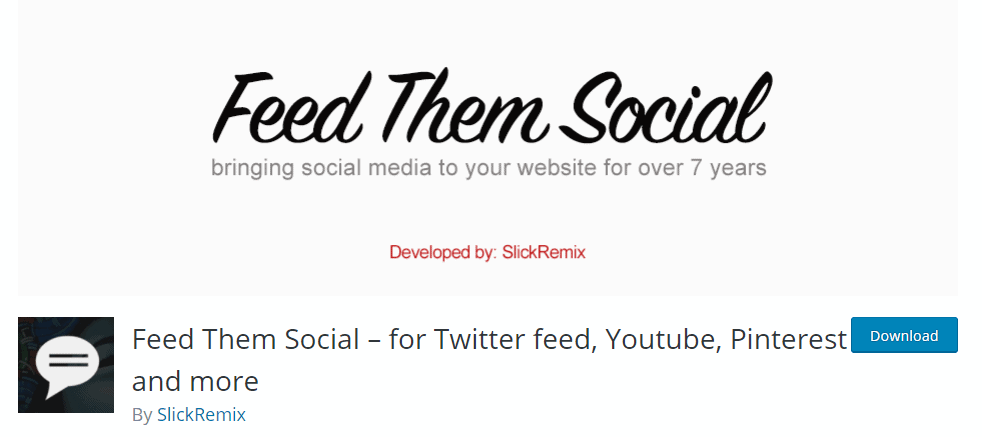 One cannot control what device a visitor chooses to visit a website. But one can choose to install the Feed Them Social WordPress plugin, which provides a responsive Twitter feed. So, it doesn't matter if your visitor is using mobile, PC or tab, the charm of the feed remains the same. You don't have to change the setting as per the device, as the feed adjusts automatically.
Other than Twitter, the plugin is compatible with various other social media platforms such as Facebook, Twitter, YouTube, etc., and offers the facility to display feeds on any page of your website and even on the sidebar. One of the plugin's best features is that it provides a share option, which helps brands strengthen their social media presence. And a strong social media presence enhances a brand's reputation and reach.
3. Custom Twitter Feeds by Smashballoon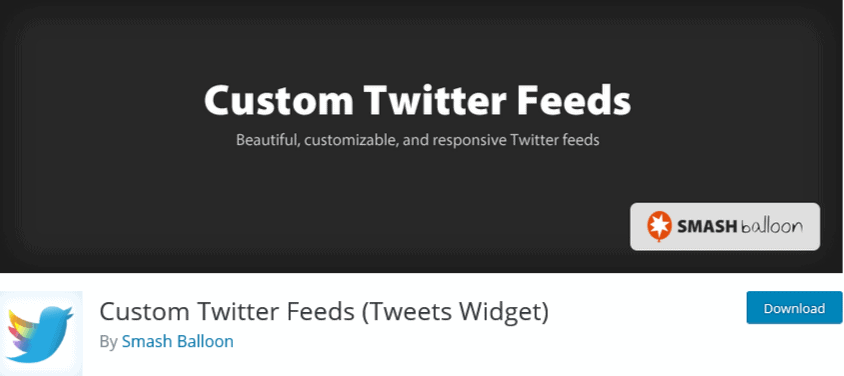 Custom Twitter Feed provides a completely customizable Twitter widget, which helps you to display tweets and posts attractively. Moreover, the widget is completely crawlable, which means it adds SEO value to your website.
The tool allows you to display multiple Twitter feed from different accounts on multiple pages or widgets. With the help of this plugin, you can display tweets from any user, or tweets from your account or feed from a specific hashtags. It makes your website engaging and adds an X-factor to your website. And with the 'load more' option, you can keep your visitor engaged as they can scroll through infinite tweets and stay on the page.
4. Easy Twitter Feed by bPlugins LLC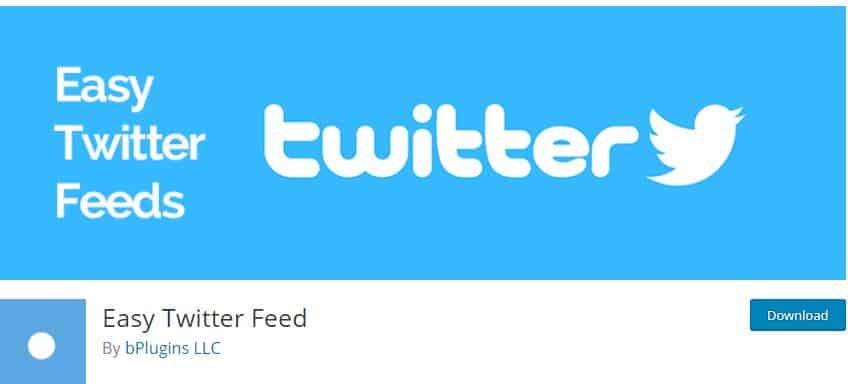 As the name suggests, it provides an easy solution for embedding Twitter feeds on your WordPress website. It is a lightweight plugin and hence does not hamper the speed of your website. Furthermore, the plugin is compatible with short Code and hence is very easy to operate. Another amazing feature of the plugin is that it provides a 'Follow Button' on the post. So if visitors aren't aware of your Twitter presence, they have the option to follow you there, which increases your 'followers list'. Because in this social media era, it is important to have a strong social media following as it acts as a measure to determine a brand's reputation.
5. WP TFeed by AccessPress Themes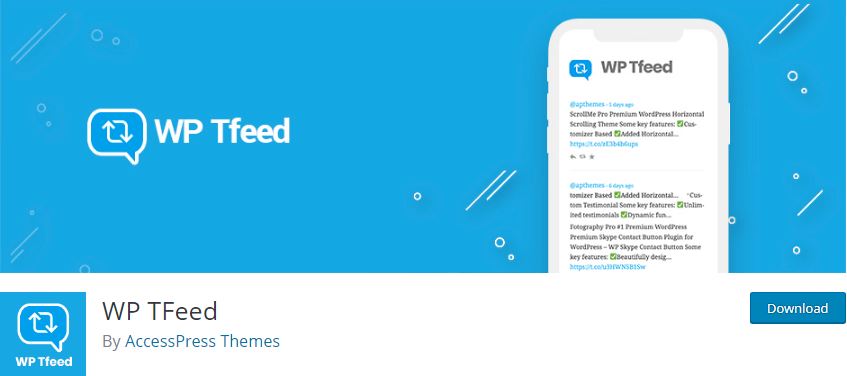 It is another useful plugin that displays Twitter feeds on the website. It fetches all the latest tweets and showcases them. The lightweight plugin installs in seconds and is easy to configure. To add grace to your website, it offers 3 beautiful design templates that you can choose from and make your website appealing to the visitors. Keeping the user privacy as a priority, it allows you to show/hide user names. Free lifetime updates and quick support make it an ideal plugin for WordPress websites.
Wrap Up
Twitter is an impactful social media platform; it has a large user base that helps businesses to collect an audience. Hence, integrating it with your website is a smart strategy that boosts the reach of the business and adds beauty to the website. The tools mentioned above make your process easy and provide great returns. Moreover, these tools are easily available in the market and fit in the budget, making them a profit-making tool.