Launching an official website is an essential step before taking your business online. It is a crucial first step that can bring about a life-changing experience in terms of earning possibilities. It is vital to push your business to the online virtual world in order to reach a larger audience on daily basis. To create an online shop or website, you will need to acquire a domain name and web hosting services. WordPress is a great option to consider for launching your website and growing your business.
Undoubtedly, WordPress is an optimal solution for developing and expanding your company's online presence. This website builder provides a user-friendly interface for managing your website and securing your website files. If you are new to website creation and looking to take your business online, this post can provide you with valuable insights to help you reach your goals.
Why Do You Need A WordPress Hosting Provider?
If you are a beginner, you may be not sure whether you need web hosting for WordPress. WordPress.org is a self-hosted platform that needs web hosting, whereas WordPress.com does not and eliminates the need for domain and hosting. It's like owning land versus renting one.
While it's possible to create a website without web hosting, you may be missing out on a lot of benefits. Web hosting allows you to control customized themes and plugins, and it improves website performance, which can significantly impact your website's ability to generate business.
Seekahost India For Web Hosting And Domain Registration:
SeekaHost India provides web hosting and domain name services to help hundreds of individuals in India and across the world generate income, improve their skills, and grow their enterprises. Domain Name Registration, Automatic WordPress website hosting, dedicated servers, Email hosting, website, and email migration service, are all provided by customer-friendly and support teams.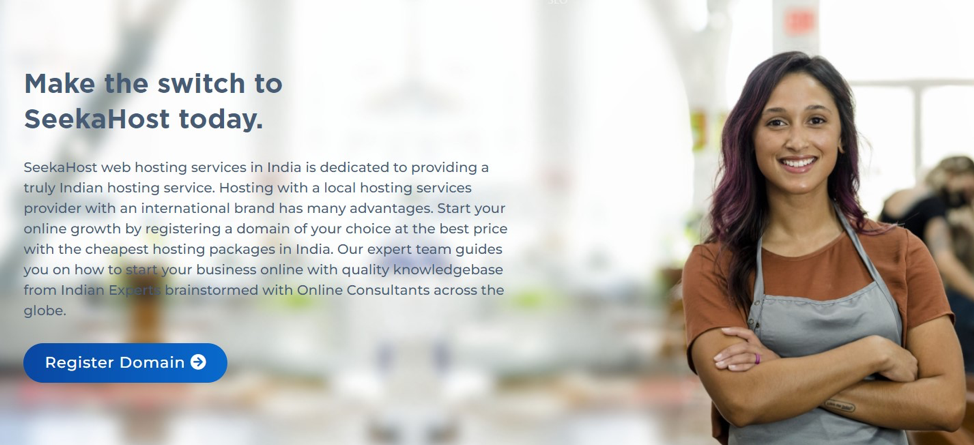 Why Seekahost?
SeekaHost India has server locations all around the world to help websites run better. SeekaHost provides an unrivalled web hosting experience to increase the performance of WordPress hosting providing customized WordPress Website Hosting Packages on their own.
They have established themselves as one of India's leading hosting companies, offering services in all areas of hosting: Shared, dedicated, virtual private server (VPS), and reseller SeekaHost India's WordPress Hosting plan allows you to manage and organize your website with additional options in the Client Area Interface. It also features One-Click cPanel Login and One-Click WordPress Login.
Many other features which are must-to have when you are looking for web hosting service provider are as under:
CUSTOMER SERVICE 24/7:
The hosting service answers your queries and feedback at any time. To fix any concerns, you can utilize the live chat feature or contact us directly through the client.
IDEAL FOR SMALL BUSINESSES:
To support baby entrepreneurs, SeekaHost India helps create an online approach in the easiest possible way. It helps them retain old traffic and increase incoming traffic of relevant audiences to boost the income of new firms.
STARTUP WEBSITE HOSTING:
Beginners usually face the problem of getting out of budget investment options. SeekaHost India provides new users to get affordable deals to boost their experience and income without compromising the quality of hosting and domain.
WEB HOSTING PACKAGES:
SeekaHost simplifies things for small enterprises with few resources. It offers hosting prices and packages from which you may select the best one for your product or business. If you want to have dedicated resources with time, you may pick VPS Hosting plans, or Dedicated Server Packages if you already have a lot of inbound traffic or own many websites. Packages are available on both managed and unmanaged servers.
PERFECT USER INTERFACE:
For a newbie, the interface to earn is always simple to learn and grasp. Build your unique control panels and themes, and monitor every detail without worrying about management or maintenance.
SSL CERTIFICATES:
To ensure the safety of your audience, our users get free SSL certificates so that the audience feels safe and secure to visit your website. SSL certificates are free of cost or even paid too.
FAST SERVER SPEED AND UPTIME:
To grow your business exponentially, you should own super-fast servers so you may not have to wait to load the servers. Our servers radiate energy with SSD storage to work with the speed of light.
Conclusion:
Begin developing your own WordPress website with SeekaHost India's incredible web hosting packages, which are not only affordable but also include all you want, whether you are a fresh startup or an experienced organization. You may effortlessly expand your internet presence now with SeekaHost India's hosting.