Days are gone when we only used to view the downloaded videos and audio files using the media players. 5k Player is an ultimate media player that gives you a lot of options to play video files offline and online for free.
5k is a powerful media player for windows and mac. It has built-in Airplay support which offers you instant mirroring of your videos on multiple devices which means you can play videos from your mobile phone directly to your PC and Smart TVs.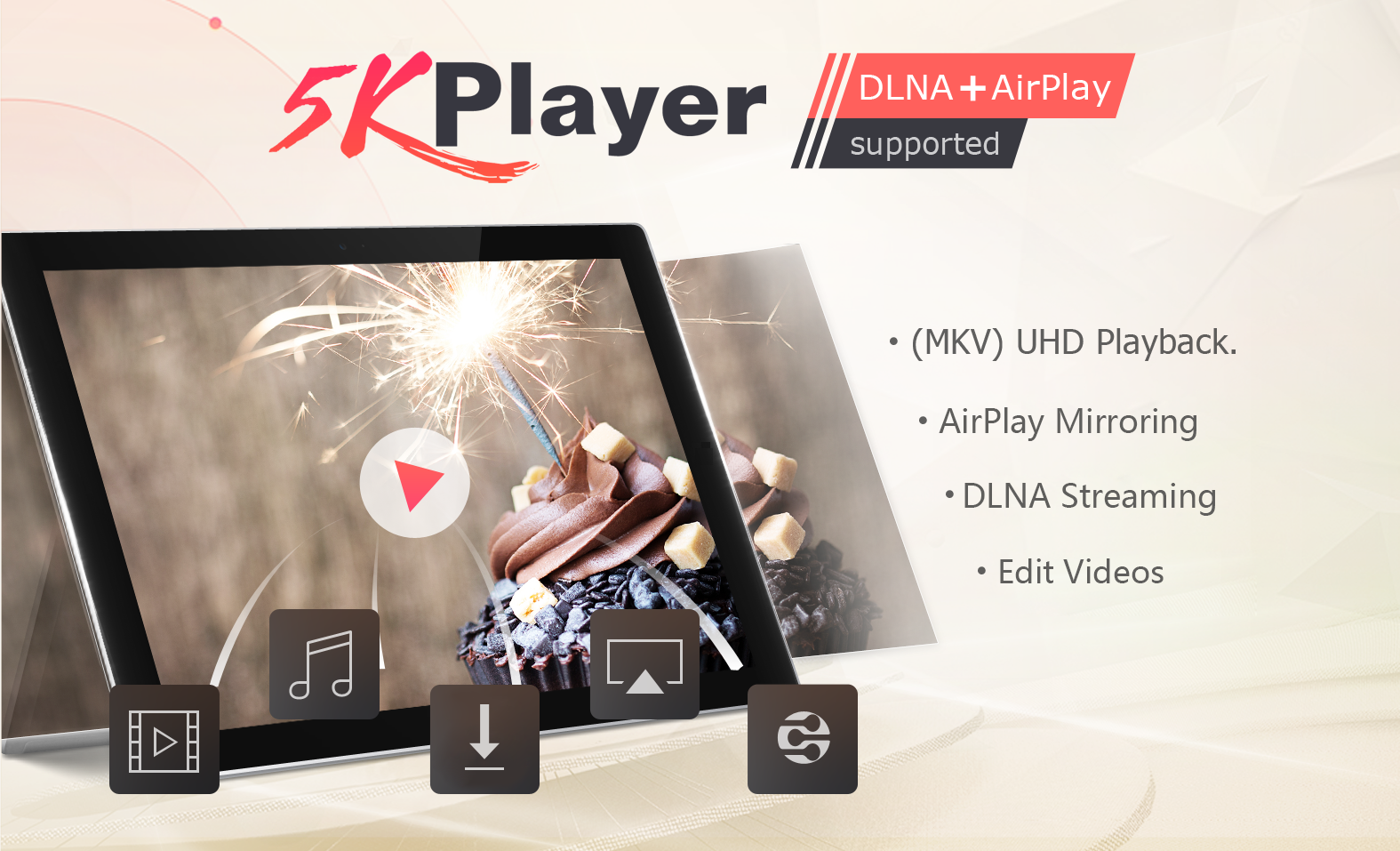 Features of 5k Video Player
5KPlayer supports MKV/M2TS/MP4/AVI/WMV/FLV video formats.
 stream audio and video files using AirPlay & DLNA without Compromising on Quality.
Download Videos from Vimeo, Youtube, Dailymotion, and other supported websites.
Built-in Radio player to listen to your favorite Radio channels and shows.
Fast video player for Windows and Mac computers.
Multiple formats supported
5k Player supports a lot of video and audio file formats including MKV/M2TS/MP4/AVI/WMV/FLV video formats and MP3, AAC, AC3, WMA, and FLAC & ALAC, audio formats. It also offers you no-quality compromise which means whatever you are playing let it be a 4k video or a standard HD video, it will serve lossless video/audio files.
AirPlay & DLNA Support
Now, cast your videos from mobile to your Computer or TV and from your computer to TV and mobile devices by using their simple application which comes for all operating systems and devices including Android, Windows, iOS. DLNA works across certified platforms to ensure fast media streaming without compromising on the video and audio quality. Again this means that you can play 4k video from your mobile device to your desktop without losing any quality.
All-in-one Video Downloader
Have you ever wanted software that can download as well as play videos for you? Now you can do that with 5k player. It offers you to download videos from popular video hosting websites like Youtube, Vimeo, and DailyMotion.
Downloading and saving videos is really simple. Follow the below-mentioned steps to download videos using 5k Player.
Visit your desired video streaming website (Youtube, Vimeo, etc)
Copy the URL of your video.
Go to 5k Player's dashboard and paste your copied URL into the URL box and hit enter.
Now select your desired video resolution and click on the save button to download the video and watch it later.
It supports 300 Video Streaming and Social networking websites and downloading the video using a 5k player is extremely easy as mentioned in the above steps.
Radio Player
Now listen to your favorite radio channels and songs using 5k player's in-built Radio player.it uses satellite radio configuration and can play radio from popular channels like BBC, LBC, XFM, Planet Rock. You can find the full list of supported channels on their website. You can also play radio from your regional favorite channel by copying the radio station URL and pasting it into the 5k Player's radio URL Box.
If you are looking for an all-in-one video player and downloader then 5k Player is the best option for you where you can play radio, Video files, Stream video, Download video/audio files from 300 Supported websites, Cross-platform support and a lot more.