If you want to make a flyer to promote your product, service, or whatever something else, there is no need to pay for a designer to design flyers at all. You can do it yourself by using the template provided by the flyer makers. They offer some fantastic tools that make this job be a joy with a simple drag-and-drop. The online tool I'm going to talk about today is called DesignCap. It is a free, versatile tool for designing flyers online so that you can design a cool flyer easily and quickly, even without the basics of any graphic design.
What can you get form DesignCap?
Simple and clean interface
The tool is web-based, so you don't need to download any software at all. If you click on its homepage, you will find that it provides a neat and straightforward interface. Some common templates are places neatly by category and location with obvious identification in the home page. After you go to the edit page, the left sidebar menu is used to select the various functions that you can use to customize your design. And the Formatting toolbar appears when you click the template text, making it easier for you to edit. Finally, when you've finished everything, you can save, download, or share by clicking on the menu options in the top bar.

Versatile design elements
What makes your flyer look different and more prominent than other designs? It should be a variety of editable element options in the design. Like other similar tools, DesignCap allows you to add the elements you need in your design flyer. You can upload photos for free, or search a large of images from its local library. And it is also available to add clipart you want, including various shapes, icons, banners, etc. If you are not satisfied with the font of the template, you can insert multiple types of text it provides. Of course, you can also arbitrarily change the background color of the flyer, patterns and so on.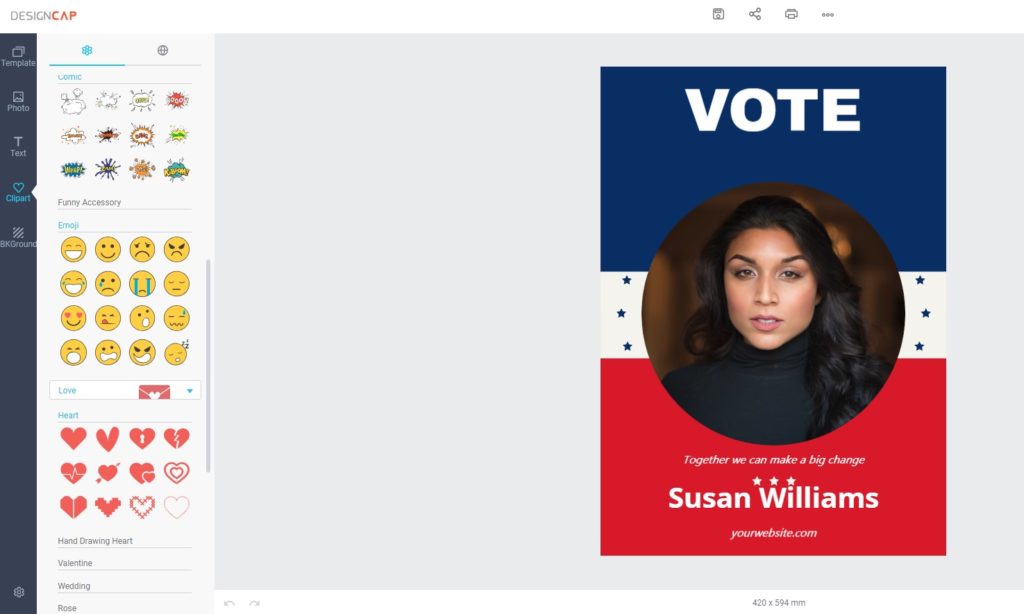 Giving users too many choices doesn't seem to be the style of DesignCap. The tool does not offer thousands of template options compared to other tools. It only provides different types of classic and generic templates which are neatly sorted in various kinds of categories, such as missing flyers, promotion flyers, party posters, you name it.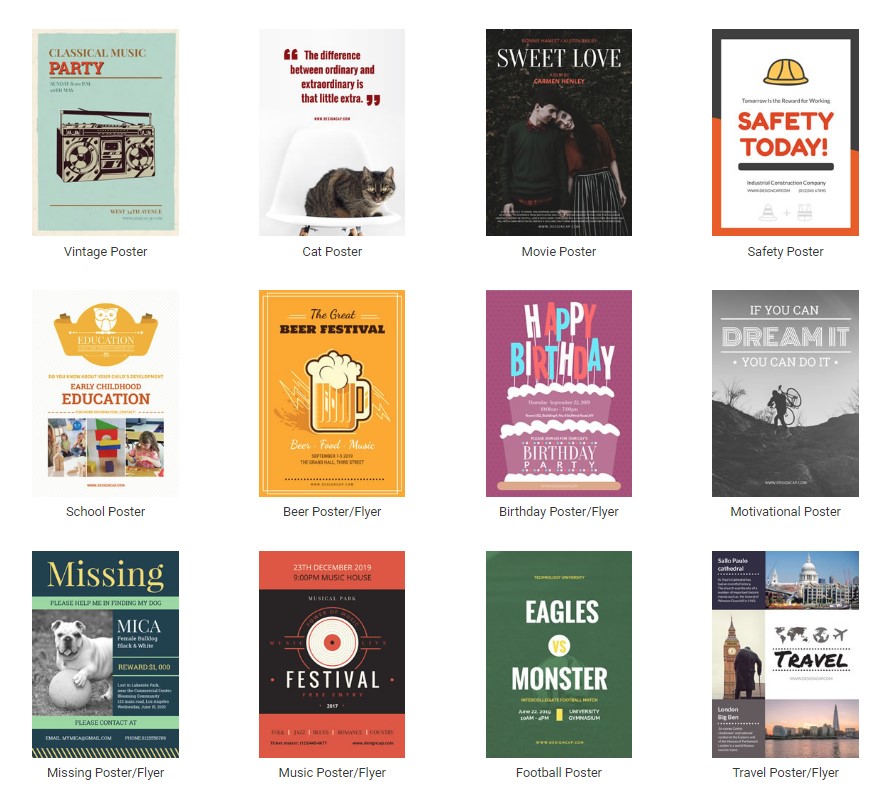 Final words 
Once you've finished your design, you can save it as a JPG or PNG file and choose a size to suit you. You can also share it via Facebook, Twitter, Pinterest, or Tumblr. Of course, you can print it directly from the browser. Anyway, DesignCap is available to access hundreds of templates and add elements, or you can upload your own resources to make it easier for you to customize your flyers based on your own brand. It is free and does not need to register for use. As long as you get its help, you'll find it's not hard to design flyers at all. With DesignCap, nothing can stop you from releasing your creativity and designing cool flyers.