It is pretty obvious that post the pandemic everything has become online. To keep up with the digital world, it has become pretty normal to have your own website. To publish your website, you will need web hosting services. Web hosting is the bridge between the internet and your website.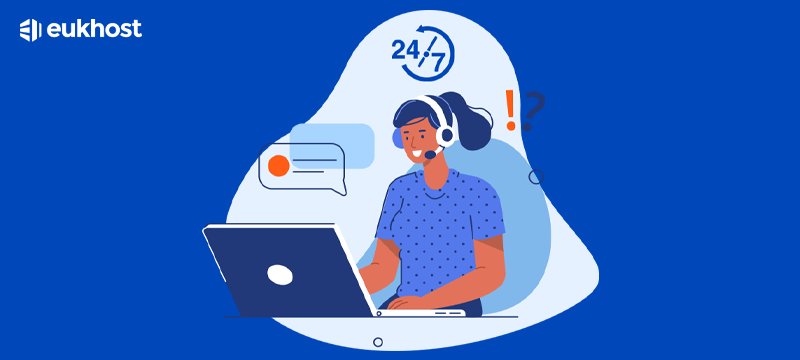 However, there are many web hosting providers in the market, so which one should you choose?
One that is reputable, offers excellent features at a reasonable price, and most importantly offers unparallel customer support.
eUKhost is one such option. The web host offers good features, cost-effective plans, and round-the-clock support. However, the big question is, are the plans offered by the UK hosting provider worth it? Let's find out.
About eUKhost
Since its founding in 2001, eUKhost has had a presence in the hosting industry. eUKhost is a web hosting firm with data centres all over the world that is based in the UK. Their head office is in Leeds, and their data centres are in Wakefield, Maidenhead, and Nottingham.
This hosting firm provides all kinds of web hosting solutions right from shared, VPS, and cloud to dedicated server solutions. They are a member of the Hyperslice Group. They also provide a variety of website security services including domain name registration.
They assert to host more than 600,000 websites and have more than 35,000 happy customers worldwide.
eUKhost's Features
30-day money-back guarantee
Starting with one of the most beneficial features is the no-questions-asked 30-day money-back assurance. This feature is crucial because it enables the user to switch hosting providers or cancel the subscription if they are not happy with the services.
If you are not satisfied with their services, then you can cancel the subscription and claim for a refund.
Free SSL certificate
A website carries sensitive information and this information caught in the wrong hands can lead to serious problems. The solution to this is an SSL certificate. An SSL certificate encrypts the connections your website makes over the internet. In addition to providing SSL certificate services, eUKhost also includes them in the hosting package at no extra cost.
Migration assistance
When you decide to switch web hosts, you need your data to be transferred safely. eUKhost offers free migration services. All of your data and information will be transitioned by their tech team smoothly and with precaution. If you are unhappy with your current hosting services, then you can easily migrate to eUKhost.
Choice of operating system
eUKhost offers solutions for both, Linux and Windows-based operating systems. This gives them an edge over numerous competitors because you can choose a hosting solution based on your choice of the operating system.
Daily backup
Security of your data is crucial. Unfortunately, there may be times when security measures fall short of protecting your data from external threats. In such circumstances, your data can be lost, forcing you to start everything from the beginning.
However, eUKhost offers a daily backup service as a part of your hosting plan, at no added cost. Your most recent backup is pretty easy to recover, so basically, any unfortunate event that has occurred can be controlled to a certain extent.
eUKhost's customer support services
Customer service is considered the foundation that guarantees any issues you may be facing are resolved in time and that your website is always accessible.
Without customer service from your hosting provider, you are left to manage your website on your own. Regardless of whether the problem is technical or stems from the backend. Your risk is your own.
You can get support help from eUKhost. Additionally, the technical support team is available around-the-clock, so you won't have to wait for help to arrive at a set hour.
They can be reached by phone, live chat, and ticketing platforms at any given time. Even if you are not a client of eUKhost, you can gain assistance on their website through live chat, and most likely, customer personnel will respond to your query within a couple of seconds.
Their customer service representatives are qualified professionals. Since eUKhost places importance on support assistance, their team responds to and resolves quickly any difficulty that you may be facing, allowing you to swiftly resume work. All-in-all their customer support services are helpful and brilliant.
eUKhost's plans and pricing
As stated before, eUKhost offers a range of hosting solutions. You can choose between cPanel hosting, Windows hosting, WordPress hosting, Business hosting, Reseller hosting, VPS hosting, cloud hosting, and dedicated server hosting. They have a couple of plans under each type of hosting.
For now, we will be focusing on cPanel hosting because the plan is ideal for beginners, and it is one of their most popular hosting solutions.
You can choose between 3 plans. Each plan is a higher version of the previous one. For a user planning to set up an online business, their Advanced plan is the best, which is priced at 7.47 pounds per month.
30 GB SSD storage, unmetered bandwidth, 24×7 support, daily backups, free SSL certificate, spam filtering, and unlimited websites, MySQL databases, and email addresses are some of the features they offer with this plan.
Additionally, if you outgrow the cPanel hosting plans, you can switch to their VPS solutions because scaling through the plans is pretty easy at eUKhost.
eUKhost's Pros and Cons
The Pros
Uptime of 99.9%
Page loads on an average in 1.1 seconds
Easy-to-use interface
Plans are cost-effective
Great customer support services
30-day money-back guarantee
Migration assistance
1-click app installer
Domain name registration
The Cons
Storage limitations
Limitations on databases in its basic plans
Verdict
eUKhost differs from other hosting businesses in a number of ways. The plans offer a wide range of features, have no cap on any specific qualities, a wide range of features, and are designed for a variety of specialised aims.
The website hosting firm offers a variety of affordable options, making it the ideal choice for a beginner. Additionally, they provide a free migration service that enables you to easily change web hosts. Because their technical support staff is available around-the-clock, you can be sure that whatever problem you're having will be fixed quickly.
To sum up, if you are thinking about using eUKhost as your web host, you should definitely do so because this UK web host will make sure that your demands are met.