In this technical edge, grabbing knowledge about different foreign languages has become a major factor in expanding the business of an organization globally. Communicating with clients in their mother language is quite helpful in building positive and strong relationships with them. This removes the communication barrier to a great extent. In recent times, the introduction of the Duolingo language learning app has created possibilities for all to learn the desired language in a short duration.
After Duolingo ensured success, businesses started to invest in developing language learning apps. However, building an app platform like Duolingo is a difficult job to do as it needs an in-depth understanding of the distinctive steps having a major role in developing a learning app similar to the Duolingo app. Through this post, we will explore more details related to building a language learning app.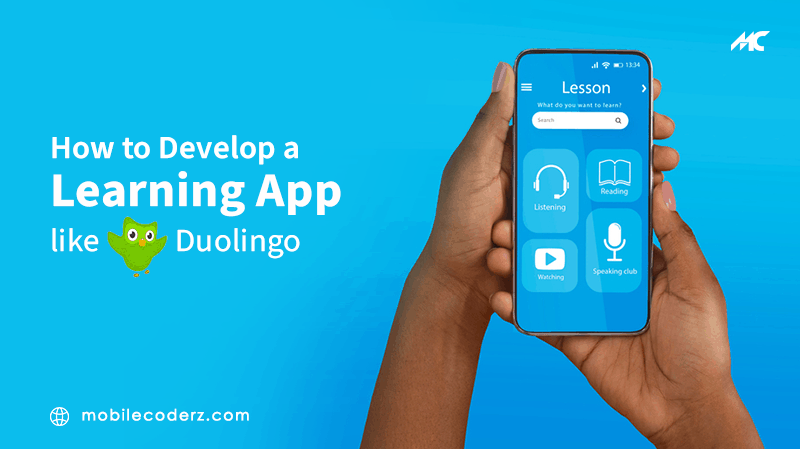 As reported by GlobeNewswire, it has been expected that the market value of the online language learning market will grow at a CAGR rate of 19% between 2020 to 2027.
Based on a survey done by Statista, the international language learning market has seen enormous growth and increased up to two-fold times in the last 10 years. It has generated revenue of 50 billion USD during 2019.
In the year 2019, TransPerfect achieved the top rank amongst other learning language platforms in the United States. It has generated a revenue of almost 765 million USD.
What should be the specifications for creating an app like Duolingo?
For creating an app similar to Duolingo, you should take the below-mentioned points into account:
Simple form: Make sure your language app users can conveniently choose an excellent way of learning language skills, as done by Duolingo. To achieve desired goals, you need to implement a diverse approach while uploading the content. It should include audio, video, text, images, etc.
Social media platforms integration: Adding such a feature makes it easy for users to register with your language learning app and even helps you in integrating user data from different social networking sites. The best part is that a user will not have to waste his time answering the typical registration questions.
Needs to be engaging: The traditional training approach was usually boring. But now, things are getting changed and the mode of learning languages has been modified. Mobile applications have transformed the language learning process in the form of games by applying the system of incentives, bonuses, and opportunities to compete with other users. You can consider this approach and combine a game component while developing an app like Duolingo.
Be specific: It should be your priority to ensure that you are delivering quality service to the users. Make sure your app is useful for learners at any level. Use prompts, or create a chatbot for your app. Apart from this, allow the user to connect with the support team if required.
Enticing UI: It is crucial that a language learning app is pleasant and easy to use. It simply means that the user interface design should be according to the target audience. It should be precise without unwanted details.
Compatible with Android and iOS devices: As everyone has their own preferences, you should develop a cross-platform language learning platform that can be adjustable according to different screen sizes whether it is Android or iOS platforms. For that, you will have to spend a good amount of money during the development phase but your app success can be ensured.
What is the cost estimate for developing an app like Duolingo?
It is a tough task to develop Duolingo's clone app. But it would be rewarding to invest in building such apps. The more you spend on adding innovative features and functionalities, the better experience you can offer to users. The approx cost of developing an eLearning app like Duolingo depends on both design and development.
Design:
This is the most important factor for ensuring app success. This specific phase can take up to 200 hours. The cost factor will depend on the type of UI, Logo development, UX map, and UI screen. These are important steps that need to be followed while designing. For that, the cost can lie between $5000 to $7000.
Development:
Duolingo app has been developed using robust tools and technologies. In case you desire to own an app like this for your business, you need to have high-quality backend development support with a great testing team. The cost factor also depends on the chosen operating software (android, iOS, and Windows). All these have an important role in the development phase and the cost to develop can lie between $5000 – $7000.
Conclusion
Earning knowledge about additional languages apart from the native one has become a common practice. In doing so, an eLearning app like Duolingo has a major contribution. It has created opportunities for people to learn multiple languages.
By time, the willingness to learn new languages is increasing among all age groups. This clearly indicates that a lot more new language learning apps can still be designed in the future. Thus, it's the correct time for enterprises to invest in the e-learning app development sector. Based on their preference, they can go for language learning application development or educational application development.
Author Bio
Erma Winter – The author is a senior app developer at MobileCoderz, a recognized Android app development company. She has been serving in the domain for several years and holds relevant experience in the respective industry. As an IT expert, she has a keen interest to write and share her thoughts about different technological trends.