Computer Aided Design or CAD is used in product designing for manufacturing industry to create 3D models that are further used to meet design goals. The major benefit of using such a process of industrial product design is the cost and time saving potential of the process over conventional designing and prototyping.
What is Industrial Product Design Engineering?
The goal of industrial product designing is to conceptualize ideas and turn them into real objects. A product designer tries to straddle the disparate worlds of art, science and technology to create functional products that are also aesthetically appealing. The processes of product designing, in their search for efficiency and better quality, are ever evolving. 3D CAD is one such solution that is helping in achieving these goals.
Nowadays, product designers have developed an affinity towards being on the cutting-edge of software and technology and 3D CAD is the perfect answer to this. Be it any manufacturing industry, such as aerospace, defence, automotive, etc. design teams are utilizing a unique combination of CAD and creative software.
CAD is used as part of the industrial product design services including prototyping, designing and manufacturing products and components. Prior to the introduction of CAD, design engineers had to rely on basic tools of engineering such as paper, pencils, rulers, compasses to carry out extremely time-consuming process of drafting. This would ensure that quick modifications and changes were out of the question.
With the help of 3D CAD models, designers not only get to save on time and energy, but also analyse their designs from every possible angle. This helps them capture design flaws, make the necessary changes to the digital file, and get a complete sense of product functionality before the commencement of production runs. Clients can also be shown a digital rendering of the products. This will further improve your company's image!
CAD software also facilitates the simulation of movements of a product/ part. Moreover, CAD files can be seamlessly integrated into existing programming software. Overall, these small changes help to save precious manufacturing lead time as well as costs.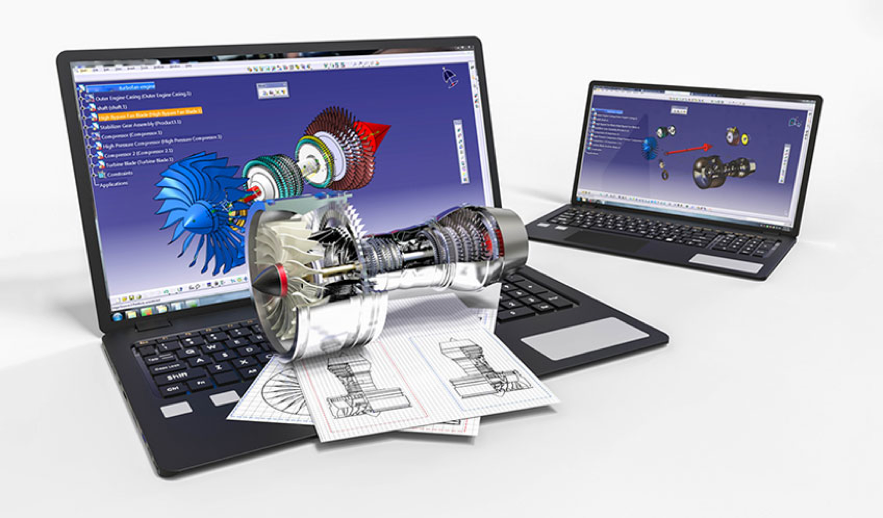 Advantages of CAD in Industrial and Product Design
Now, let us explore how CAD for product design is proving to be advantageous in the manufacturing sector.
Design Accuracy and Precision: Vector images, defined by mathematical coordinates, are used in CAD software. This ensures pinpoint accuracy and precision in the drawings and models created using 3D CAD. Moreover, these drawings can be further modified, if required, without risking the loss of precision.
Seamless 2D to 3D Transition: The inconvenience and disadvantages of 2D drawings are being nullified with the help of 3D design models in manufacturing. CAD software can facilitate the provision for immediate design feedback which can be fixed digitally.
Faster Design Revisions: Designers no longer have to go back to the drawing board (literally!) in order to tackle and revise design flaws and defects. With the help of digital 3D models, these errors (in colours, materials or swatches, for example) can be fixed simply by 'undoing' them!
Production-ready Designs: CAD software is equipping designers with the ability to create designs that are ready for production. This has been possible owing to capabilities of CAD to run design simulations. Based on such simulations, including stress analysis, computational fluid dynamics (CFD), and finite element analysis (FEA) design engineers can cull out valuable information with regards to the behaviour of products of varied materials under different conditions.
Recycle and Reuse: A product lifecycle is not complete until the stage of disposal and, if possible, recycling. CAD software is playing a crucial role in this regard as well. Different CAD programs empower product designers to come up with different ideas for a product once it has reached the end of its utility.
Summing Up
The field of product and industrial design in Australia is becoming more and more versatile, owing to the many innovations in technologies and the openness of companies to adopt them in order to become more efficient and cost-effective.
CAD technology has not only helped in making the process of product designing more productive, but it has also aided in the improvement of design quality and database communication. These have made CAD an integral, and often indispensable part of designing processes in manufacturing.