People who professionally deal with video recording have professional equipment at their disposal. More people record with their smartphones or cameras. However, they all have one thing in common – the recorded clips should be processed and edited. For this purpose, we used to rely on powerful programs.
Although the most recognized names in this filed offer a full set of professional tools and an accessible interface, they have one significant drawback – they are paid. This means that beginners and people who do not treat their video productions as a source of income must head towards much less advanced editors, which do not allow them to develop their full potential. MiniTool Software provides a free version of MiniTool MovieMaker.
MiniTool MovieMaker 2.4
MiniTool Software Ltd, known for its innovative disk management and data recovery software, has prepared a simplified version of its software for non-linear video editing for Windows users. MiniTool MovieMaker does not require a lot of free space and offers many interesting features, including a timeline and the ability to cut unnecessary portions of your raw materials.
MiniTool MovieMaker has a friendly and clear user interface, thanks to which people who do not familiar with software of the same genre for editing video will not have any major problems using the program. The manufacturer also introduced online manuals, thus improving the workflow. The options used in post-production are within easy reach and access to them is by no means difficult.
Video Converter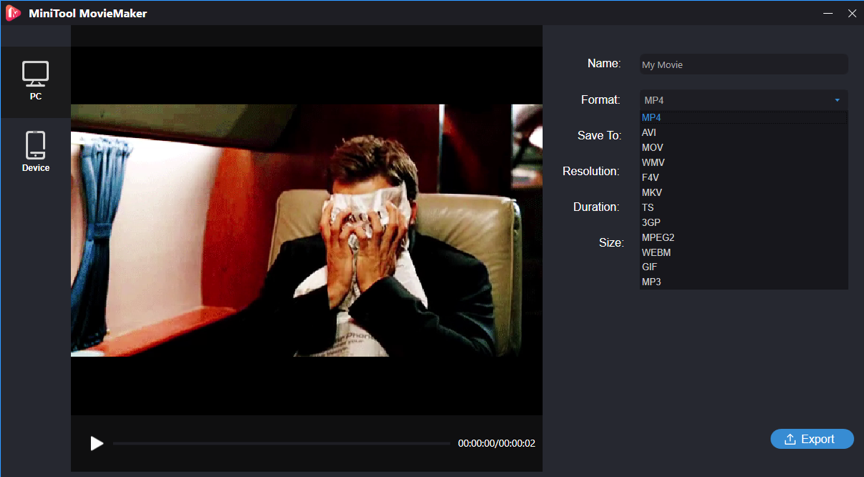 MiniTool MovieMaker can be used to convert video formats free including MP4, AVI, WEBM, WMV or MOV, etc. The program also allows you to adjust the video to a specific device: iPhone, iPad, PS4 or Xbox with one click. Importantly, it also supports 4K format. You can also slow or speed up the video for special purposes.
Well-Made Templates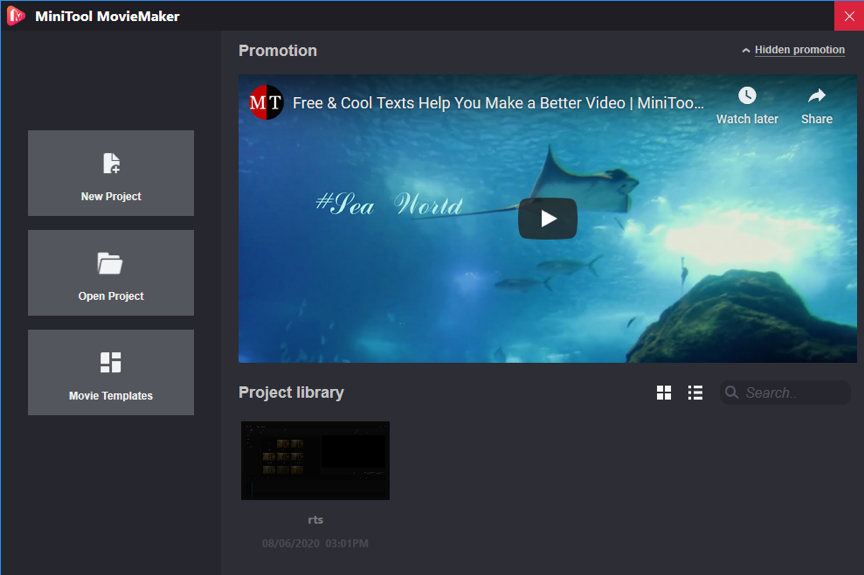 Each time you start MiniTool MovieMaker, a quick access window will pop up to start a new project with some well-made templates. After the video content imported through MovieMaker main interface, it will be displayed with a video strip on which all the projects will be placed from the list.
To start editing a video or a slide show, click on a project with the "+" symbol, or you can just drag the project to the timeline. You can preview the project and start the editing with all the integrated tools. The upper part offers access to the subtitle templates. The middle part allows you to determine the location of all elements included in the video. The lower part allows you to add music templates or sound tracks of your own, which divides and cuts fragments from videos and soundtracks.
MiniTool MovieMaker is an extremely interesting tool that offers the most useful templates during assembly, thanks to which we will create professional-looking videos.
System Requirements

In the case of operating system, there are big differences and you can choose the system that suits you. Currently MiniTool MovieMaker is only available for Windows. It is important to check which hardware configuration is best compatible with the program before.
To take the most advantage of MiniTool MovieMaker program, you need sufficiently powerful equipment.
Yet Completely Free
MiniTool MovieMaker is a tool for e.g. for processing and editing video clips, but not only. The program will also allow you to edit images, as well as to download video from YouTube. The program is – it must be admitted – quite a useful harvester, which will allow you to save to various formats, convert or apply effects. Make sure to check out the program while the developer is still providing a free, full version.
Tips and Tricks
The quality of assembly depends mainly on the skill and talent of the operator, and a large part of the problems lie between the monitor and the backrest of the chair. In addition to investing in the program, it is worth investing in knowledge and stocking up on a few books on editing theory, watch some tutorials on YouTube or watch videos that you particularly like. Most of the rules are universal, whatever video types you're editing.