Are you looking for a Google review plugin for WordPress, and after learning about many options, you still cannot decide which one to pick? If yes, then you have arrived at the right place and we are glad that you are here.
In this blog, we will be discussing some of the best Google review WordPress plugins that enable you to embed the Google review widget on WordPress.
So without further ado, let's dive into it.
Most Reliable Google Review Plugins for WordPress with Long Term Advantages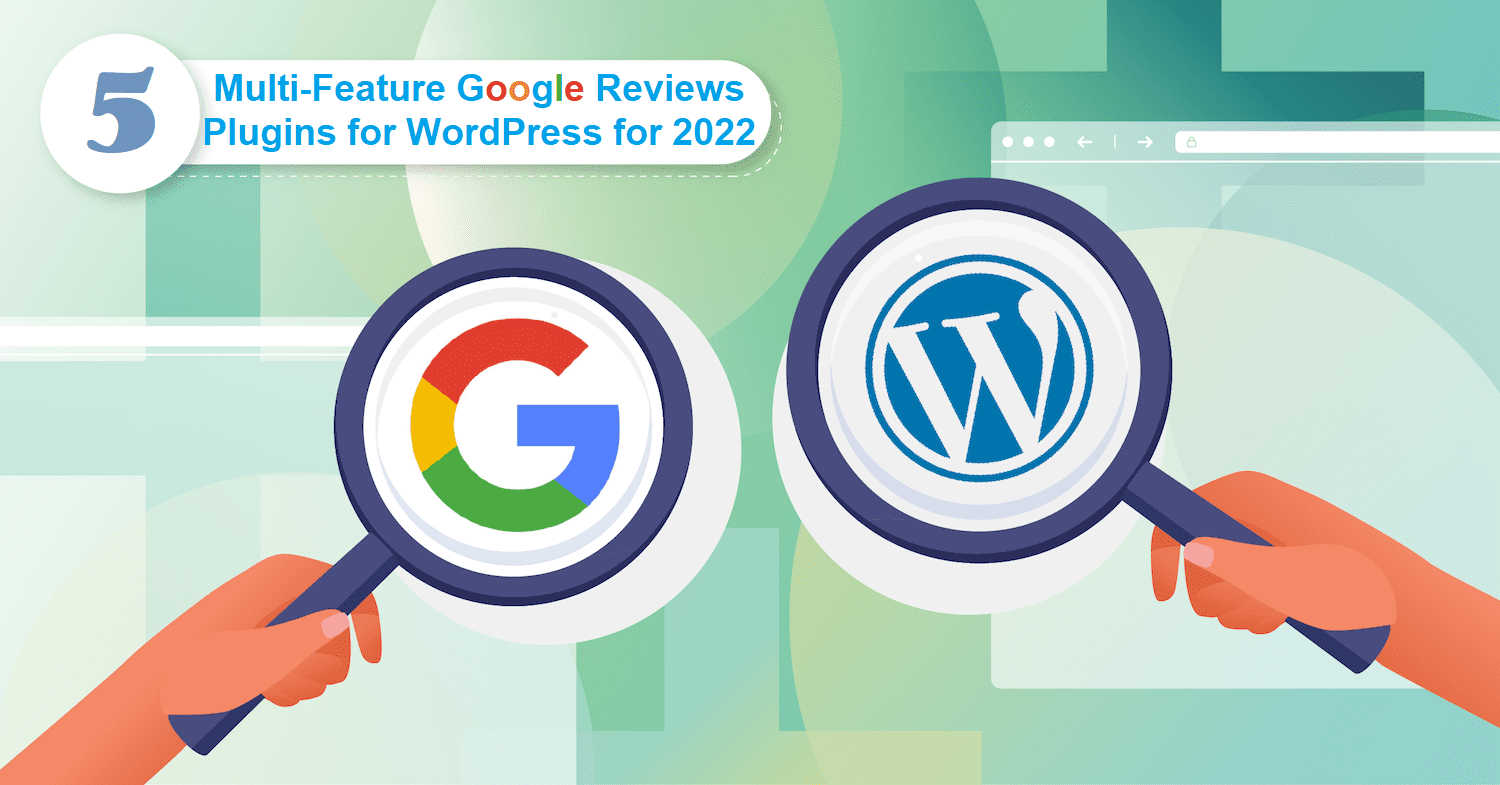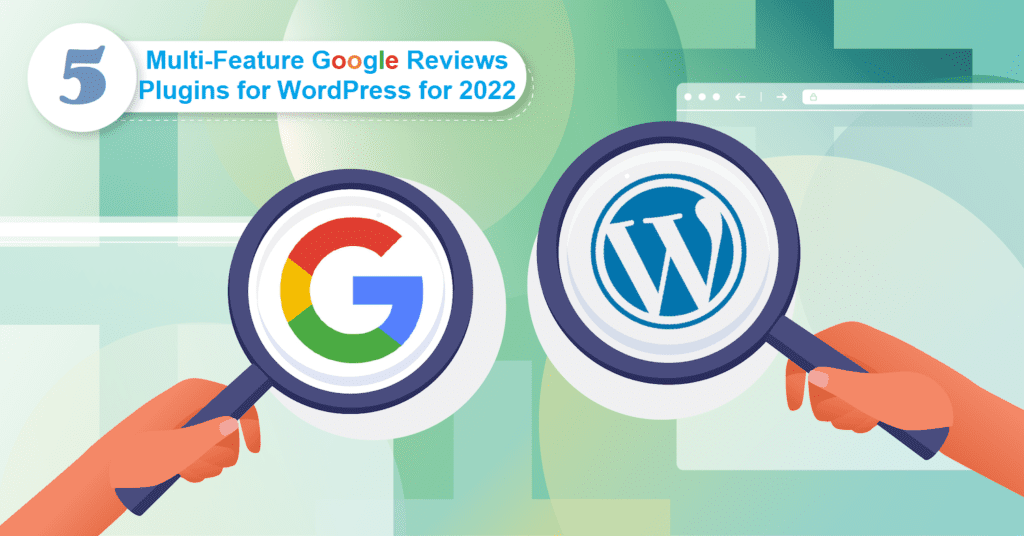 Listed below are some of the most popular and brilliant Google review plugins that help you collect and display Google reviews on your WordPress website. We have also mentioned some of their key features to make your choice whether or not to use the plugin.
1. Google Reviews Plugin by Tagembed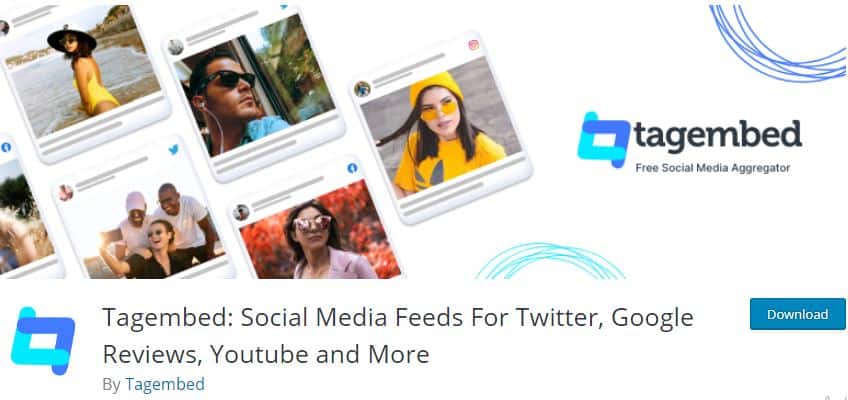 You might have heard about Tagembed, it is a well renowned social media aggregator tool that has made quite a name for itself because of its user-friendly interface and budget-friendly pricing plan. It brings the same magic to its WordPress plugin.
You can find the Tagembed WordPress plugin with ease on the WordPress plugin store and install it. The plugin helps you collect social feeds from various social media platforms and after your curation and customization; it displays them on your website without any hassle. You can use the plugin to gather Google reviews from your Google My Business account and display them by embedding the Google review widget on the website.
Alongside Google reviews it is also compatible with 18+ social media platforms; hence if your users have posted reviews on other social media platforms, then you have the option to showcase them as well.
The plugin eases your embedding process and offers various features, making your strategy to display Google reviews more beneficial. Like, it provides a customization option that allows you to personalize the feed as per your choice. Here, you can change the font size, font style, background, and more to make the widget more appealing to your visitors. Moreover, you can even select an appropriate theme and layout for your widget that best suits the style and vibe of your brand and website. All these measures help you in making your website more attractive and appealing.
Also, with the moderation feature, you can control the feed for your widget. That means you can hide the review that has another brand's name or reviews that provide misleading information about your brand or product. In simple words, you have the authority over the widget and control what all reviews you want to show. But keep in mind that you don't misuse this facility and hide negative reviews. Instead, try to stay transparent in front of your customers.
2. Everest Plugin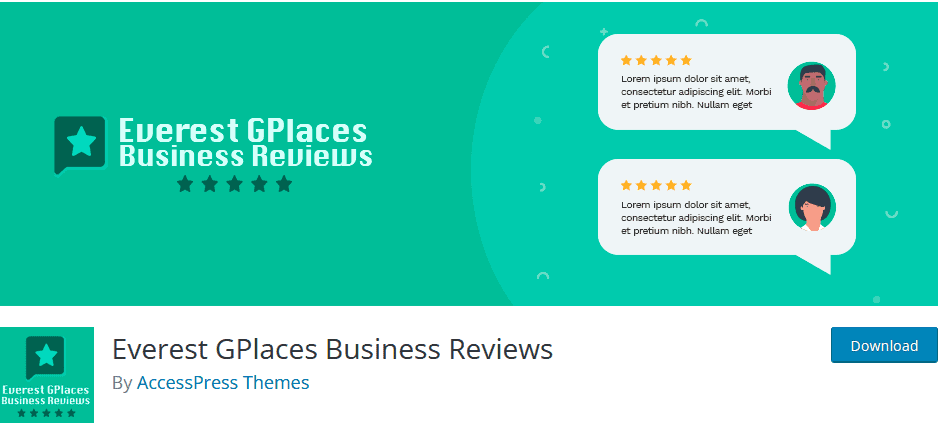 Everest Google Places Reviews is yet another amazing Google review plugin for WordPress. It boasts of being a simple utility plugin for WordPress. The widget works with shortcode and allows you to display reviews using the widget. With the help of this plugin, you can showcase unlimited reviews on the website.
The plugin provides a fully customizable widget that you can personalize as per your choice. It is important to create an attractive widget to get the attention or what will be the point of collecting and displaying reviews.
Also, it provides you with a responsive widget. This means your visitors can view your review widget on mobile devices, as well as on desktops and laptops. And as the widget adjusts itself according to any screen type. So it does not hinder the browsing experience of your visitors using any device.
You can also add the "Rate Us" button on your website with the help of this plugin. It helps you in building a review cycle and eventually assists in building credibility for your business.
Another amazing feature of the plugin is that it allows you to hide the picture of your reviewer considering privacy concerns. Also, you can limit the words on reviews and provide highlights of the review so that people can read about reviews.
3. WP Google Review Slider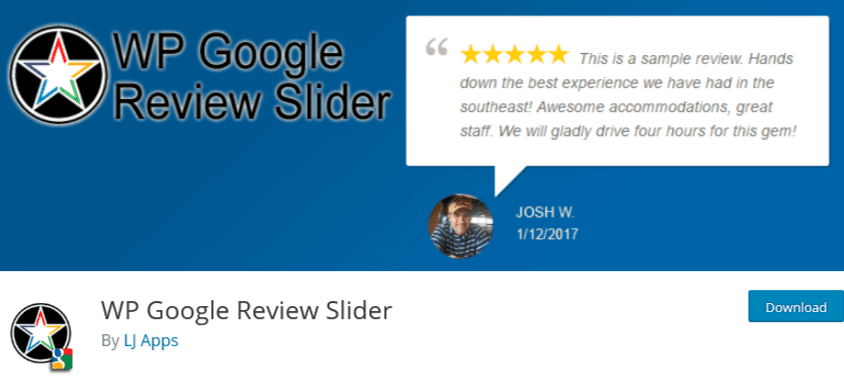 WP Google Review Slider is next on our list. Like the reviews mentioned above, it helps you display and showcase Google reviews on your WordPress website. In addition, the plugin provides you with a slider that you can use to display reviews anywhere on your website.
The sliders resemble image sliders and more, one of the best features of slider review is that you can place it anywhere on the website. And as you can place it anywhere on your website, your consumer can read the reviews and learn about the product at the same time. Hence, making your review widget more worthy.
If you are not into sliders, then you can also use a responsive grid or list to showcase reviews. You can also explore the template display option like show/hide star ratings, show/hide date, border radius, and more.
With the help of this plugin, you can even hide the Google Reviews that don't include texts. Also, you can choose the number of Google Places reviews you want to display per row and even have multiple rows.
4. Widget for Google Review by RadiusTheme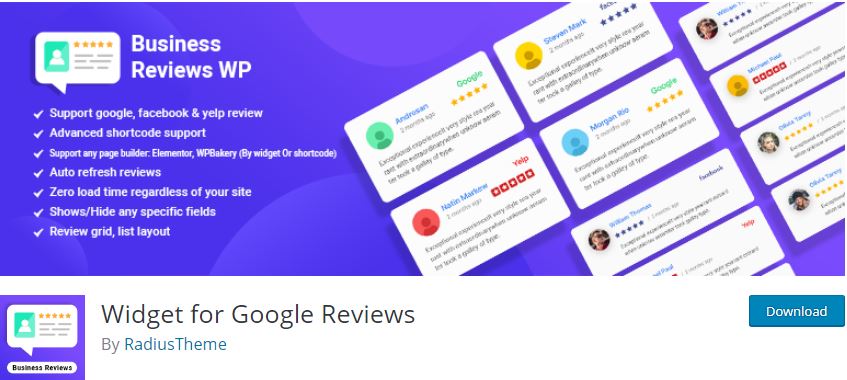 Widget for Google Reviews, helps you to showcase your reviews to your WordPress website. It allows you to showcase your Google Business ratings and reviews on your site with ease. You can even choose whether to display it on a list or grid layout.
Widget for Google Reviews saves your review data onto your WordPress database, which means you don't have to depend on additional services to display the reviews on your website. And also it does not affect the speed of your website. In addition, it enables you to develop unlimited shortcodes for exhibiting the reviews on your website and you can use any post, page, or widget for that purpose.
The plugin is SEO-friendly and provides a crawl able widget. It also updates the content on the widget automatically, which means, as soon as someone posts the reviews on your Google My Business account, your widget will be showcasing them in real-time. There is no need to refresh the feed manually. Also, Widget for Google Reviews shortens long reviews and adds a "read more" link, which provides you with some space on your website and eventually makes your interface tidy.
5. Reviews and Rating by Design Extreme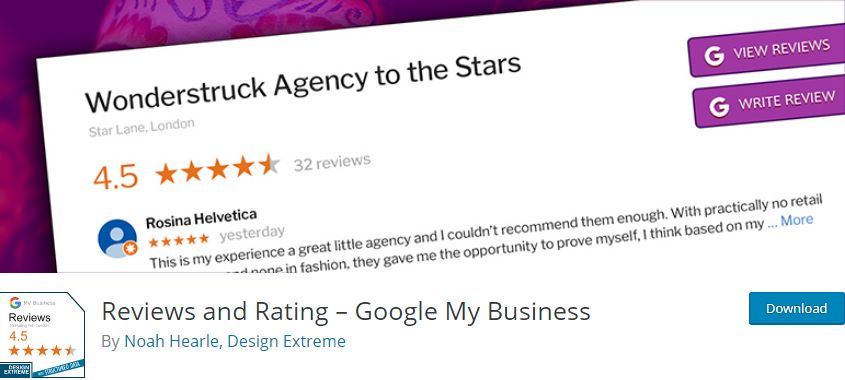 Reviews and Rating by Design Extreme. It is one of the most reliable and trustworthy WordPress plugins and has gained the trust of many users. Like the tools mentioned above, the plugin is SEO-friendly and helps your website in search engine ranking.
It provides you the option to choose from various designs and themes. Hence you can select the one that best suits your style and matches the vibe of your website.
Also, the plugin displays the review as soon as it uploads on the platform, hence keeping your visitors up to date. Also, as the feed updates automatically, refreshing the feed saves time.
The plugin is easy to use and is compatible with shortcodes.
Summing It Up
Google reviews help businesses to build brand reputation and credibility. So as it is important to gather them, it is equally important to showcase them. With the plugins mentioned above, you can easily embed Google reviews on the WordPress website and get an edge over your competitors. So what are you waiting for? Try these plugins now and take your business to new heights.