Malware issue is emerging and looming large. It is a real-time problem that is affecting millions of users around the world. The issue of malware threat has increased multifold from the time it was first detected. Now you can find malware issue in different types and intensity that is causing serious damage to system & data security.
Also, you want to be aware of fileless malware, which is a cyberattack technique that uses existing protocols to perform malicious activities. Unlike traditional malware that uses malicious software, fileless malware will hide in your device's memory and then directly write to your computer's RAM and execute a series of events to cause havoc.
In this article, we have discussed types of malware and best ways to cure them to avoid damage.
List of Different Types of malware
Viruses
When your system is affected with virus, it modifies other legitimate host files (or pointers to them) where virus is also executed when the infected file is executed. Here, viruses infect other files on your system and cause serious data security.
Worms
Worms self-replicate them. It is around longer than computer viruses. This issue was increased with email worms in late 1990s. Once you open the email infected with Worm, whole your network system will be infected.
Trojans
Trojans are the advanced and notorious version of computer Worms. It masquerades as legitimate program containing malicious content on your system. Your system may infect with Trojans through email or from visiting a malicious site.
Ransomware
Ransomware is most notorious and harmful malware threat that is causing serious damage to users around the world. Here, cybercriminals lock your data or your system and ask for ransom to offer you decryption key to give you access back to your data or system.
Spyware
Spyware is another type of malware that is designed to spy on you. Here, spyware could be used to log the keystrokes of victims and gain access to important & sensitive information like passwords.
In addition to these malware types, you may also encounter other malware threats such as adware, malvertising, fileless malware, hybrid malware, and more.
How to cure malware issue?
Now that you know a lot about malware types, let's discuss ways to cure malware issues. It includes multiple preventive measures and other ways to avoid malware threats in the first place. Let's discuss more here.
Keep your software up-to-date
Software updates are crucial for your system to keep your system in good health. It not only helps you improve your overall system performance, but it also keeps your system and data safe from malware issues. Here, you can check the best software updater from which you will get regular software updates automatically. In addition to installing these updates automatically, you can also do it manually by visiting system settings.
Avoid suspicious emails
As we have discussed a lot of malware threats are spread through emails. Thus, you should always scan each email before you open the content. It will help you avoid unnecessary trouble on your system. If you got an email from an unknown sender, we suggest you should avoid opening attachments, and clicking on links to keep your data and system safe.
Avoid open networks
Free or open Wi-Fi at the coffee shops or malls may sound lucrative but it brings lot of security issues. Here, cybercriminals could easily breach your system security with a small piece of malicious software through open network. Thus, we always suggest you should avoid opening network and use password protected and encrypted network to keep your data safe.
Use anti malware for Mac
The next effective solution is to use the best anti malware for Mac. These powerful tools work on advanced algorithms to help you protected from all existing & emerging threats. One of these best malware removal tools for Mac is Systweak Anti-Malware. It offers an advanced solutions to keep you protected 24/7 from all threats effectively.
Use Systweak Anti-Malware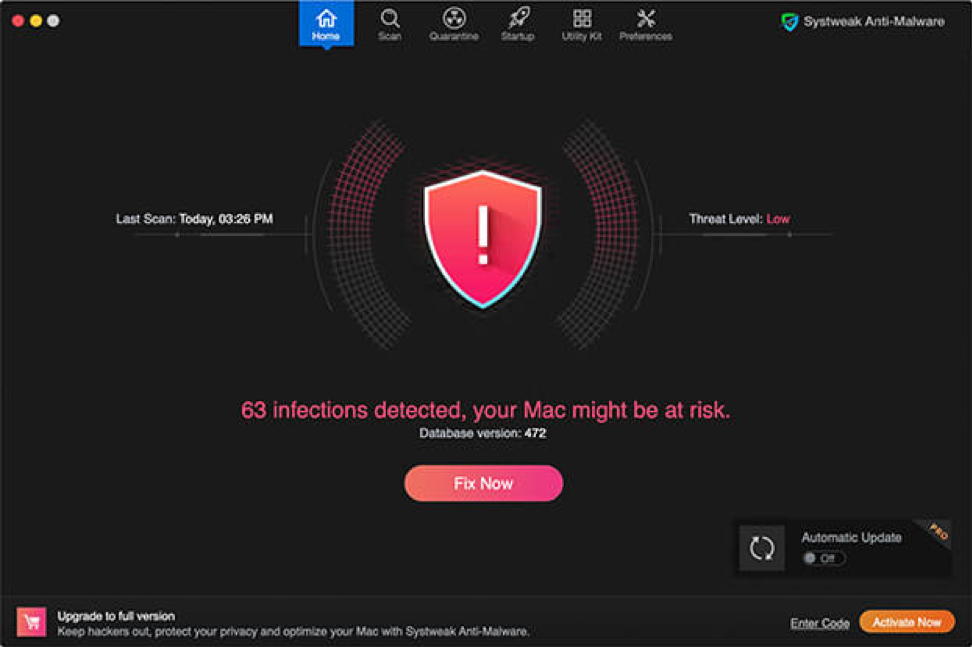 Systweak Anti-Malware is best anti malware mac that protects your Mac from all cyber threats. It detects vulnerable startup items, scans malicious add-ons & plugins, and keep you protected 24/7. You can use this smart security software to stay protected from adware, spyware, Trojan, and other malware threats. This one-stop malware protection software is easy-to-set up and performs fast scanning to deliver instant results. With updated malware database definitions, it protects your Mac from even the latest strain of malware.
Features of Systweak Anti-Malware
It keeps on updating malware database to keep you protected from all existing & emerging malware threats.
It offers different scanning options including deep and quick scan modes to deliver effective results.
It allows you to schedule scan process to save your time and keep your device secure all the time.
It offers detailed security reports to help you keep tab on all malicious content.
In other features, it offers startup scan, browser security, stops unwanted apps at source, complete malware protection, and more.
So, this was a quick review of types of malware and how secure your Mac from these threats. Do follow these steps for complete security and don't forget to share your knowledge and experience dealing with malware issue on your Mac.
Image Source: ndimesionz