Over the past few years, online slots have evolved a lot. Because of that, features of the slots are getting more advanced day by day. In fact, slot symbols are becoming fancier and a bit complex for a beginner. Most casino software providers, like NetEnt, spruce up their slots by adding new special symbols to excite and entertain players.
In this article, we seek to explore the different types of special symbols in slots. We will also discuss the effects that each of these symbols has on the result of a spin. Without wasting much time, let's get right into it.

What Are Slot Symbols?
Slot symbol is a graphical representation of the items that appear on the reels, thereby forming winning combinations. Usually, you will find that a slot online game comes with symbols that complement the game's overall theme, i.e., if you play a horror-themed slot machine, you should expect to see symbols such as vampire slayers, knives, or axes.
One thing to note is that each slot machine comes with standard symbols and special symbols. Each of them has a different effect on the result and pays differently.
Fortunately, each slot game comes with a paytable, which shows you the following:
All the game symbols
The payouts of each symbol
The features triggered by each combination
Jackpot combinations
All slot games use a random number generator (RNG). It is put in place to ensure that all spins' results are random and symbols show up on the screen randomly.
Online Slots Special Symbols
When you play online slots, it's essential that you understand the types of symbols that you are playing with. That way, you know exactly what you are playing for and what to expect.
You will notice that traditional slot symbols such as cherries, bars, 7s, and more, are still available. However, players now prefer more vibrant symbols that come with excellent graphics and some exciting effects.
Below, we discuss the different types of special symbols you will encounter and how they affect the results.
1. Scatter Symbols
Scatter symbols pay for any combination. In addition, it usually does not matter where they land on the reels. The number of scatters that pay out a prize varies from one slot machine to another. Depending on the slot game, you may receive a monetary prize, or a bonus game is triggered.
2. Wild Symbols
A wild symbol is a special symbol that replaces all other symbols on the reels. Therefore, it helps to create winning combinations as it replaces all other symbols except the scatter symbol. Usually, wild symbol doubles or triples the prizes. Furthermore, most slot machines payout the jackpot prize for 5 of a kind.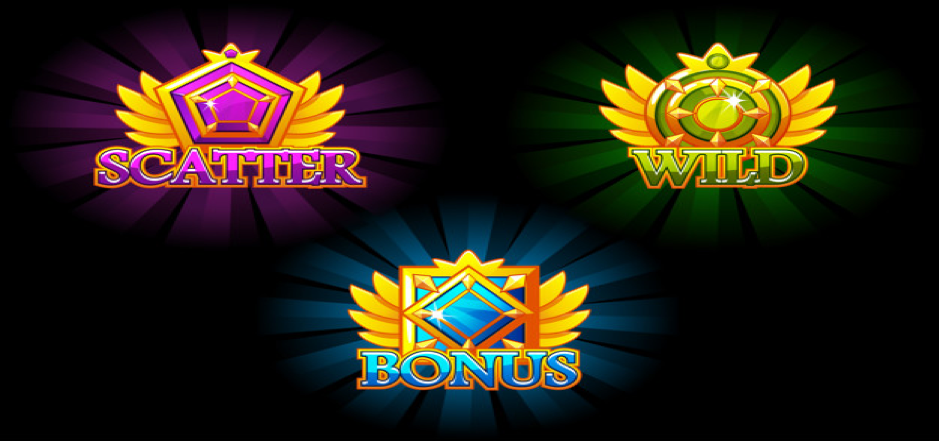 3. Wild Scatters
These symbols are quite rare yet interesting. Wild scatter symbols work as both scatters and wilds. They can substitute all other symbols (helping you create winning combos) or award you a cash prize for the winning combination.
4. Wild Multipliers
Wild multipliers have the same functions as wild symbols. But they can also apply a multiplier to the prize. The wild multiplier is usually of a 2x or 3x the bet.
5. Stacked Wilds
Stacked wild is a favorite type of symbol among many casino players. This is because they appear as a cluster of wilds on a single reel. As a result, they have the potential to create multiple winning combinations, thereby increasing your chances of winning.
6. Expanding Wilds
Expanding wilds work the same way as stacked wilds, although in this case, they expand to cover the entire reel. This usually happens when you land them on the middle reel. Some slot games also have expanding wilds that are activated randomly and might sometimes look different from the standard wild symbol of the game.
6. Wandering Wilds
Wandering wilds are special symbols that usually linger around the reels just a little longer. When they land on a reel, they will pay out a prize before moving on to the next reel for the next spin. If they are part of a winning combination, they will pay out another cash prize. This continues until they finally leave the reels.
Depending on the game, the wandering wild may follow a specific direction or may move randomly across the reels.
7. Sticky Wilds

Sticky wilds are also known as locked wilds, and they can stay in place until a certain number of spins have been fulfilled. For example, if a sticky wild symbol lands on the reels, it will be locked in the same position for a number of subsequent spins. That means you will continue getting payouts as long as winning combos are created with the help of the stacked wild.
8. Split Symbols
Split symbols are a bit complicated for most people. This is because they work as two separate symbols for the price of one. For example, if you are playing a 5-reel slot machine that features split symbols, you will be paid for a total of 10 symbols; thus, two symbols are represented by one symbol on the reels.
9. Pick Me Bonus Symbols
When they are part of a winning combination, these symbols reveal mystery bonuses if you pick them. When they land on the reels, you must click them to reveal the bonus prize, which may vary from cash prizes, free spins, or a bonus round.
Conclusion
Because of technological advancements, modern slot casino games are so alluring. It is fascinating that no matter what slot game you choose, or its features and symbols, the gameplay always remains the same. Therefore, it shouldn't be too difficult to switch from one game to another. You simply just have to understand how each special slot symbol works.