Do you work in a paper-free office that relies on electronic documents such as PDF?
Do you have trouble handling PDFs?
Do you have trouble securing PDFs?
Do you have trouble modifying PDFs?
Do you have trouble converting PDFs to MS Word & Excel?
If you answered to at least 1 of the questions with "Yes", you're in need of a professional PDF tool.
No need to panic, though. We got just the right one for you – Able2Extract Professional, a PDF software that allows its users to say "No" to every single question asked above. Here is why:
A PDF-intense office setting is an environment where Able2Extract shines the most.
Able2Extract can seamlessly create, convert & edit PDF files.
Able2Extract can secure PDFs in many ways.
Able2Extract can edit PDF files on a page & content level.
Able2Extract can convert PDFs to Word, Excel and many other file formats.
Main Features
Cross-platform – Mac, Windows, Linux
Secure PDF Creation – from any printable file format
PDF conversion – PDF to Excel (automatic, custom), Word, Publisher, PowerPoint, OpenOffice, HTML, AutoCAD, CSV and Image formats (JPG, GIF, PNG…)
OCR technology – Search & convert scanned PDFs
PDF editing –  Text, Pages, Bates Numbering, PDF forms, PDF annotation, PDF redaction
Cross-Platform
Able2Extract can work on all 3 major operating systems (Windows, Mac, and Linux). Interestingly enough it was the very first cross-platform PDF solution on the market.
As far as the requirements go, you need around 200MB of hard drive space and 512+ MB of RAM to run the software smoothly.
Secure PDF Creation
On top of being able to create a PDF file out of any printable file format, Able2Extract is capable of securing those PDFs. With its advanced security features users can password protect their PDF files and set up different file permissions (printing, content modifying, copying content…)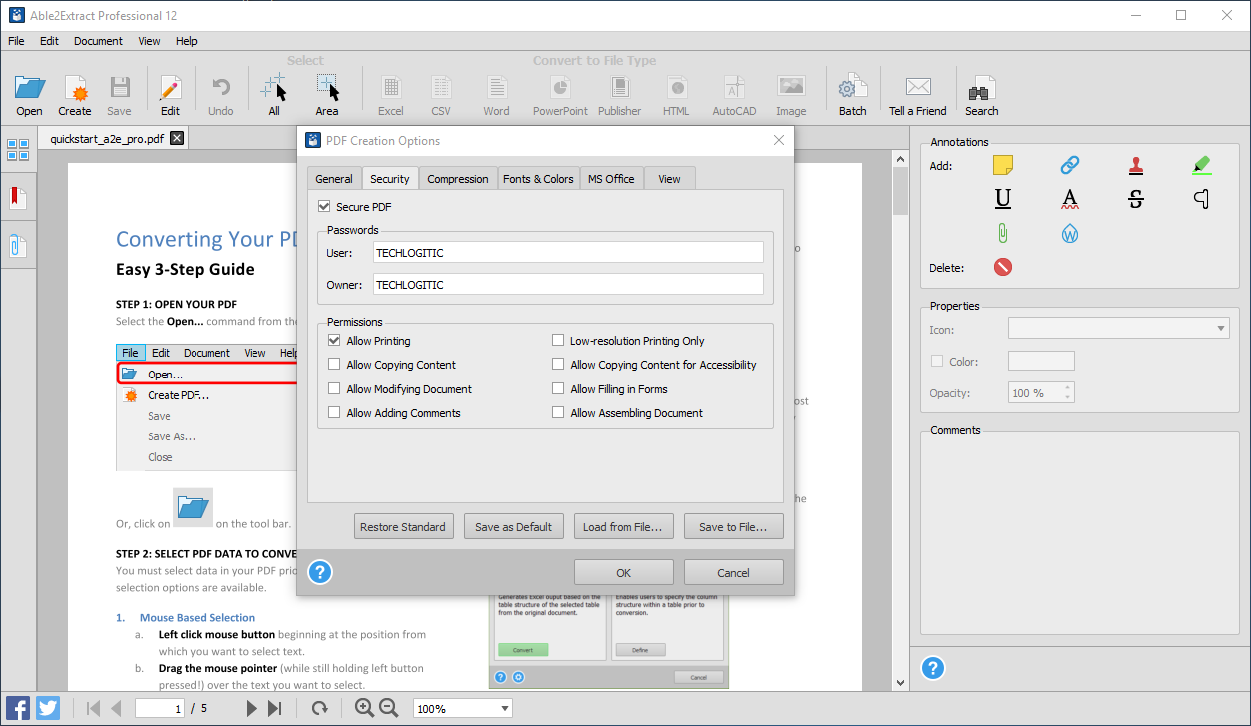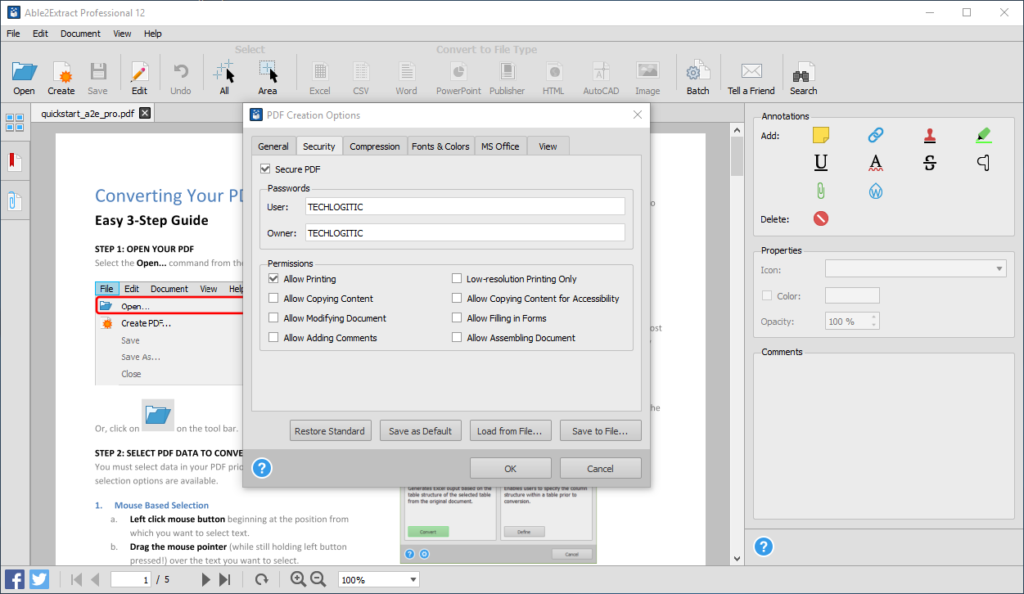 PDF Conversion
As we already mentioned, Able2Extract can convert PDFs to a dozen of other file formats and this is probably the most attractive feature of them all.
The conversion process is straightforward as it gets – 3 clicks (Open-Select-Convert) is all it takes to accurately convert a part or the entire PDF file to any other file format.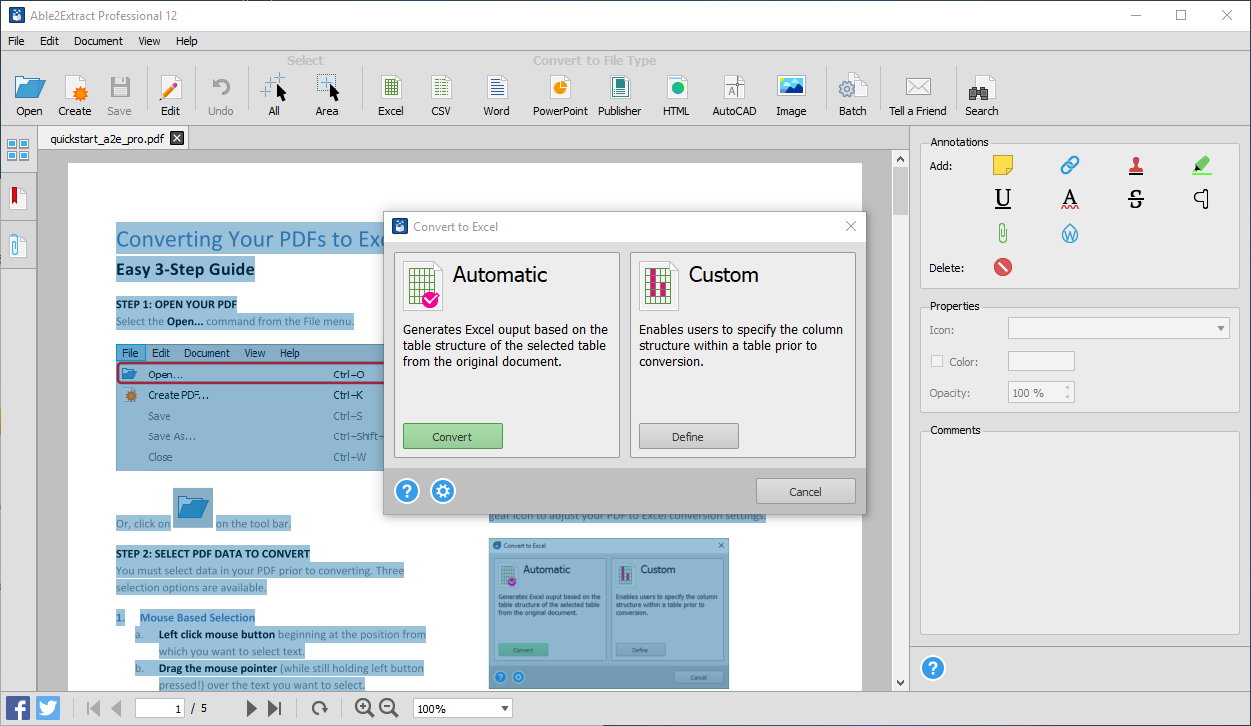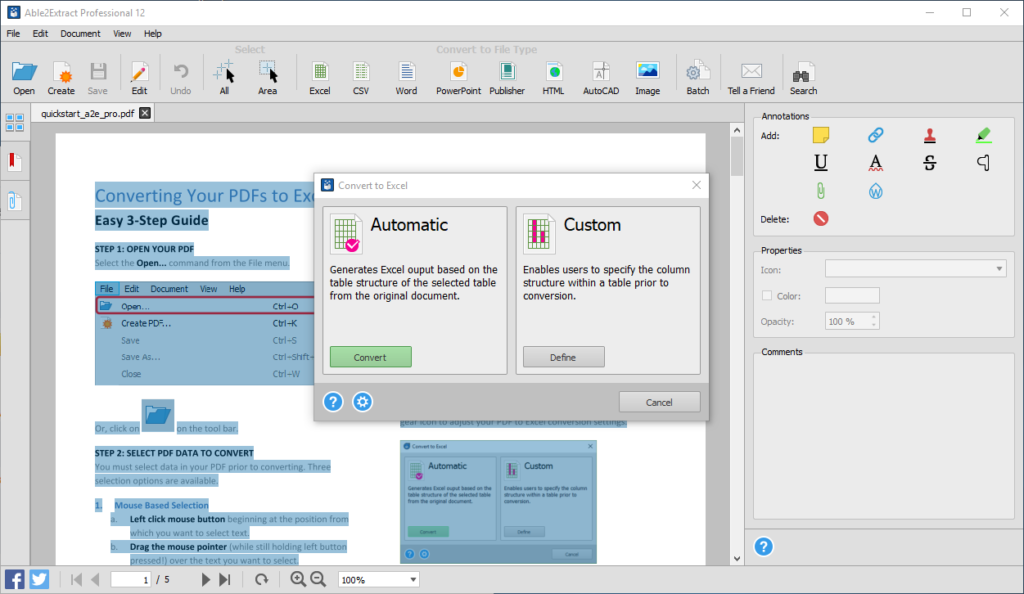 Needless to say, Able2Extract can convert multiple PDFs at once. No need to convert files one by one. With the Batch Conversion feature, you can add as many PDF files and directories and Able2Extract will scan & convert all the files it finds.
OCR Technology
Able2Extract wouldn't be the complete package it is if it didn't have OCR. Of course, the software comes with built-in OCR technology. Thanks to the advanced OCR, users can convert even those scanned files to other file formats with minimal error. Moreover, users can convert image-only PDFs to PDF with text that can be searched.
PDF Editing
Able2Extract comes with an enhanced PDF Editor that allows its users to seamlessly edit a PDF file in a number of ways.
Text & Page editing – Able2Extract allows PDF editing on a page and content level. Text-wise, users can add/delete text, customize font, alignment and line spacing. Page-wise, users can insert/delete, move, resize, scale & rotate pages.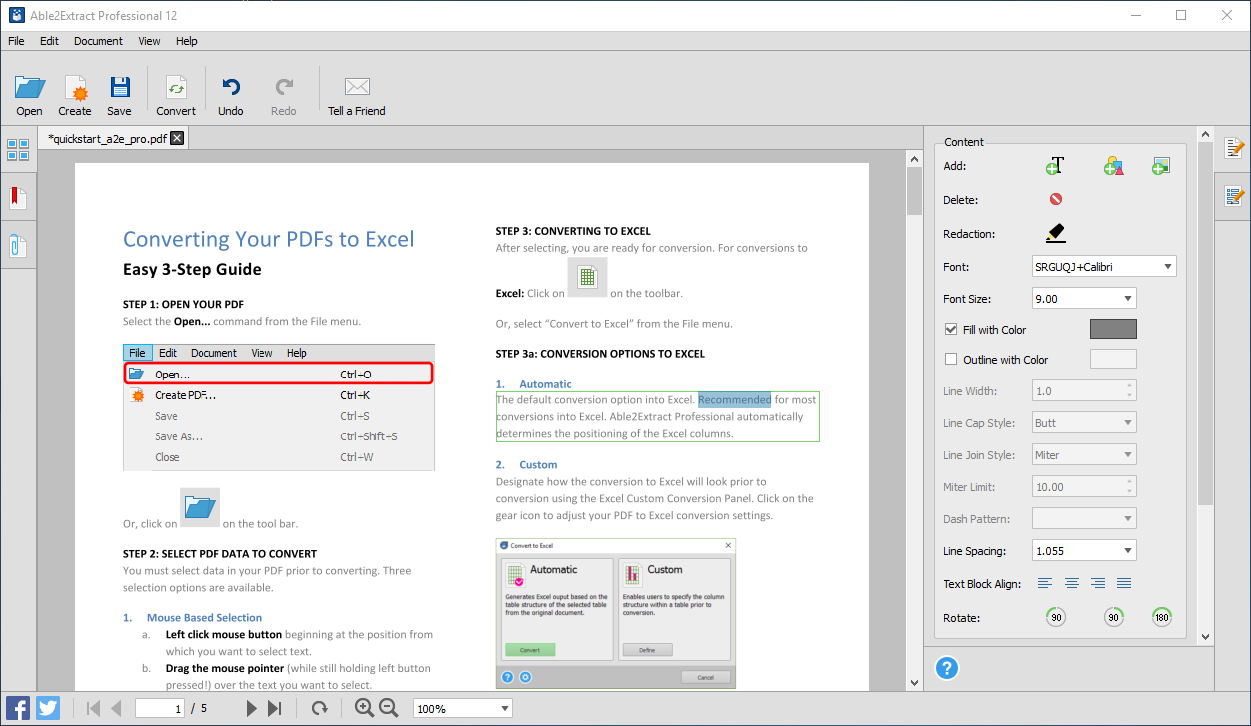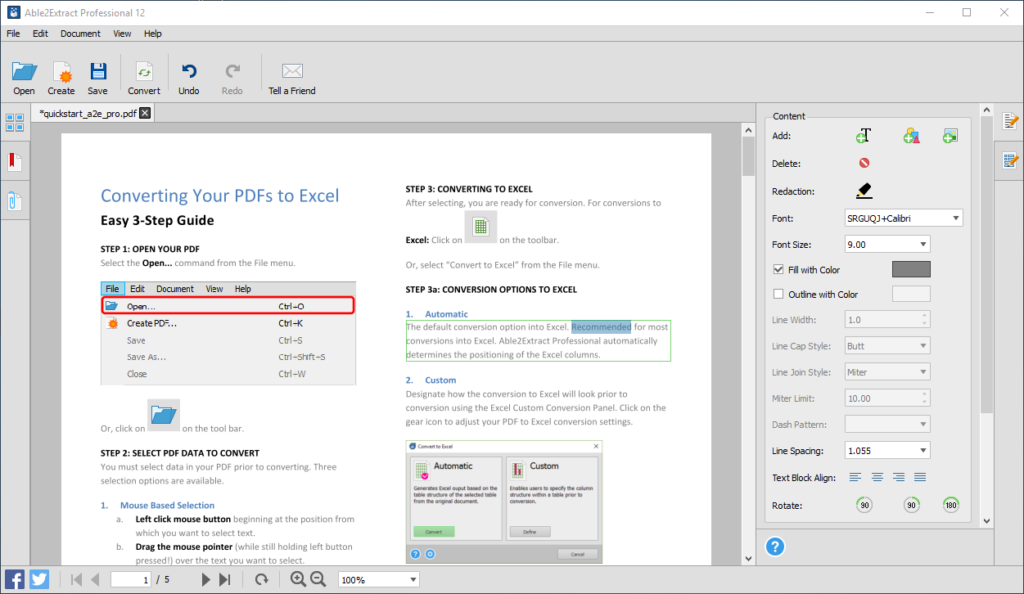 Bates Numbering – Users that need to reference a single page from a large PDF file can index PDF pages (personalized text, date, counter numbers…) and ease up the process of information retrieval.
PDF forms – Able2Extract supports PDF form manipulation. Whether you need to fill, edit or create a completely new PDF form, Able2Extract can do it.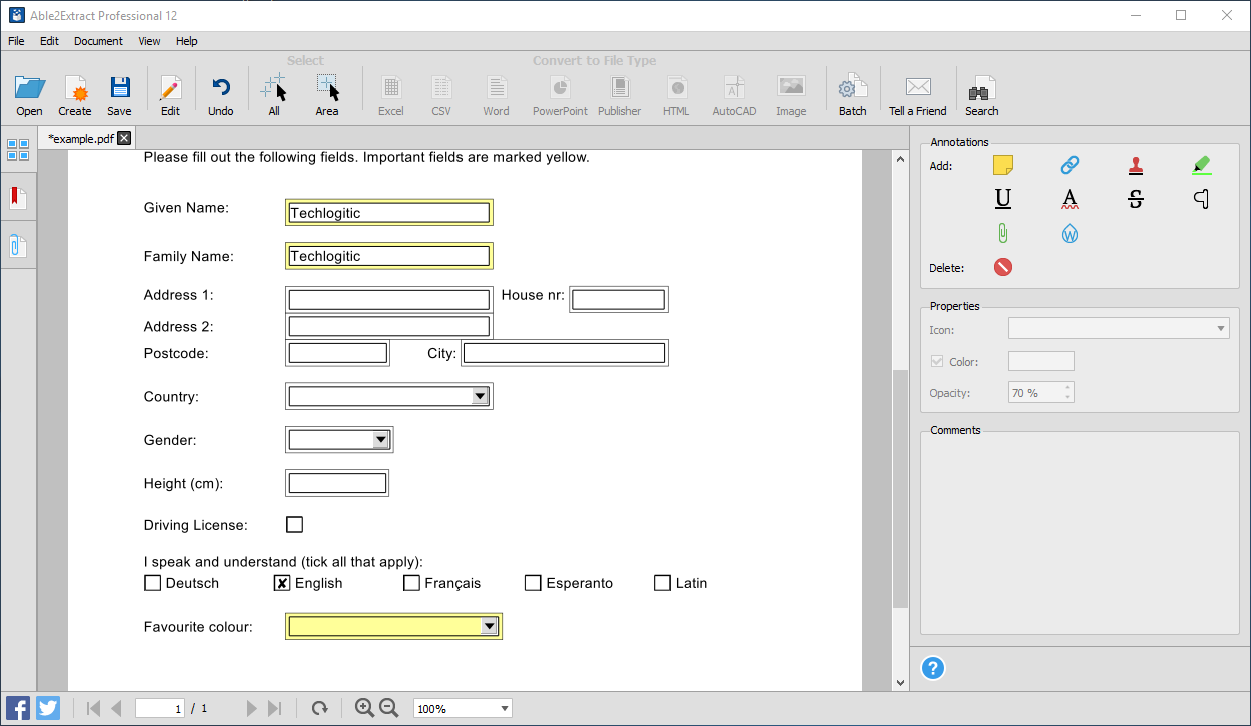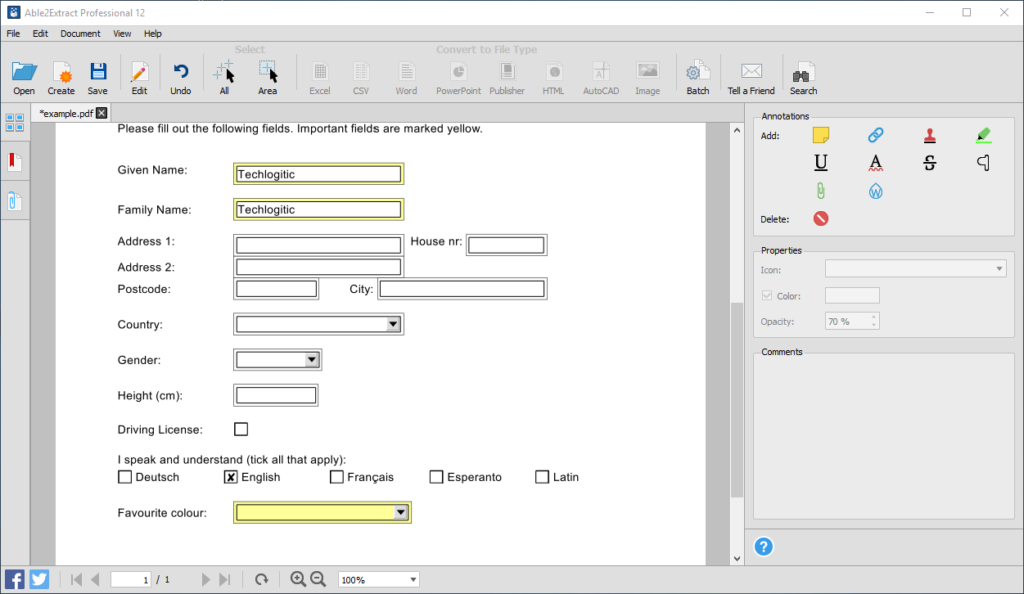 PDF Annotation – The annotation feature allows users to create and insert annotations on their PDF. Like sticky notes, stamps, highlights, links, underline just to name a few. Besides, users can revise and reply to existing annotations and comments.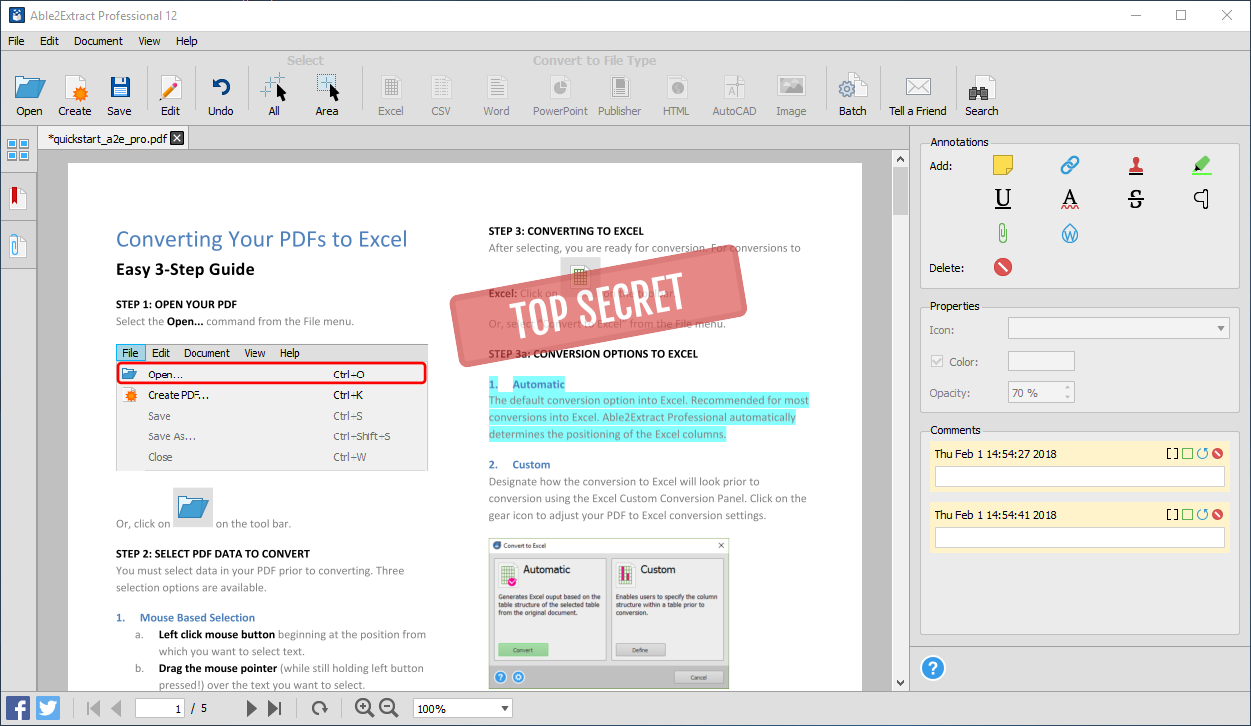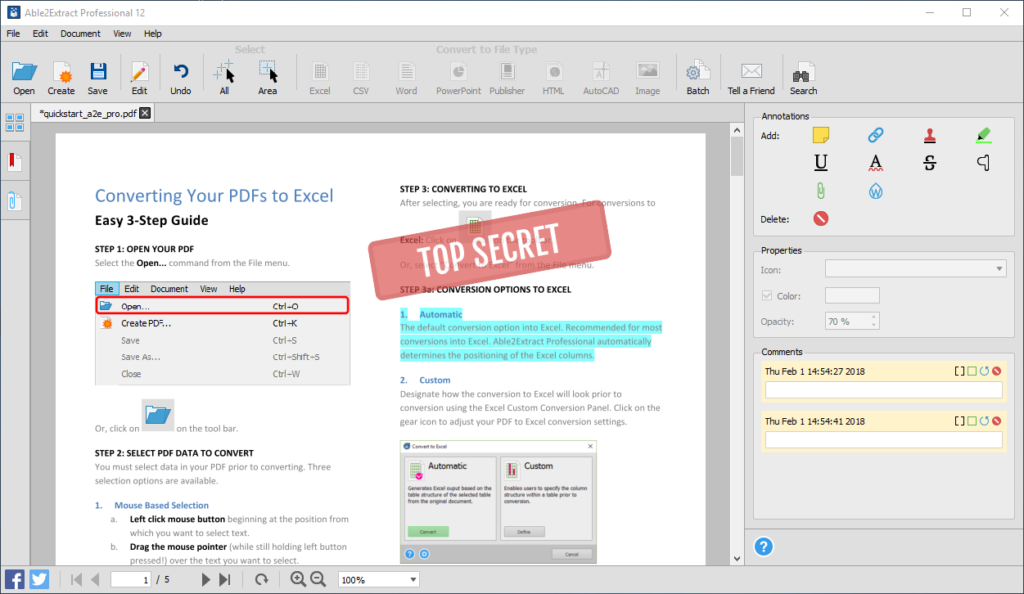 PDF Redaction – Able2Extract emphasizes security. That's why the software enables its users to delete any sensitive information from their PDF documents. This is easily done by blacking out individual words or entire paragraphs and pages.
Verdict
Able2Extract is one of the best solutions on the market when it comes to PDF work and it won't cost you an arm and a leg. If you're in need of a professional PDF tool and had one "Yes" to any of the intro questions, we advise you to equip yourself with Able2Extract.