Even without all the charms and features, Google Chrome is an awesome web browser. It was noted for the in-depth integration with Google account and Google services and of course the better loading speeds. We know that Chrome Browser is known for consuming a lot of RAM but that's a necessary evil. So, if you want to browse the web with some extra speed and smoothness, Chrome is one of the best options indeed. But, then comes a person who is looking for a more productive web experience and some fun once in a while. In that case, you will need some of the best Google Chrome extensions for sure.
When we say that Google Chrome has a huge collection of extensions, we mean it. As it happens, there is a difficulty in finding the best ones from the huge collection too. So, we did something the other day: we talked to some of our colleagues, friends, influencers and experts who use Google Chrome to find out the Google Chrome extensions they use for productivity and fun.
Does the combination — productivity and fun — sound a bit weird? Don't worry, we have split the collection into two and more categories. So, if you simply need a few extensions for productivity, you can find that in no time.
Best Google Chrome Extensions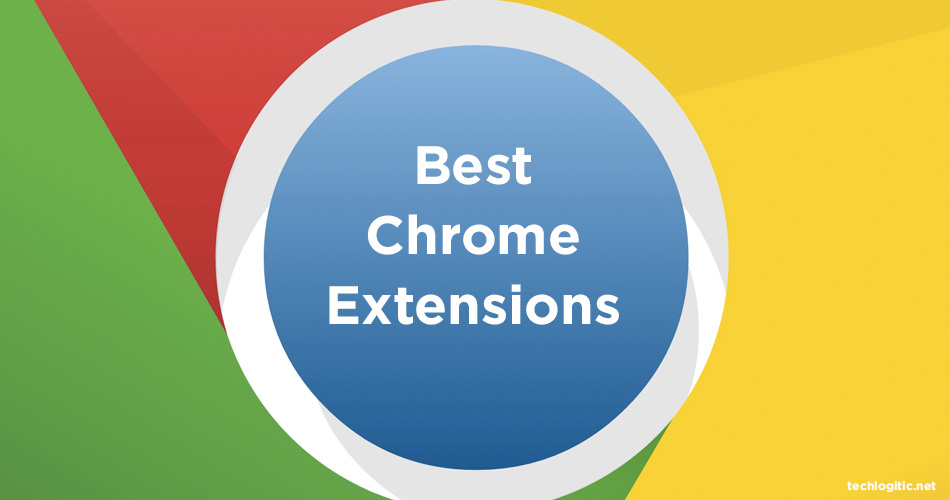 Shall we move onto the list, then? Instead of giving you a simple list, we'd include a small description of each Chrome extension in the list. You will essentially understand why you should use that particular extension in your web-life. Ready to get started?
It does not matter who you are, Google Keep is an extension you must have. It brings offline the capabilities of the Keep app you're familiar with on Android. For those who don't know, Google Keep is the best way for keeping your notes, photos, checklists and even multimedia content — in a less cluttered form. You can also arrange the different notes in the way you like and assign particular colors. Since your Keep data is always in sync with Google account, you can have the notes available in any device. Using a feature named 'Send to Panel', you can have all data from Keep shown in a separate window as well.
Do you open and use multiple tabs in your Chrome browser? When we say 'multiple', we are referring to a number of 15 or more. In that case, we are sure that it's hard for you to manage all the tabs at once. Do not even think of managing single tab using the close button. This is where OneTab comes in, and this extension lets you reduce tab clutter in Chrome. In a single click, all the tabs in the browser will be closed and shown as a list in a single page. You can then navigate through the page to open individual tabs as you wish. Since it is reducing the number of active tabs, OneTab can help you overcome Chrome's high resource usage.
Another great addition for your day-to-day productivity, Google Bookmarks Manager is a great extension to check out today. By default, Chrome comes with a native bookmarks management system, where you see a list of saved bookmarks. However, this extension turns your extensions into colorful thumbnails, which are a lot easier to manage. For those who have hundreds of bookmarks stored, Google Bookmarks Manager is a great gift. Instead of reading the name, you can identify bookmarks based on thumbnails and preview pics. Altogether, this extension from Google makes enough sense.
You may wanna look for the interesting websites.
Have you ever tried to take a print-out of a webpage? It's a tough task and the final output will be 10 to 20 pages, filled with ads and unwanted elements. Print Friendly & PDF is a Chrome extension that can help you overcome this scenario. Using this Chrome extension, you can convert any webpage to a print-friendly PDF document. It means that unwanted elements, such as advertisements and site-based stuff, will be removed automatically. Once you have pressed the Print Friendly & PDF button, you can directly print the page, edit and make it a PDF document or mail it after editing it.
Almost everyone should be okay with using a password manager that is well-integrated with Chrome, right? This is where LastPass comes and you can use this free password manager for creating, storing and sharing passwords with security. In case you don't know, LastPass is a popular service for password management; it is used by thousands. Because everything happens in the browser itself, LastPass works so seamlessly and you can even use it for saving Cards and Payment details. No matter if you're a businessman or a common web user, LastPass is a must-have productive extension for Chrome.
Jot for Chrome redefines the New Tab page in a quite productive way, adding one of the best things for your work — to-do lists. Okay, get this: we have tried a lot of Chrome extensions that offer to-do list capabilities. But, Jot is different in the sense that it is ultimately minimal. Nothing is going to distract you in the page — from the soothing background image that Jot collects from the web. You can simply enter the name of the tasks you have to complete and clear them when you're done. So, with Jot, you won't see that practically-useless New Tab page, but things you have to do.
For someone who does research on web, Session Buddy is a must-have Google Chrome extension. As you'd know, Chrome does not have an option to save a session for later access, but Session Buddy brings in such a useful feature. Once installed, Session Buddy keeps track of your sessions. Whenever you want to save one, just launch the Session Buddy dashboard and get it saved. Saved sessions are easy to access, edit and manage in the long run. Be it a presentation paper, journey planning or something else — everything can be saved using Session Buddy.
No list of Google Chrome extensions would be complete without including Pocket, because it's an extension for everyone who reads. Trust me on this: every one of us is troubled by those nasty advertisements, which also make it hard to read. Pocket makes those articles easy to read by removing useless elements. Using this simple Chrome extension, you can add articles to your Pocket account, which will be synced between apps in different devices. So, the content will be readable from all devices, which is great. Altogether, for someone who reads a lot, Pocket makes enough sense.
Does Keepa improve your productivity? Well, in a particular sense, when it comes to purchasing things online — from Amazon. As you know, Amazon does not show you the history of product price or availability. That is, you won't know if the same product was available at a lower price yesterday so that you can wait for one other price change. Keepa makes this possible by showing you a months-long history of product price as well as availability. This Amazon tracker works fine with not just the US version but also regional sites of Amazon. Trust me on this, Keepa is going to save you a lot of time and money.
The Great Suspender addresses one of the most infamous things about Chrome — RAM consumption. It can do that by suspending tabs that are not being used. It means that, if you leave a tab unattended, The Great Suspender will suspend it. It won't be deleted or anything: whenever you want, you can simply reload that tab and get going again. However, all the time it's being suspended, RAM and System Resources will not be in vain. This extension is a great way to save a lot of resources and keep using other heavy-duty apps even if Chrome is running in background. It's one of the must-install Chrome extensions for productivity in our list for sure.
Bonus Chrome extension: If you are scouring LinkedIn for leads but are having a hard time finding their contact information, ContactOut is your best friend. This tool finds the email address and phone number of your prospects in LinkedIn, and provides you with a dashboard where you can save and organize your leads.
Admit it or not, most of us spend a noticeable amount time on social networks like Facebook, Twitter, Reddit and more. And, the time you spent there is not necessarily productive — unless you're researching Facebook marketing techniques or doing a Reddit survey. Using StayFocusd, you can restrict the time you spend with those websites. Once you have installed the Chrome extension, you can decide the websites you would like to restrict access and the allowed amount of time, say 60 minutes. So, after that 60 minutes, that website would become inaccessible for you. Pretty simple, right? But, StayFocusd offers some extra features too.
One of the best extensions made by Google itself, Google Input Tools for Chrome is a true blessing when you want to type something in regional language. Using in-script or transliteration methods, you can type almost all sorts of content in many of the supported languages. There are keyboard shortcuts and other customizing options available, but Google Input Tools is effective by itself. The extension can also show you an on-screen keyboard if you are interested. Therefore, in the long run, Google Input Tools is the best way to type anything on Chrome in a non-English language.
There is no doubt that ads can distract you and thus decrease the productivity. Viewing things from such an angle, Adblock Plus is a must-have productivity Google Chrome extension you can try. As the name says, it's going to block annoying ads throughout the web, including Google Ads, Facebook Ads and YouTube ads. That having said, you may see ads on some whitelisted pages, where the ads aren't annoying. Also, you have an option to whitelist certain websites so that ads aren't blocked there. Adblock Plus is quite effective than the majority of ad-blocking extension out there and it doesn't take up a lot of RAM either.
Ever started reading an article but couldn't finish it, as it was too long? You would have saved the article for later if you knew the reading time required, right? Enter Reading Time, one of the best Chrome extensions for people who love to read. This extension will show you the estimated requirement for finishing an article even before you start reading it. In most cases, the estimate is right and you can either start reading or save it for later. The second option works great if you have Pocket installed, by the way. However, before you do begin, you will have to provide your average reading speed as well.
It does not matter whether you are a Literature student or a marketing executive. Google Dictionary is a fine Google Chrome extension you should have. It brings into your browser the legendary Google Dictionary. The next time you don't know the meaning of a word, you can simply double-click on it. Google Dictionary would pop up and show you the meaning in seconds. Personally speaking, this has been one of the most productive Chrome extensions I've ever come across. By the way, if you don't want it to come up automatically, there is always an option to set up a trigger key.
Pushbullet is not technically a Google Chrome extension, but rather a fully-fledged service for mirroring your Android notifications to other devices. It means that you will be able to see the notifications from an Android phone on the PC screen. In this case, the Pushbullet Chrome extension brings all the notifications into your Chrome browser, which is pretty convenient. After installing this extension, you will have to get Pushbullet apps for your Android phone. This service works perfectly fine; you don't have to reach out for the phone if this app is mirroring your notifications and offering you control.
Do you know that the best ambient sound can enhance your productivity? Well, Noisli is a Chrome extension that is powered by that philosophy. It means that the extension will be playing soothing ambient sound in a background layer, so that you can keep working. It also comes with an in-built timer, which you can use for time-tracking as well. The apps are available for both Android and iOS, and Noisli is popular among both the professionals and amateurs. So, if you are someone who spends hours in front of the desk, make sure you've Noisly to smoothen the environment noise.
The extension Honey is as sweet as the real honey, but for those who shop a lot of things online. In most of the cases, you wouldn't know about a particular coupon until you've checked out. Honey avoids this saddest situation by suggesting you some coupons, promotion codes and deals while you shop. Whit it works globally on any shopping sites, you will find better results on Amazon and other popular online sites. I have used the extension for a long time, and it has certainly helped me save a lot of money in the end. So, Honey is a great choice that you should have.
Turn Off the Lights is a seemingly-simple but really effective Google Chrome extension for YouTube and other websites that stream video content. Once installed and enabled, the extension will fade the entire screen of YouTube page but the video player. Traditional effects can be applied and you can configure shortcut keys as well. But, in the end, what matters is that Turn Off the Lights offers a better YouTube experience. When you want to sit back, relax and watch a long video using Chrome browser, this extension will be a life-saver indeed.
Clearbit Connect is perhaps the most useful Chrome extension that deals with Gmail features. As you know, Gmail shows you the simple email ID of the sender when you receive an email, right? Unless that person is in your circles, you can't know any other details. Clearbit Connect fixes that by bringing all the social info on that person within your Gmail interface. Just right to the message, you can find a small portion that shows a lot of information about the person. At the end of the day, Clearbit Connect will help you craft a better piece of mail, because you know the person a bit better!
As the name says, Sortd for Gmail is a Chrome extension that manipulates your Gmail interface for good. If you are someone who receives projects in emails, you are going to love Sortd for Gmail. It creates a special skin on top of Gmail, and you can categorize emails based on the status. For instance, you can create To-Do and Finished categories on Sortd for Gmail and arrange your emails according to that. Installing and setting up the extension won't take more than a minute, but the integration is deep. This extension is a superstar if you want to organize things and enhance productivity that way.
You know what? The in-built download manager of Google Chrome sucks! There is no doubt on that matter either. This is why you should check out Chrono Download Manager, which brings advanced features into the Chrome interface. The extension is easy to install and use and it integrates well with Chrome system so that you have no trouble in taking care of multiple downloads. You can manage the downloads from the pop up window of the extension or the full-screen page as well. Either way, Chrono Download Manager does an awesome job in enhancing download speed.
Buffer for Chrome is an awesome extension for those who are active on multiple social networks, including Facebook and Twitter. On a normal day, when you want to share something on both Facebook and Twitter, you got to do that individually. Buffer makes it easy by offering you a platform that can post content on these social networks with ease. All it takes is a single click from your side and Buffer will take care of publishing. If you own a business and would like to let your customers know about a thing via multiple channels, Buffer seems to be an awesome option indeed.
Autofill is another great Chrome extension that can make your web life a lot easier. It needs to be noted that we are not referring to the in-built autofill feature you'd find in Google Chrome. It's rather a third-party tool that offers extra features and capabilities. Just like the in-built one, however, Autofill collects information via forms and stores it for further use. So, the next time you're using a form, you won't have to type them. When compared to the in-built version, the Autofill extension works on more websites and platforms, which is a great thing.
What do you think about your Facebook, WhatsApp, WeChat, Skype, Telegram and other IM accounts from the same place? If that seems interesting enough, make sure you check out All-In-One Messenger, which is one of the best Chrome extensions now. Once installed and set up, you can simply open the extension when you want to send a message from any of the platforms. You can have multiple accounts integrated with the tool and the entire utility goes in sync with Chrome environment. The result is that you have a more or less native environment for Instant Messaging.
Found an awesome article but the page is too cluttered to read? Enter Mercury Reader, your best solution for removing clutter from articles you find online. The same tool is available for Android too, by the way. All it does is converting an actual webpage into a readable document, without advertisements and other kinds of distracting content. In a single click on the extension, Mercury Reader prepares the articles in a completely readable form, which is really quick too. So, no matter when you found the article, all it takes is a single click on the button.
Grammarly for Chrome is considered one of the best Google Chrome extensions, especially for those write a lot of things online. Grammarly, as you might know, is a grammar-correction service that is available for a variety of platforms and devices. Using this extension, you can bring Grammarly functionality to Chrome. It means that when you type something on text fields in Chrome, the text will be scanned for grammar errors and you can receive suggestions almost instantly. If you think you need a personalized grammar care when it comes to writing emails and other messages, make sure you have this extension installed in your Chrome.
For those who don't know, Mailtrack is a free email-tracking system that is available for Gmail and Inbox. By using this extension, you can bring the same capability to your Gmail account. All you have to do is to install the extension and connect your Google account, whereupon the extension will become active. The next time you send an email, there will be a tracking agent. You can receive notifications and tick marks once the mail has been read by the recipient and you can even know how many times the person has opened the mail so far. Sounds awesome, right? It's one of the best free mail tracking services for Gmail.
Google Chrome is now such a powerful platform that you can use it for recording your computer screen. If it seems interesting for you, you should check out Screencastify, which is one of the most popular tools for recording and capturing content from Chrome. There are a few features that make Screencastify the best tool in the industry, the customization being the most praised feature. It means that you can always adjust and choose the optimal resolution and speed for recording. There is even a provision to include input from your webcam and microphone.
Interested in having an end-to-end encrypted messaging platform that you can use via Chrome? Make sure that you check out the Signal Private Messenger, available as a Google Chrome extension for everyone. It is a completely free extension and service that you can use for secure communication. Developed by people who love open source and supported by community grands, the platform also stays away from advertising methods. The point is that you can have a seamless communication experience with your friends or team — right from Chrome interface.
Do you save a lot of images from the web — say, for example, photo galleries? It is a tough task, since you've to right-click on every image and save it, right? I'm A Gentleman, one of the popular Chrome extensions that developers love, fixes the problem. In a single click on the extension button, you can download all types of images from the current webpage. On the other hand, there is a restriction feature as well. You can click on an image while holding the Alt button if you want to download it. It's a really useful Chrome extension if you are dealing with media galleries and other image-curation stuff.
Focusbook is perhaps the funniest and effective Chrome extension in the list. Think about this scenario: you opened Facebook, thinking about a particular task, but you forgot about it in seconds. And, you happened to spend a few hours on Facebook. It sounds bad, especially if you're amidst some work. Focusbook fixes the issue by asking you a simple question when you open Facebook — why did you open Facebook? You will be able to answer the question and the extension will remind you the same details in frequent intervals. It does mean that you'll never forget why you're on Facebook 😉
Think of another scenario: you have opened a lot of important tabs in your Chrome window, and almost all of them are quite confidential. A colleague of your barges into the room and you can't allow them to see the tabs. What will you do? This is where the extension PanicButton comes to rescue you. It's a simple extension for Chrome that can hide all the other tabs at panic situations. The best part is that you can access all those websites from the Bookmarks area. So, even though you got rid of the tabs at the panic situation, you still have access to them. It's not always about confidential stuff either, you know.
This is indeed one of the funniest Chrome extensions you can try, especially if you're a cat lover. What is the opinion about seeing a cat every time you open a New Tab page? Well, that is what Tabby Cat, the extension does to your Chrome browser. In each New Tab page, you can see an interactive cat, which moves. It's a cool way to get rid of stress and issues while you're on the run. There are different characters and different types of cats in the collection. In case all these were not enough, Tabby Cat also lets you make in-app purchases of new toys.
The last extension in the list, Boomerang for Gmail is an effective tool for scheduling emails in the future. By installing this extension in your Chrome browser, you can open a new panel in the email composing sector. It means that you have native support for these elements. So, the next time you don't want to send an email instantly, you can choose the scheduled time from Boomerang interface. There are also some additional features like email snoozing, email reminders and Inbox pausing. All these can be used to improve the way you handle the Inbox and how effectively you send emails.
Let's Wrap Up
So, folks, these are the best Google Chrome extensions for productivity and fun. As you might have noticed, we have included more Productivity-oriented extensions and reduced the number of fun ones. But, trust me on this: all the extensions are going to save your time in a new level. It means that you can use the time for fun, right?